Twenty-two-year-old Robert Robinson penned these heartfelt lyrics way back in 1757. With loving reverence and confident humility he invites his caring Heavenly Father to help him keep his heart steadfast for the Lord till kingdom comes. Give the video a listen, then please come back here for a few more thoughts.
Afraid of God
Some people learn only enough about God to be afraid of Him. They hear God doesn't accept bad people, and they know they've done bad things. Maybe they were "in" with God before, but think they've blown it so bad they are now OUT.
A healthy respect for right and wrong is good. An awareness of God's power and might is good. But living in terror is no way to live, certainly not God's desire for His children.
Sonship
Think a minute about being a "son" (or daughter).
God designed it so a son is the product of exactly one father and one mother. A son may not be raised by his birth parents, but he will always and forever be the product of only those two people. No one can erase that biological relationship between a son and his parents. A child cannot lose this unique sonship.
Have you read (in I John), "Beloved, now are we the sons of God, and it doth not yet appear what we shall be: but we know that, when he shall appear, we shall be like him; for we shall see him as he is."
Did you catch the words "sons of God"? Our Heavenly Father has sons, too. How do you become a son of God? There are two steps:

Step one is already done: you must be born.
Step two is up to you: you must be born again.

You confess Jesus as Lord and believe God raised him from the dead.

Acting on those words from Romans 10, you become born again, saved. God creates a new spirit life in you that has not existed before. You become a son of God.

Can you lose your sonship? The Bible says no.

Read in Ephesians 4: "In whom [Jesus] ye also trusted, after that ye heard the word of truth, the gospel of your salvation: in whom also after that ye believed, ye were sealed with that holy Spirit of promise"
Once you hear the word of truth — the gospel of your salvation — and believe, it says you are SEALED with that holy Spirit of promise.

That word "sealed" is big and beautiful. The seal lasts as long as God lasts. It does not go away with your first mistake.

You remain a son of your parents as long as you live.

You remain a son of God as long as God lives. That's forever.
Fellowship
Please notice two very important words: sonship and fellowship.

Sonship does not change.
Fellowship can change twenty times before breakfast.
Sometimes we sons are in good fellowship with our parents. Sometimes we are not.
The same is true between us and our Heavenly Father. Sometimes we are in harmony with His will. Sometimes we are not.
There were times I behaved so badly, my parents probably wished I was not their son. But I still was.
God is not stupid. He has worked hard so we can become His sons. He is not going to let us foul out of the family. Not only did God seal our sonship with Him, He also gave us a way to get back in fellowship with Him when we've strayed. How many times? As many as we take. He is faithful and just to forgive us when we ask.

So…ASK… !!!!
Why I like this song
I love how the singer relates to his Heavenly Father. The song is a prayer, and it praises God's loving grace and goodness. Paul laments in Romans 7, "For the good that I would I do not". Likewise, the singer is pained knowing his thoughts can stray from what is right. He brings his frustration and weakness to God, not in fear of losing his sonship, but as a son confident of his Father's love and goodness. He asks the Lord to help him do better with his fellowship, so he can stay in life's race all the way to the finish line — all the way to one day hearing the words "Well done, my beloved son."
God bless you lots!
-Dale R.
---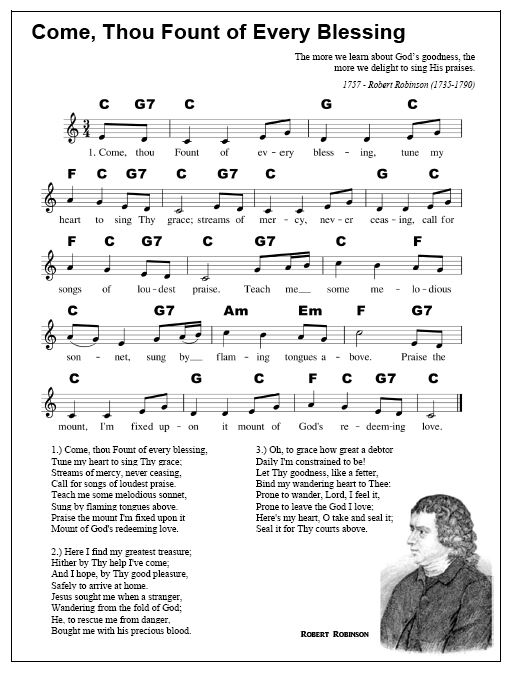 LYRICS: Come, Thou Fount Of Every Blessing
Song by Robert Robinson (1757)

1.) Come, thou Fount of every blessing,
Tune my heart to sing thy grace;
Streams of mercy, never ceasing,
Call for songs of loudest praise.
Teach me some melodious sonnet,
Sung by flaming tongues above.
Praise the mount I'm fixed upon it
Mount of God's redeeming love.

2.) Here I find my greatest treasure;
Hither by thy help I've come;
And I hope, by thy good pleasure,
Safely to arrive at home.
Jesus sought me when a stranger,
Wandering from the fold of God;
He, to rescue me from danger,
Bought me with his precious blood.

3.) Oh, to grace how great a debtor
Daily I'm constrained to be!
Let thy goodness, like a fetter,
Bind my wandering heart to thee:
Prone to wander, Lord, I feel it,
Prone to leave the God I love;
Here's my heart, O take and seal it;
Seal it for thy courts above.



Your thoughts?
Please add your wisdom in "Leave a reply" below.
May I drop you a note when new songs are posted here?
May I send you the key to print-ready song sheets you can download FREE?
Click the "Get The Music Box" button below and tell me where to send them.