Clearly Jesus Christ has a tremendous heart for God's people. It's been said that among the prophets in the Bible, Jeremiah possibly came the closest to matching Jesus's heart. Jeremiah prophesied during times that were very difficult for God's people and he expressed — and fully felt — the heartbreak of it. Our song "Great Is Thy Faithfulness" is based on words recorded in Lamentations chapter 3, Jeremiah's "other" book. The praise and adoration for God in such dark times speak loud encouragement and soundness to us in our times. Please give this classic hymn a listen, then come back for a bit more on praise, adoration and thankfulness for our wonderful Heavenly Father.
God is faithful
This I recall to my mind, therefore have I hope.
It is of the LORD's mercies that we are not consumed, because his compassions fail not.
They are new every morning: great is thy faithfulness.
The LORD is my portion, saith my soul; therefore will I hope in him.
The LORD is good unto them that wait for him, to the soul that seeketh him.
It is good that a man should both hope and quietly wait for the salvation of the LORD.
[Lamentations 3:21-26]
These wonderful words inspired our songwriter. It cannot get so dark that God will not be with us. He has declared His faithfulness and He has promised it. We are never alone or forsaken in this world because God is FAITHFUL.
Morning by morning new mercies I see
If we are awake to see the morning, then be assured we are able to receive and walk in God's mercies. Mercy and grace are often seen in the same sentence, but not here in Lamentations 3. Grace is God's unmerited favor. With God's grace we can go above and beyond what our natural resources or abilities would allow, though we did not earn it.
Mercy is God's withholding of merited judgement. We read of the disobedience and hardheartedness that led up to the sorrows and heartbreaks found in the books of Jeremiah and Lamentations. We marvel any of these people were still alive. We see how God spared them from numerous attacks by assorted enemies. It can be said they were their own WORST enemy. But God did not give up on them. Jeremiah wrote "It is of the Lord's mercies that we are not consumed."
Look at God's heart for His people. Look how Jeremiah expresses it. Look at Jeremiah's praise and thanksgiving. What heart! What perspective! What wealth of life Jeremiah celebrated in these words. What an example to us of thoughts, attitudes and declarations to live by!
Pardon for sin and a peace that endures
And, behold, they brought to him a man sick of the palsy, lying on a bed: and Jesus seeing their faith said unto the sick of the palsy; Son, be of good cheer; your sins are forgiven. And, behold, certain of the scribes said within themselves, This man blasphemes. And Jesus knowing their thoughts said, Why do you think evil in your hearts? For whether is easier, to say, Your sins are forgiven; or to say, Arise, and walk? But that ye may know that the Son of man has power on earth to forgive sins, (then said he to the sick of the palsy,) Arise, take up your bed, and go unto your house. And he arose, and departed to his house. But when the multitudes saw it, they marvelled, and glorified God, which had given such power unto men. [Matthew 9:2-8]
We might have thought getting delivered from palsy would be the focus. But Jesus led with "sins forgiven" and the healing came next. This is a remarkable thing. In Lamentations 3 it was the Lord's compassion and mercy that wrought the miracle. For the man with palsy, with Jesus there he was able to receive forgiveness and healing. Imagine the peace that man entered into that day! At the cross Jesus went on to make forgiveness and healing available going forward to all who would receive it. It is stunning how much more Jesus Christ brought to mankind with the new birth, which was not yet available in Jeremiah's day. Through Jesus Christ's shed blood is forgiveness available to us. Through Jesus Christ's broken body is healing available to us. Forgiveness and healing are part of the finished work of Jesus Christ. Jeremiah looked forward to our day. Forgiveness. Healing. Peace. "Strength for today and bright hope for tomorrow." We get to LIVE IT!
"Great Is Thy Faithfulness" brings together the mercies and compassions that sustained God's people in the Old Testament with the forgiveness, healing and peace accomplished by our wonderful Lord and Savior Jesus Christ in the New Testament. Sing the song with joy. Sing with with a dry eye if you can. Sing it knowing that as good as God is to us now through our Lord Jesus Christ, THE BEST IS YET TO COME. Great is His faithfulness!
God bless you lots!
–Dale R.
---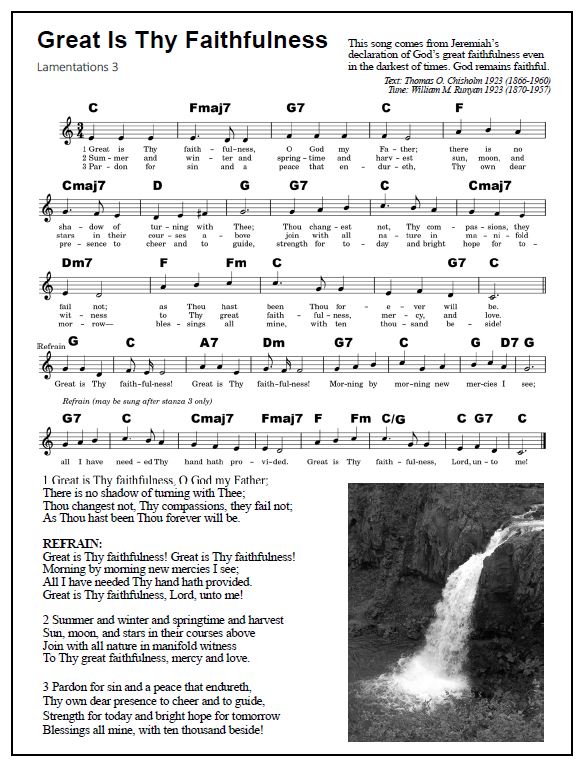 LYRICS: Great Is Thy Faithfulness
(Lamentations 3)
Text: Thomas O. Chisholm 1923 (1866-1960)
Tune: William M. Runyan 1923 (1870-1957)

1 Great is Thy faithfulness, O God my Father;
There is no shadow of turning with Thee;
Thou changest not, Thy compassions, they fail not;
As Thou hast been Thou forever will be.

REFRAIN:
Great is Thy faithfulness! Great is Thy faithfulness!
Morning by morning new mercies I see;
All I have needed Thy hand hath provided.
Great is Thy faithfulness, Lord, unto me!

2 Summer and winter and springtime and harvest
Sun, moon, and stars in their courses above
Join with all nature in manifold witness
To Thy great faithfulness, mercy and love.

3 Pardon for sin and a peace that endureth,
Thy own dear presence to cheer and to guide,
Strength for today and bright hope for tomorrow
Blessings all mine, with ten thousand beside!





Please share your thoughts on God's faithfulness
Feel free to add to this article by jotting a note below in "Leave a Reply"
Step right up for a better view
Are you interested in more songs? May I drop you a short note when new songs are posted here? Would you like FREE access to be able to download song sheets with melody, lyrics, and chords for tunes on this site? Just click "Get The Music Box" button below and tell me where to send it! You'll get instant access to everything in "The Music Box" plus a short email to help you get there any time you want. This is my way of thanking you for being here. Enjoy! – Dale R.