"Help my unbelief!"
"Lord I believe. Help my unbelief" was the cry of the man asking Jesus to heal his son. His prayer was answered that day, and this same prayer has been answered for countless others, too. I'll share more with you about believing bigger. But first, here is a song that has been a favorite since the late 1800's. I'll strum it for you, then talk more about "helping our unbelief." Enjoy!
What can we believe?
Short answer: we can believe whatever we want to.

That's how we were designed. That's good news and that's bad news.

Any INFORMATION we run into in life — we can believe it and act on it, or not believe it and not act on it. Wow!

NEWS FLASH! INFORMATION comes in different flavors. Here is a very short list of the flavors:
Truth – positive (Example: "I am fearfully and wonderfully made")
Truth – negative (think of these as warnings. Example: "Thou shalt surely die")
Lies – positive (Example: "Ye shall not surely die")
Lies – negative (Example: "There is no God")
We can learn truth (and warnings), believe and act accordingly, and get positive results and avoid negative results.

We can learn lies, believe and act accordingly, and … all bets are off. Hey, they are LIES, so what can you expect?

But know this:
The truth is the truth, even if no one believes it.
A lie is a lie, even if everyone believes it.

Our job and joy
We all start at the same place: "knowing nothing". Even Jesus "increased in wisdom and stature, and in favor with God and man." Surely all the rest of us have room to increase, too! God has provided all of us with wonderful tools of truth to help us get to the place we believe and RECEIVE.

It is our job, it is our JOY to learn to recognize truth, believe it, act on it … and RECEIVE.
Getting from "Don't know" to "Persuaded"
Is God real? How can we know? Start looking here:
CREATION – Just look around. Put down the phone, go outside, and experience nature. Can you build a tree? Can you make a frog? How did trees and frogs get here? How are YOU able to think about things like this? Creation is full of questions and all the answers point to God.
CONSCIENCE – Call it mind, habit, human nature — whatever. People seem to naturally have the ability to sense good and evil, and to know there is a higher power. One of God's marks on creation is that we are built to be receptive to the things of God. That's His love, and His wisdom in plain sight. We are part of His creation!
CROSS – Learn about Jesus, his birth, life, ministry, death, resurrection, ascension. His lordship. Read the Bible records. Get guided tours from others who have been on that road awhile.
Time spent thinking on these things will increase your knowledge of truth to believe, act on, and receive benefits from.
Why I like this song
The song writer, Daniel Webster Whittle, was a Major in the Union Army during the Civil War. He wrestled with sin-consciousness, and finally asked God for forgiveness and received it. He became an evangelist after the war, and wrote around 200 hymns. This one artfully blends gratitude with preaching and praise. Lots here! A beautiful melody, direct quote from scripture (II Timothy 1:12), and mention of big ideas in simple words, including: grace, redemption, salvation, faith, peace, Christ's love, and the gathering together. Oh, and, of course, being persuaded of God's faithful care and provision now and always. His example of believing was, "I don't know HOW he does what he does, but I know HIM, and … I am persuaded." Let's get to know HIM!
God bless you lots!
-Dale
---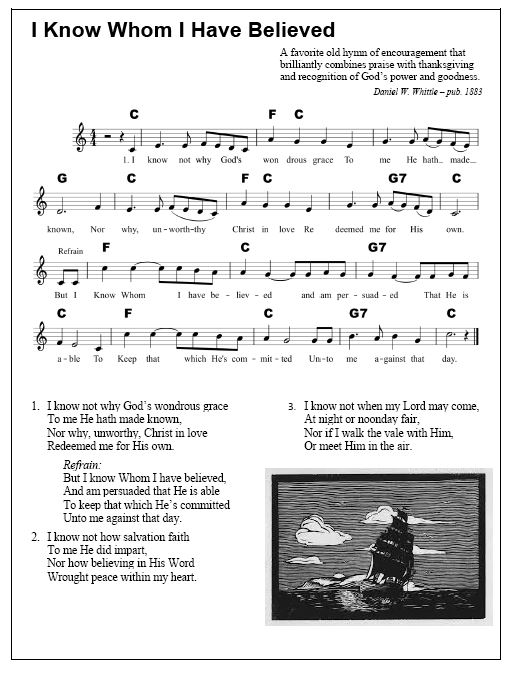 LYRICS: I Know Whom I Have Believed
Song by Daniel W. Whittle (1883)

I know not why God's wondrous grace
To me He hath made known,
Nor why, unworthy, Christ in love
Redeemed me for His own.

Refrain:
But I know Whom I have believed,
And am persuaded that He is able
To keep that which He's committed
Unto me against that day."

I know not how salvation faith
To me He did impart,
Nor how believing in His Word
Wrought peace within my heart.

I know not when my Lord may come,
At night or noonday fair,
Nor if I walk the vale with Him,
Or meet Him in the air.


Your thoughts?
Help me teach this! Please add your thoughts in "Leave a Reply" below.
Check out "The Music Box" — the only place to get music + chord sheets for all the songs posted here. Free! Just click button below and tell me where to send the link.