Classic song, timeless encouragement. Enjoy the song then we'll talk some more.
Who sings these kid's songs?
For a century and a half children around the world have been singing these simple but deep words.
Is it only a children's song? I read that the famous Swiss theologian Karl Barth (1868-1968) was asked to summarize the essential doctrines of his Christian faith. Barth responded to the inquirer with the simple answer: "Jesus loves me, this I know for the Bible tells me so."
The lady that wrote the lyrics to this song, Anna Bartlett Warner, grew up near West Point. Young West Point Cadets attended Bible classes and Sunday School services she and her sister conducted for forty years. It was not unusual for the military cadets to sing "Jesus Loves Me" while they were on duty.
Who sings this? Children, a centurion theologian — and soldiers are among the singers.
WW II – this song to the resuce
In 1944 John Hershey, writing in "The New Yorker" magazine, published an article titled "Survival". John F. Kennedy had told him a story about the men rescued from the PT 109, the boat the future president commanded, which was destroyed in the Solomon Islands in World War II. After being stranded for several days, Kennedy and his men were discovered by a couple of natives. As a rescue boat took them to safety, one of the rescued men sat on the deck, his arm around a couple of natives who had been mission trained and the three of them sang "Jesus Loves Me" together — a song all three knew. It was a huge encouragement to all.
Durable song
"Jesus Loves Me" is a simple song expressing a huge piece of truth. It has meant much to people around the world. It is easy to sing and remember. Its message paints a picture youngsters can understand of an approachable and ever-present Savior. Then picture continues to grow and develop as gain years and experiences with the Lord. What a wonderful song to sing and remember! What a valuable truth to carry in our hearts, that "Jesus Loves Me". Enjoy!
God bless you lots,
-Dale R.
---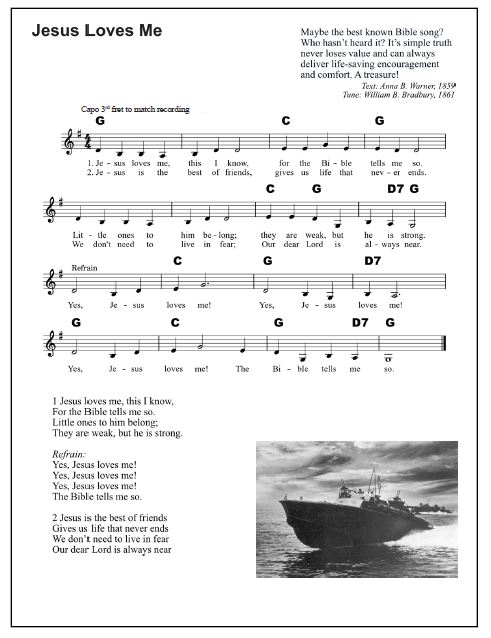 Jesus Loves Me
Text: Anna Bartlett Warner (1859)
Tune: William B. Bradbury (1861)

1 Jesus loves me, this I know,
For the Bible tells me so.
Little ones to him belong;
They are weak, but he is strong.

Refrain:
Yes, Jesus loves me!
Yes, Jesus loves me!
Yes, Jesus loves me!
The Bible tells me so.

2. Jesus is the best of friends
Gives us life that never ends
We don't need to live in fear
Our dear Lord is always near



Please subscribe
I'll be happy to drop you a quick note each time I post a new song here — usually one a week. The note always includes a link to the new song post and ALWAYS includes an "unsubscribe" button. Subscribers also get access — free and immediate — to extra handouts that go with these posts — things to help you play these songs for yourself. All free, all available from "The Music Box". Give "The Music Box" button a click, and you are almost there.
Share your thoughts
Please leave a comment to bless others who visit this page. Jot it below in "Leave a reply". Thanks for visiting, thanks for commenting. – Dale R.