The book of James alerts us to the problems of being double-minded. A double-minded person is restless and confused in his thoughts, his actions and his behavior. Doesn't that sound like something God's enemies would like to inflict on all of God's people? This song is about just the opposite — blessed assurance. Give it a sing-along listen then come back and we'll talk about being "single-minded" along with its companions — peace and power.
Blessed assurance
In James chapters 1 and 4 we see the term "double-minded" which means "a person with two minds or souls." James describes such a person as "like a wave of the sea, blown and tossed by the wind. That man should not think he will receive anything from the Lord; he is a double-minded man, unstable in all he does".
In Matthew 6 Jesus says such a person tries to "serve two masters". A person trying to serve two masters will likely be unstable, unsteady and wavering both in character and feelings. He us unable to walk with a defined direction — so he gets nowhere.
Who wants to be an unstable person who "should not think he will receive anything from the Lord" and is going nowhere? Yikes!
What a blessing "blessed assurance" is!
NEWSFLASH! The choice of being assured belongs to us.
War of the worlds between opposing masters
The Lord knows assurance in Him is a blessing that partners with peace and power
— and He gives us much reason to be assured.
The enemy knows assurance in the Lord is indeed such a blessing
— and works hard to steal assurance in the Lord from us.
Jesus said it this way, "No one can serve two masters. Either he will hate the one and love the other, or he will be devoted to the one and despise the other. You cannot serve God and mammon [or "money"]." (Matthew 6:24).
These two — God and the things of this world — are opposites in so many ways that it is not possible for a person to be wholly devoted to one without hating the other.
We do well to remember how opposite these are when we are tempted to be envious of the apparent success and prosperity of those who chose to be wholly devoted to the things of this world. They turned their backs on God to chase and drum up wealth that does not endure. Oh, the price they pay for something they cannot keep!
We can be assured it does not end well for them.
But when we walk toward the light of the Lord, our own shadow follows us. And just like that shadow that follows us, so will the things of this world that will bless our lives and supply good works abundantly.
With God we have it all. With the world we lose everything that's worth having.
Be assured!
Perfect submission, all is at rest
A big blessing that is bundled with assurance is rest.
Hebrews 4 gives us a phrase that sounds like an oxymoron (a figure of speech that grabs our attention by using an apparent contradiction, for example, "jumbo shrimp" or "deafening silence"). It says, "Let us labor to enter rest."
Labor to rest?
Here are the verses around it: "There remains therefore a rest to the people of God. For he that is entered into his rest, he also has ceased from his own works, as God did from his. Let us labor therefore to enter into that rest, …"
Romans says the goodness of God draws us to repentance. Repentance includes changing from working at life our way to doing things His way. We cease from our works and get going with His.
God did not give us a reclining chair to get to assurance, peace and rest. He gave us a path that requires walking on our part. This is not a path of hard labor. We are not called to break rocks with a sledge hammer day after day. Gaining assurance in the Lord and enjoying His peace and rest is a labor inspired by — and done with — the love of God. Wouldn't life be dull if there were nothing we could do to live for God?
And wouldn't life be terrifying if Jesus Christ had not won everlasting life for us to freely receive, not of our works lest any man should boast? The Lord has worked and provided for us, and continues to. And the Lord rests, too.
He has offered us the richness of blessed assurance, peace and rest in His wonderful plans and promises. He asks us to do the work needed to live assured — enjoying peace and rest while we are at it.
We labor to enter His rest. We get to do things! What a joy, what a blessing.
There is power in resting assured. God is good. Living for God is good. Let's be single-minded and stay focused on The Light. Let's be radiant! "Oh, blessed assurance, Jesus is mine!"
God bless you lots,
Dale R.
---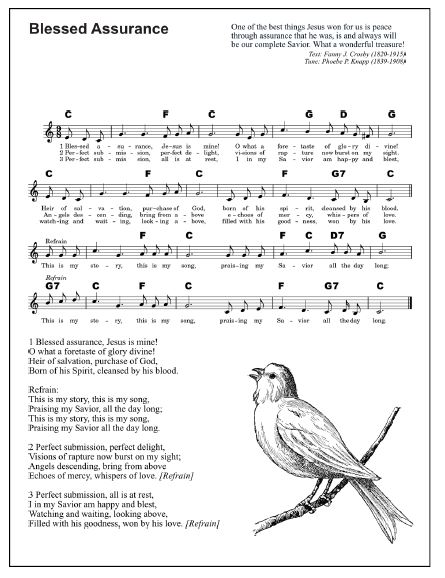 LYRICS: Blessed Assurance
Text: Fanny J. Crosby (1820-1915)
Tune: Phoebe P. Knapp (1839-1908)

1 Blessed assurance, Jesus is mine!
O what a foretaste of glory divine!
Heir of salvation, purchase of God,
Born of his spirit, cleansed by his blood.

Refrain:
This is my story, this is my song,
Praising my Savior, all the day long;
This is my story, this is my song,
Praising my Savior all the day long.

2 Perfect submission, perfect delight,
Visions of rapture now burst on my sight;
Angels descending, bring from above
Echoes of mercy, whispers of love. [Refrain]

3 Perfect submission, all is at rest,
I in my Savior am happy and blest,
Watching and waiting, looking above,
Filled with his goodness, won by his love. [Refrain]

Get the Music Box!
In other words – SUBSCRIBE to Music Minister – Bible Lessons and Songs for Kids of All Ages. The Music Box is the place I post all the free downloads that go along with this Bible lessons & songs site. Subscribers get immediate 24×7 free access to The Music Box. Hey, I use The Music Box myself. It serves instead of a brain for me when I need to find something on this site. Subscribers ALSO get a cheerful email note from me when I post new songs & lessons, usually once a week. It's easy to get all this … click the blue "Get The Music Box" button below and tell me where to send you the access info. By the way, it is super easy to unsubscribe, too. Emails you get from Music Minister always have an "unsubscribe" link. It's no cost to you.
Though it is a bit of extra work for me, I offer this subscription service and The Music Box for three big reasons —
1) To make it easier for you to get to these songs and lessons (because the email has the link to the latest post. Be among the first to know!)
2) To make free music helps available to those of you who want to use these songs with your own families, friends, school, church, coffeehouse … you name it.
3.) So we can stay in touch in case our social media connections go south, down, wonky or some other way that makes them useless for us to talk.
So … please … subscribe! God bless you lots – Dale R.
Share your thoughts with others who visit here
Leave your comment in "Leave a reply…" below.