There's a time when it is just plain silly to be positive and happy. Then, there is all the rest of the time. Here is a song that has a proper place at ANY time. Give it a sing-along listen then come back for a chat about a depressed Martin Luther, excellent help from his wise wife, Princess Buttercup's disastrous wedding set to begin in just thirty minutes and a strategy of success through starvation. It all fits — don't miss it!
We All Have Our Days
Martin Luther's wife Katharina von Bora was a good one. Katharina supported her husband and kept her home well. She was gutsy, proactive, strong and determined. In light of Martin Luther's well known bouts of depression and melancholy Katharina and Martin were a good match. During one of his longer lasting rounds with depression, Kate took action once again. Charles Spurgeon told it this way:
Martin Luther was a very cheerful man, as a rule; but he had terrible fits of depression. He was at one time so depressed that his friends recommended him to go away for a change of air, to see if he could get relief.

He went away; but he came home as miserable as ever; and when he went into the sitting-room, his wise wife Kate was sitting there, dressed in black, and her children round about her, all in black.

"Oh, oh!" said Luther, "who is dead?"

"Why," said she, "doctor, have not you heard that God is dead? My husband, Martin Luther, would never be in such a state of mind if he had a living God to trust to."

Then he burst into a hearty laugh, and said, "Kate, thou art a wise woman. I have been acting as if God were dead, and I will do so no more. Go and take off thy black."

~The Complete Works of C. H. Spurgeon, Volume 38 By Charles Spurgeon
Always upbeat?
Is there something wrong with us if we not always optimistic?
Yes there is — well, there WAS — something wrong with us. We got a new man nature when we were born again — but the old man nature we all were born with remains with us as long as we are still breathing in our present bodies. It is always in conflict with our new man nature.
What remains that is "wrong" with us — this old man nature — cannot be ignored and must be dealt with.
Good news! We do not need to obey our old man nature. In fact, we must not feed our old man nature. Think about this: The food that feeds ONE nature STARVES the other. The two natures cannot live on the same food.
Kick starting my best self
"It is what it is. But it will be what you make of it."
There's a great scene in the movie "The Princess Bride" (which, if you have not seen, is a treat waiting to happen for you) where our hero Westley — who is quickly recovering from been mostly dead much of the day — is trying to get up to speed by asking his partners Fezzik and Inigo Montoya about the current problem they are facing.
Inigo says, "Let me explain. No, there is too much. Let me sum up. Buttercup is marrying Humperdinck in a little less than half an hour. So all we have to do is get in, break up the wedding, steal the Princess, and make our escape. After I kill count Rugan."
Westley is a fast healer and a quick study. "That doesn't leave us much time for dilly-dallying. — What are our liabilities?" Inigo lists them. Westley asks, "And our assets?"
The movie minute that follows is one of the great feats of cinema — yours to explore and prove me wrong.
But — Westley's process. That's what I'm going for here. "What are our liabilities?" It is good for us to be aware of our liabilities. Sum them up: we have an old man — fear-laced — nature remaining from that time in our past when we were born DEAD in trespasses and sins, without God and without hope.
But God!!! But God!!!
"And our assets?" Christ in you, the hope of glory. Newness of life. Read more and add to YOUR working copy of this list as needed.
There is an election going on every day of our lives. Our old man nature is running against our new man nature. The enemy cannot win this election without cheating. And cheat he will. As Elisha prayed years ago, " … Fear not: for they that be with us are more than they that be with them." We are God's elect. We are WHAT?!? Check out Colossians 3:
Put on therefore, as the elect of God, holy and beloved, bowels of mercies, kindness, humbleness of mind, meekness, longsuffering;
Forbearing one another, and forgiving one another, if any man have a quarrel against any: even as Christ forgave you, so also do ye.
And above all these things put on charity, which is the bond of perfectness.
And let the peace of God rule in your hearts, to the which also ye are called in one body; and be ye thankful.
Leave it to God's Word to state my point better than I can. PUT ON. That's the "kick start" thing I was trying to get to.
Put on.
Do we always need to be smiling, happy, oblivious to the "false evidence" around us that "appears real?" Maybe that's unreasonable. How about if we AT LEAST go for allowing the peace of God to rule in our hearts and being thankful?
Peace of God.
Thankful.
I'll take it!
Given our assets, should we remain downhearted? NO! NO! NO!
God bless you lots!
-Dale R.
---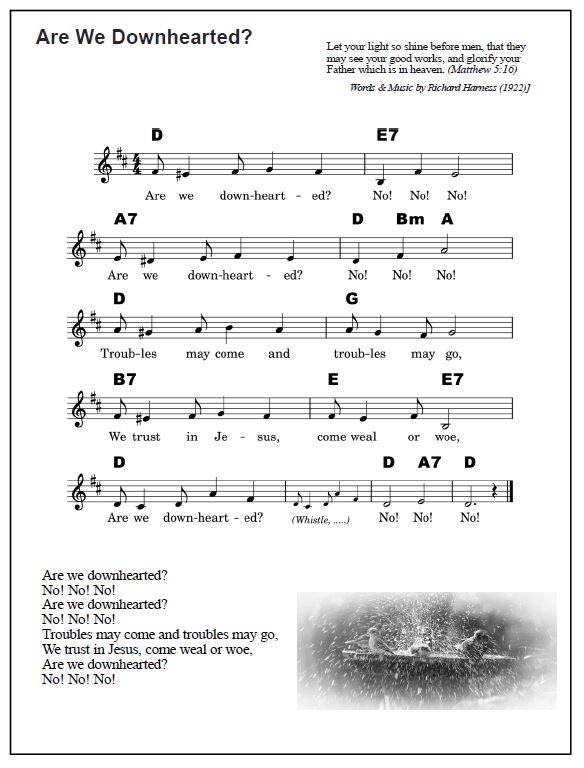 LYRICS: Are We Downhearted?
Song by: Robert Harkness (1922)

Are we downhearted?
No! No! No!
Are we downhearted?
No! No! No!
Troubles may come and troubles may go,
We trust in Jesus, come weal or woe,
Are we downhearted?
No! No! No!

Please join us — subscribe!

Each time I add
a new song here
I always send
a note of cheer.
I'll gladly send
a note to YOU —
Just tell me where
to send it to.
Click "Get The Music Box" button [below] and tell me where to send your note. Simple!
Free stuff, too, you can explore immediately at "The Music Box".
Please add your thoughts
What are your thoughts on these things? Please leave a comment in "Leave A Reply" below. Thanks!
—Dale R.