This song is a short "jingle" from the same writer that gave us "Are We Downhearted". Such songs are NOT huge concert pieces. They are meant to be taught by "adults" to "kids of all ages", sung with friends and then get stuck in our minds to sneak up on us throughout our days to encourage — maybe nag — us to "check our fluid levels" (a little car maintenance lingo) and top up where needed. What are we checking for? Low levels of things like trust, confidence and believing. Low levels of things like love, joy and peace. Songs like these are portable enough to be there when we need them — to be there for days like these. Please give the video a sing-along listen and come back for a review of what God can do with a few determined people — "normal" people like you and me.
People are different
Where would we be without the Bible and holy spirit to help us understand it?
Paul, writing to the Corinthians, offers an answer to this "where" question.
Paul (here I like to read "Paul" as "Paul by revelation from the Lord") describes two groups of people. The two groups are NOT split along lines the "Wise Ones of the World" seem to obsess over — things like race or gender — attributes which are baked into people at birth and don't ever need to be changed as a requirement for a person to live for God.
Paul — by revelation from the Lord — divides the groups on something each person CAN change. The division is important for us to be aware of for a lot of reasons.
The two groups:

GROUP A: Those who have received the spirit which is of God so that they might know the things that are freely given to them by God. (Spiritual wisdom is available to this group. When it is used, there is always profit. It's a walk.)

GROUP B: Those who have not (or not yet — there is always hope while breath remains) received the spirit which is of God. The things of God are foolishness to them. They cannot know the things of God because they are spiritually discerned. They lack — they need — the spirit which is of God.
The "spirit of the world" a.k.a "world wisdom" is bright and shiny enough to distract people from switching out of this dead-end GROUP B and joining GROUP A.
Here is great news: the Bible and holy spirit equip "GROUP A" people to be even brighter and shinier than anything the spirit of the world puts out — enabling us to distract these distracted people and lead them to higher ground. (Tip: Jesus, Paul and others demonstrated that healing draws people, love wins people and the truth of God's Word keeps people.)
Praise the Lord!
1 man — 2 years — 3 months
For three months in a synagogue in Ephesus the Apostle Paul boldly taught things concerning the kingdom of God.
When many were hardened and didn't believe — even speaking lies to the congregation about God's truth — Paul did like any sensible person would do and changed his message to make himself more likeable. He did not want to lose the crowd.
Right?
NOT!
No, Paul and the disciples left that synagogue and departed from the critics and moved the teaching operation elsewhere in Ephesus to "the school of Tyrannus".
Result? Acts 19 reports "And this continued for two years, so that all who dwelt in Asia heard the word of the Lord Jesus, both Jews and Greeks."
How many heard? The number is "ALL".
Radio? TV? Magazines? Newspapers? Internet? Forty years? No. Under the ministry of one man, in two years and three months all who lived in Asia heard.
Paul walked and taught and led with the power of holy spirit and God did special miracles. He won brothers and sisters for the Lord who went out and won other brothers and sisters for the Lord. They preached the same thing — the Gospel's good news of Jesus Christ and salvation. People believed and got saved. Lives were changed. History was rocked. That movement continues today and we get to be part of it.
Praise the Lord!
What kind of people help with outreach?
Back in Acts 17 we see Paul at Mars Hill — and once again he is preaching. Look for those two groups we talked about — A and B, saved and not (yet) saved — in this record from Acts 17. Watch, once again, for separation:
When they heard about the resurrection of the dead, some of them sneered, but others said, "We want to hear you again on this subject." At that, Paul left the Council. Some of the people became followers of Paul and believed.
It was THE RESURRECTION that separated Jesus Christ from death, separated mankind from a dismal future and separated the people listening to Paul that day at Mars Hill. There were unbelievers (here, two flavors in the unbelief group — those who mocked, and those who talked).
And there were believers. What did THEY do? They changed. They followed Paul. They believed. They walked.
Who got to decide which group each person would be in? That decision is always real close to home.
Praise the Lord!
Paul's words to Timothy summarize valuable lessons on outreach:
You then, my son, be strong in the grace that is in Christ Jesus. And the things you have heard me say in the presence of many witnesses entrust to reliable people who will also be qualified to teach others. Join with me in enduring, like a good soldier of Christ Jesus.
Let's especially notice some points from these verses —
Strong in grace — We allow Christ in us to make us able to abound to every good work.
Hear God's Word — Read it for yourself every day. Learn all you can when you can.
Entrust to reliable people who can teach — Have you seen the bumper sticker "I may be slow but I'm ahead of you" ? Never be intimidated by the stature of someone you want to share God's message with. If you can help that person then you are ahead. They may eventually pass you, but right now speed has nothing to do with it. Recognize your place in the opportunity. We don't need to determine that person will be able to teach before we share God's love and Word. We are not to be respecters of persons, but we can pray and believe that we'll meet the people God wants us to meet — people who will respond by receiving the spirit of God. You know — pray to meet people like you and me — regular people who, just like us, will be made awesome and wonderful by the touch of the Master's hand.
Endure — Jesus did. Paul did. God has promised we can too. It is up to us. Critics don't get to run our lives. We follow Jesus, "come weal or woe".
Let's be the shinier objects in any room and win, win, win for the Lord Jesus Christ.
Let's feed on that which edifies — and wrestle against spending time on that which doesn't edify — so we have nourishment to bring to those who hunger and thirst after righteousness.
Let's dispel darkness for those who want to be walking — not just mocking or talking.
Let's be God's sunshine.
"♫♪ Get God's Sunshine ♫♪" is a song that might sneak up and nag us to top up our levels of love, joy and peace so we can shine on!
God bless you lots
Dale R.
---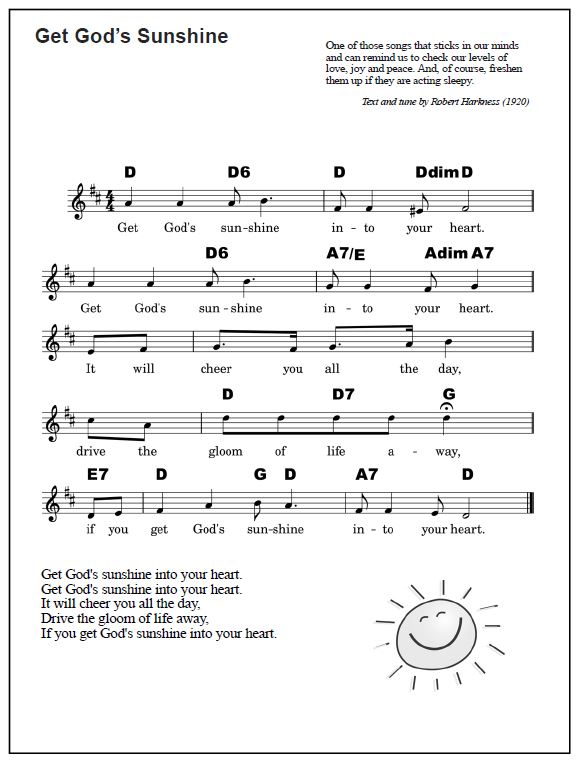 LYRICS: Get God's Sunshine
Tune & Text: Robert Harkness (1920)

Get God's sunshine into your heart.
Get God's sunshine into your heart.
It will cheer you all the day,
Drive the gloom of life away,
If you get God's sunshine into your heart.



Get a quick note ♫ when new songs appear!
Click "Get The Music Box" button [below] and tell me where to send a quick, cheerful note with link to new songs when I post them. You'll also get access to "The Music Box" — a free resource I maintain to help people navigate through more than 100 valuable Bible songs & lessons PLUS other goodies for music ministers, home schools, home churches and helps for aspiring guitar and uke players. I use the page myself. Give it a look. Let me send you the key to get in. All free – a labor of love to bless you and your family.
-Dale R.
Please share your thoughts
Would you add your sunshine to this page? Jot a note in "Leave a Reply" below.