Years ago our Mom decorated the little bathroom my brothers and I used with black and white wallpaper full of quotes by Shakespeare. (I appreciate how Mom tended to our education and helped us become refined and civilized — and I still marvel that Shakespeare could write all that and still had time to make all those fishing poles and spinning reels.) "Love all, trust few …" was one of these quotes I'd contemplate ex cathedra. Ours is not the only time in history when we find it hard to trust anyone or anything. But ours is a wonderful time in history because we are able to know and trust the Lord Jesus Christ. Please give our song a sing-along listen and come back for a chat on the richness of life made possible for us because we can trust Jesus.
To know him is to trust him
"As scarce as truth is, the supply has always been in excess of the demand." (Josh Billings – 19th century American humorist)
It is sad how often personal experience leads people to doubt rather than to trust other people or institutions. After a few years of living in this world it becomes easier to doubt. The question in front of us is "how can people get to know and trust Jesus Christ?"
I have great news: the more we get to know Jesus Christ, the more we trust him. To know him is to trust him!
So, first, how can we know him? Three ways quickly come to mind:
1. We can know Jesus through Scripture
2. We can know Jesus through other people's testimonies
3. We can know Jesus through our own experience
Scripture and testimonies on knowing Jesus
First of all, we get to know Jesus by reading the Bible.
We see in the Old Testament prophecies describing the one who would be coming.
We see in the Gospels how Jesus ministered.
We see in Acts how Jesus' disciples and the church manifested new power.
We see in the Epistles how Jesus Christ directs we should now live.
We see in Revelation what Jesus Christ will do in times yet to come.
Matthew 12 and Romans 15 both quote Isaiah saying "In his name shall the Gentiles trust". That the Messiah would be trusted is both prophesied before and confirmed after Jesus Christ's first appearing. Trusting Jesus is a durable, timeless truth!
Testimonies about Jesus found outside of Scripture are also a rich source of learning. From writings of ancient historians like Josephus up to today we can read and listen to any number of inspiring accounts of places Jesus has appeared and things he has done for people. One example of a modern book — a page turner at that — with extraordinary testimonies of Jesus working today is "Dreams and Visions: Is Jesus Awakening the Muslim World?" by Tom Doyle.
How do we know Jesus today?
His disciples knew Jesus by seeing him face to face. That was great for them but what about us now? Someday we will see Jesus face to face, too. 1 Corinthians 13 says, "For now we see through a glass, darkly; but then face to face: now I know in part; but then shall I know even as also I am known." To see "through a glass" — a mirror — "darkly" is to have an obscure or imperfect vision of reality. Now we have cloudy vision. But notice that verse indicates Jesus sees us just fine, and knows us intimately. Awesome!
Now read what else Paul told the Corinthians: "Wherefore henceforth know we no man after the flesh: yea, though we have known Christ after the flesh, yet now henceforth know we him no more (2 Corinthians 5:16). What does this verse say about knowing Jesus? It says people DID know Jesus Christ "after the flesh" — another way of saying "face to face", but NOW we do NOT know Jesus that way. Something very exciting is brewing in these words.
Yes, Jesus is (present tense) active as the head of the body, which is the church. (See Ephesians.) Yes, we have many testimonies of Jesus appearing to people since his ascension, including to the Apostle Paul and right up to today. But that is NOT his primary way of interfacing with people.
1 Timothy 2 says, "[God] wants everyone to be saved and to come to the knowledge of the truth". "Everyone" is a huge group. (John 3:16 refers to this group as "whosoever". It remains the largest standing invitation ever given in all of history.)
God wants everyone to be saved. In the Bible other words for "saved" include "born again," "to receive incorruptible seed," "to receive God's gift of holy spirit," "to be endued with power from on high," "to receive God's unspeakable gift," and one of my absolute favorites: "CHRIST IN YOU, THE HOPE OF GLORY."
We are talking about how we can know — and thereby learn to trust — Jesus Christ. The miracle of Christ's success at Calvary was poured out publicly on Pentecost as recorded in Acts 2. On that day "Christ in you, the hope of glory" became available to "whosoever" that would receive it.
To you, dear Seeker, who wants to know Jesus Christ, first accept him as Lord and believe God raised him from the dead as it says in Romans 10. Then realize it is Christ in YOU the hope of glory. Read about him. Hear testimonies about him. But one more thing, on the quest to know Jesus and trust him: learn to manifest his presence. Learn to bring Christ IN you OUT into the world of the senses.
Learn to manifest "Christ in you" in the nine ways listed in 1 Corinthians 12. Receive revelation described there as "word of knowledge, word of wisdom and discerning of spirits." Act on what was revealed through "faith, miracles and gifts of healing." Contribute to gatherings with other believers by bringing forth "words of prophecy and interpretation of tongues." Build up your ability for spiritual perception by speaking in tongues — much — in your private prayer life. Pentecost in Act 2 was not a one-off fluke or weird curiosity. It was the birthday of the church — the church Peter and Paul were part of — the church you and I are part of — the church that is the body of Christ. No, Pentecost was not a fluke, but the start of a new way of life for God's people. It continues to this day. It continues until Jesus Christ returns.
Do you want to get to know Christ, not after the flesh, but after the spirit? Do you want to trust him more? Receive "Christ in you" and manifest it. You can do it. He endured Calvary so you could. What a Savior! What a Lord! Ask and you shall receive.
Love all, trust JESUS!
'Tis so SWEET to trust in Jesus!
God bless you lots!
Dale R.
---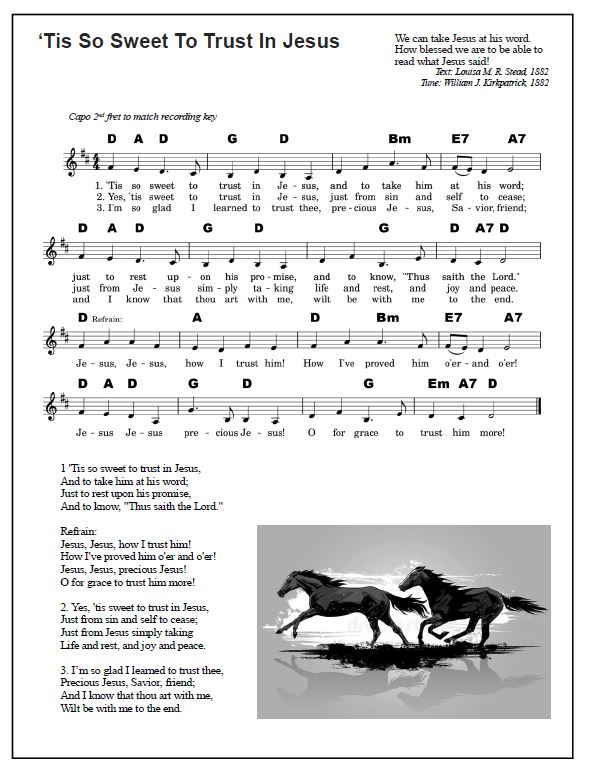 LYRICS: 'Tis So Sweet To Trust In Jesus
Text: Louisa M. R. Stead, 1882
Tune: William J. Kirkpatrick, 1882

1. 'Tis so sweet to trust in Jesus,
and to take him at his word;
just to rest upon his promise,
and to know, "Thus saith the Lord."

Refrain:
Jesus, Jesus, how I trust him!
How I've proved him o'er and o'er!
Jesus, Jesus, precious Jesus!
O for grace to trust him more!

2. Yes, 'tis sweet to trust in Jesus,
Just from sin and self to cease;
Just from Jesus simply taking
Life and rest, and joy and peace.

3. I'm so glad I learned to trust thee,
Precious Jesus, Savior, friend;
And I know that thou art with me,
Wilt be with me to the end.

Get a quick note ♫ when new songs appear!
Click "Get The Music Box" button [below] and tell me where to send a quick, cheerful note with link to new songs when I post them. You'll also get access to "The Music Box" — a free resource I maintain to help people navigate through more than 100 valuable Bible songs & lessons PLUS other goodies for music ministers, home schools, home churches and helps for aspiring guitar and uke players. I use the page myself. Give it a look. Let me send you the key to get in. All free – a labor of love to bless you and your family.
-Dale R.
Help me here – share your thoughts to complete this article
You read what I said. Now, PLEASE add your thoughts to help all this make better sense to others who want to believe and receive. THANKS! – D.