This song says, "♫♪ Floods of joy o'er my soul like the sea billows roll ♫♪." If that sounds like more joy than you wish for, then you might want to skip this song altogether — or — better yet — step up your game and join me here for a few minutes as we look at some tips from this song to help us learn HOW to experience more JOY. We'll begin by giving the song a sing-along listen.
Joy that lasts
In Matthew 13 Jesus tells this parable: "A farmer went out to sow his seed. As he was scattering the seed, some fell along the path, and the birds came and ate it up. Some fell on rocky places, where it did not have much soil. It sprang up quickly, because the soil was shallow. But when the sun came up, the plants were scorched, and they withered because they had no root. Other seed fell among thorns, which grew up and choked the plants. Still other seed fell on good soil, where it produced a crop—a hundred, sixty or thirty times what was sown. Whoever has ears, let them hear."
Birds ate some.
Some grew no roots and dried up.
Some grew until competing weeds choked them.
Some escaped the birds, developed roots, outdistanced the weeds and produced a crop.
What was wrong with the seed? Nothing. It was good seed. The difference was in the soil.
This song is not about the excitement some people experience the moment they accept Jesus as Lord. As happy as that moment might be, the joy this song speaks of is built over time as that seed is nurtured — cared for — and a crop is produced. The exciting news is that the "crop" produced by our collaboration with Jesus endures and multiplies abundantly — "a hundred, sixty or thirty times what was sown." How much joy is in it? One might say, "Floods of joy o'er my soul like the sea billows roll." Let's make room for some joy!
Key words give us clues to find this joy
This song — though brief and upbeat — is no lightweight when it comes to lyrics that can point our thinking to the joy Jesus brings.Consider this sampler of ideas to amplify what this song says:
What a wonderful change —
What a
marvelous, astonishing, exciting, admirable
difference, shift, replacement, modification
in my life — this is not just better coffee or toast or tires for people the next town over. This is LIFE. MY life. YOUR life. Personally experienced, personally enjoyed.
has been wrought —
Not "still needs to be"
but "HAS ALREADY been" built, created, added.
I see two parts here:

PART 1 —
The new birth is a complete creation the instant a person receives it. What is this new creation? Many times the Bible talks about the identical thing in different verses that are not all in one place. As good workmen of God's Word we seek to notice and bring together such verses.
In Luke 24 Jesus told his disciples he would soon send "the promise of my Father upon you" with the result they would be "endued [clothed] with power from on high" soon in Jerusalem. In Acts 1 Jesus calls this same promise of the Father "to be baptized with holy spirit."
Putting these truths together — and others — we begin to see that the "promise of the Father" is to be "clothed with power from on high" which is to receive the gift of holy spirit. On Pentecost in Acts 2 the believers received holy spirit — the complete gift which clothed them with power from on high — and on that day demonstrated a new ability to use their new gift of holy spirit to speak in tongues as The Spirit — God — gave the words to their new spirits now living in each of them. On that day and every time since, when a person receives the new birth, they are clothed with power from on high by having the gift of holy spirit created in them. In Colossians this finished work is called "Christ in you" and is also described in Colossians as "complete."

PART 2 —
This same gift is also called "incorruptible seed" in 1 Peter. Once this good seed is given, it is incorruptible. It never goes away. WOW! Talk about good seed being sown! For us to be able to REALLY sing and enjoy this song we need to be good soil and care for the growth until harvest.
When is harvest? When Jesus Christ returns and meets us in the air. Until then WE put Jesus in the very best, most honored part of our hearts — of our innermost being — and learn to walk by the spirit and honor Him in all we do. This part of the "wrought" is a work in progress, complete only as much as we have invested time and effort so far.
As we let the word of Christ dwell in us richly we grow up in Him in all things. This kind of growth can bring joy right now. How much? The song sings of floods of joy!
Since Jesus came into my heart
Getting Jesus into our hearts starts by accepting Jesus as Lord and believing God raised Jesus from the dead. With that new life "wrought" in us we continue to partner with Jesus to grow and be fruitful so a wonderful "crop" is "wrought" in time. The start? Get born again. The end? The final harvest. What is between the start and the end? The rest of our lives.
Let us get started and go the distance. Get help from Scripture, fellowship with others on the same path, pray with praise and thanksgiving, making requests as things come up. Learn to walk in the holy spirit — the gift we received at the new birth. It is Christ in you and Christ in me — the hope of glory! What won't God do for US?!? He asks us to prove what is His good and acceptable and perfect will. Let's do it!
Let joy sink in and bubble up today knowing that right now — and forever — we are members of the most blessed family. We ARE "heirs of God, and joint-heirs with Christ." What joy!

(Read more in Romans 8 and rejoice!)
Singing words like these certainly gets our "happy" going and joy glowing! Isn't this a wonderful song?
God bless you lots!
-Dale R.
---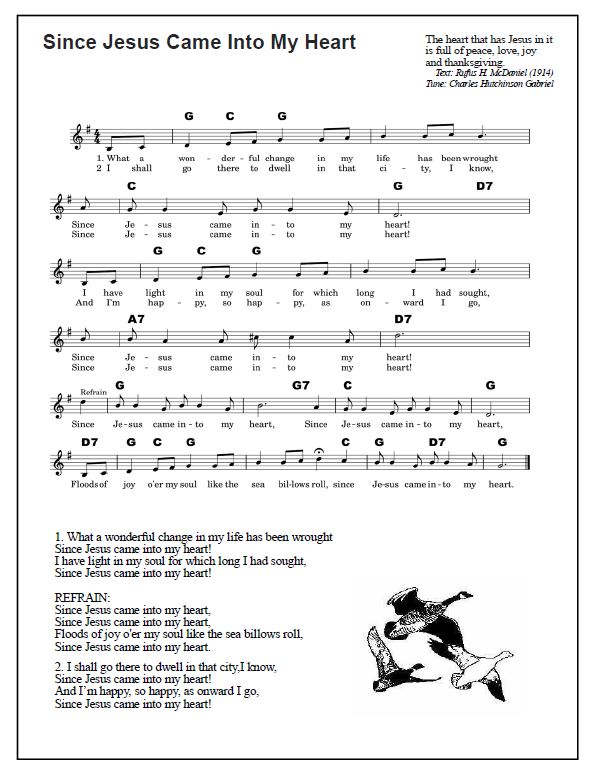 LYRICS: Since Jesus Came Into My Heart
Text: Rufus H. McDaniel (1914)
Tune: Charles Hutchinson Gabriel

1. What a wonderful change in my life has been wrought
Since Jesus came into my heart!
I have light in my soul for which long I had sought,
Since Jesus came into my heart!

REFRAIN:
Since Jesus came into my heart,
Since Jesus came into my heart,
Floods of joy o'er my soul like the sea billows roll,
Since Jesus came into my heart.

2. I shall go there to dwell in that city,I know,
Since Jesus came into my heart!
And I'm happy, so happy, as onward
I go, Since Jesus came into my heart!

Subscribe to be in the loop & download free help
Join The Music Box Community and be the first to know when a new song is added to this site AND gain access to The Music Box, where you can download free helps to play and teach the songs you find here on www.MusicMinister.net. I'd love to have your company as this site grows. It's all free to you, a labor of love. Sing on! -Dale R.
Your thoughts, please …
What would you say to someone thinking of coming onboard with Jesus? Please share your thoughts in "Leave a reply", below.