Fine old gospel song, very much worth knowing because it gives back to us every time we sing it. This is a treasures we can "have to give to him that needs". Please give it a listen, then read more, below.
Let no one despise your youth
First, a bio on this song's lyricist, borrowed from Wikipedia:

William Ralph Featherston (1848–1875) is not known to have written any other songs. Not much is known about Featherston, except that he attended a Methodist church in Montreal, that he was young when he wrote the poem (12 or 16 years old), and that he died before his 27th birthday. One story about how the poem became public is that Featherston mailed it to his aunt in Los Angeles who, upon reading it, quickly sought its publication. It wasn't until several years after Featherston's death that Adoniram Judson Gordon (founder of Gordon College and Gordon-Conwell Theological Seminary) added a melody and published it in his book of hymns, thus forever transforming this poem to a song.

Wow! Written by a 16-year old? Maybe even a 12-year old?

But "kids" can't write this beautifully. CAN THEY?
The 4-14 window
This picture shows when most people get saved. The picture is priceless: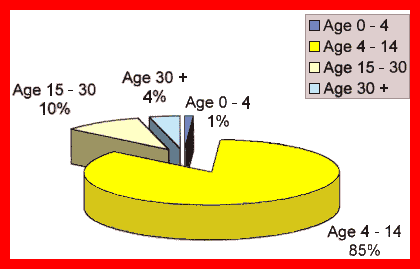 Most people make a decision for Jesus Christ between ages 4 and 14. (Check out The Barna Group for more on this.) One thing seems clear: evangelism is most effective among kids.
Two important points
1) Our song, "My Jesus I Love Thee" is an example of what a "kid" can contribute. He wrote the words at 16, maybe even 12 years old. The lyrics are beautiful and profound.

Let no one despise your youth! Go right ahead: think, speak and write beautifully.

2) It's a mistake to think "kids" couldn't learn to sing a song like this — because of the big words and lofty thoughts. Let's agree these are words and thoughts that help kids grow up. Start 'em young on these finer things.

Let no one despise THEIR youth! Give them God's best early and often.
Let's look around. See anyone four to fourteen? Let's don't look the other way! The field is white to harvest.
God bless you LOTS!
-Dale R.
---
Lyrics: MY JESUS I LOVE THEE
Words: William R. Featherstone (1864)
Music: Adoniram Judson Gordon

1 My Jesus, I love thee, I know thou art mine;
For thee all the follies of sin I resign;
My gracious Redeemer, my Savior art thou;
If ever I loved thee, my Jesus, 'tis now.

2 I love thee because thou hast first loved me
And purchased my pardon on Calvary's tree;
I love thee for wearing the thorns on thy brow;
If ever I loved thee, my Jesus, 'tis now.

3 In mansions of glory and endless delight,
I'll ever adore thee in Paradise;
I'll sing with the glittering crown on my brow:
If ever I loved thee, my Jesus, 'tis now.

Your thoughts?
What are some amazing things you've seen young people do? Please jot a note in the "Leave a reply" spot below.
---
May I tell you when new songs are posted here?
May I send you the key to print-ready song sheets and MP3 audio files you can download FREE?
Get the link NOW. Just click below and tell me where to send it.