Chapter 3 of Paul's letter to the Colossians begins, "Since, then, you have been raised with Christ, set your hearts on things above, where Christ is …".
What were the Colossians doing — or failing to do — that caused these words to be written to them? Please give this song a sing-along listen and come back for a chat about learning our dear Lord and Savior's concept of how Christians should think and live.
How can we learn how the Lord wants us to live?
Paul wrote to Timothy: "All scripture is given by inspiration of God, and is profitable for doctrine, for reproof, for correction, for [or "which is"] instruction in righteousness: That the man of God may be perfect, throughly furnished unto all good works."
A key to learning God's will and receiving instruction in righteousness is to read — to learn — God's word.
As simple and obvious as that might seem, it is amazing how often this truth is ignored.
Read the book!
But the Bible is a large book. Where should a person begin? If you are just starting out — or if you've started reading and got derailed — or if you just want a fresh approach, here is an idea:
When God raised Jesus Christ from the dead, it made a difference. Many new Bible readers have begun their Bible quest by reading about that difference — reading how God wants people to live powerfully now since Jesus rose from the dead and ascended into heaven. Begin with the "Church Epistles" — Paul's letters to the Romans, Corinthians, Galatians, Ephesians, Philippians, Colossians and Thessalonians.
These Church Epistles naturally lead to wanting to read the rest of the Bible — the Old Testament and the rest of the New Testament. But the Church Epistles are a fine place to begin finding instruction in right living and powerful help to overcome fear.
What was that pilot thinking?
Years ago my dad treated us to a ride in a small airplane. I remember watching the pilot skillfully move knobs and levers, talk on a radio, read gauges and make the airplane take us up in the air and back down again safely. I could see him flying the plane, but I could not see what he needed to have in his head to be able to do it right. Years later I read a flying instruction book that explained in great detail the things that need to be in a pilot's head to successfully fly an airplane. That instruction book was a lens through which I could not only understand what a pilot was doing, but also — along with help from his example and instruction — study and learn to be a pilot myself.
For me, the Church Epistles are like that flight manual. I can see examples throughout the Bible and elsewhere of people living powerfully for the Lord. Like that pilot, I can see them making things move and work — miracles, healings and great believing. Through them I can see it done — and through the Church Epistles I can read and understand great detail to help me have the same mind and produce the same results.
All scripture is profitable — I'm just suggesting that the Church Epistles are a great place to begin the quest to learn our dear Lord and Savior's concept of how Christians should think and live now.
". . . you won't know yourself"
Years ago a Bible teacher laid down a challenge that went something like, "If you will set aside other reading materials and concentrate on reading the Church Epistles for three months — you will become so positive, so encouraged, so full of light and joy, people will wonder what happened to you. At the end of three months you won't know yourself."
I tried that, and it worked. I found a person can only focus on so much at one time. Letting the word of Christ dwell in me richly those months, I found the Lord's light and truth chased away all kinds of thoughts that had little use and offered no life.
So — how? Just read and re-read them. Romans through Thessalonians. They'll change, morph and grow on you. You'll read something a couple of times and come back later and see things you are certain you never read before.
Care to try it for yourself?
Read on and lead on.
Here is a tip that might help you read the Church Epistles with a purpose in addition to getting acquainted with the countryside there. That same Bible teacher suggested that there is a "doctrine, reproof and correction" flavor in these letters from Paul.
Doctrine is "how to believe rightly"
Reproof addresses "practical errors" — not living right according to the doctrine
Correction addresses "doctrinal errors" — not teaching right according to the doctrine
Romans — by its very nature, is largely — doctrine
Corinthians — by its very nature, is largely — reproof
Galatians …."…. correction
Ephesians …."…. doctrine
Philippians …."…. reproof
Colossians …."…. correction
Thessalonians …."…. doctrine
Doctrine > reproof > correction > doctrine > reproof > correction > doctrine. See the pattern?
Watch how some doctrine is taught in Romans, then its wrong practice is reproved in Corinthians and its wrong teaching is corrected in Galatians.
Watch how some doctrine is taught in Ephesians, then its wrong practice is reproved in Philippians and its wrong teaching is corrected in Colossians.
Watch how some doctrine is taught in Thessalonians, then its wrong practice is reproved in — oops, wait — where are the reproof and correction epistles following Thessalonians?
(HINT – Thessalonians includes vivid teaching on Christ's return. The dead in Christ rise and "we who are alive and remain are changed". Time for glorious new bodies, perfect health and no more tears and no more fear. Why would we need reproof and correction following THAT?)
When you get to Colossians, remember our song that is based on chapter 3. You'll see clues in Colossians chapters 1 and 2 to help you understand why they needed to hear what Paul told them in chapter 3. Lights will come on. When you soak in Colossians and the other Church Epistles for awhile, brace yourself. People around you are likely to perk up and notice and wonder what happened that got you singing with grace in your heart to the Lord.
God bless you lots,
Dale R.
---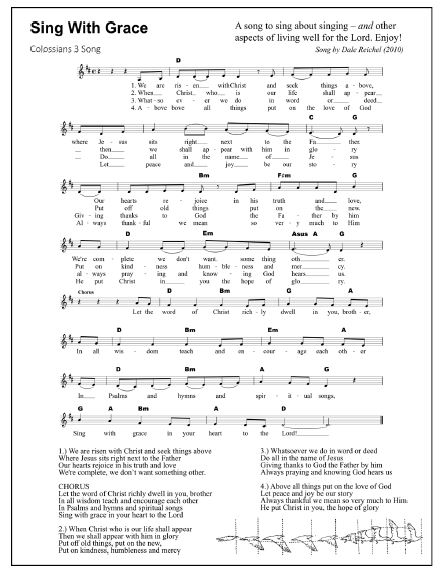 LYRICS: Sing With Grace (Colossians 3 Song)
Song by Dale Reichel (2010)

1.) We are risen with Christ and seek things above
Where Jesus sits right next to the Father
Our hearts rejoice in his truth and love
We're complete, we don't want something other.

CHORUS
Let the word of Christ richly dwell in you, brother
In all wisdom teach and encourage each other
In Psalms and hymns and spiritual songs
Sing with grace in your heart to the Lord

2.) When Christ who is our life shall appear
Then we shall appear with him in glory
Put off old things, put on the new,
Put on kindness, humbleness and mercy

3.) Whatsoever we do in word or deed
Do all in the name of Jesus
Giving thanks to God the Father by him
Always praying and knowing God hears us

4.) Above all things put on the love of God
Let peace and joy be our story
Always thankful we mean so very much to Him
He put Christ in you, the hope of glory


Let's stay in touch while this song site grows
Click the "Song of the Week" button below for FREE access to downloadable music & lyric sheets for this song and all the rest of the songs on this site. PLUS, you'll be sent a cheerful note each time a new song and lesson are posted here. Just tell me where to send them! – Dale R.
Leave a comment!

What do you think? Please share your comments below. Thanks! -D

Original post March 23, 2019. Video recording and post updated November 20, 2022.