In Matthew 11 Jesus says, "Come unto me, all ye that labor and are heavy laden, and I will give you rest. Take my yoke upon you, and learn of me; for I am meek and lowly in heart: and ye shall find rest unto your souls. For my yoke is easy, and my burden is light." We easily perceive this to be a loving invitation, but many of us might struggle a little to clearly understand what Jesus means when he says "my yoke is easy; my burden is light". What is Jesus offering us? Please enjoy this old hymn and then let's talk about Jesus' invitation.
What is a yoke?
A yoke is a shaped wooden crosspiece bound to the necks of a pair of oxen — or occasionally to horses. It is held on the animals' necks by an oxbow. The yoke allows the pair of animals to combine their strength to do work together, such as pulling a plow or farm wagon. We say a pair of animals with such a collar are "yoked".
Animals yoked together can do more work as a pair than they would if independent of each other. Sometimes for training, a younger animal would be paired with a larger, older animal.
Jesus' yoke
In life, everyone is yoked to something — or someone. We don't get to choose whether we will serve a master. But we CAN choose the master. Some people are always trying to win approval from someone. Some serve their work. Some serve their children. Some serve their spouse. Some serve only themselves, but even then, are bound to some set of rules or values, either to serve pleasure, serve nature or some other task master.
When it comes to choosing our yoke, Jesus's words light up like a beautiful sunrise. He offers that we may take his yoke, that it is easy and light. What does that mean? To pair up with Jesus means we gain power, strength and instruction enabling us to go from death to life, from being needy to having something to give to others, from living in fear to living in confidence, from suffering hurtful relationships without hope to having a way to build healthy relationships, from suffering painful home lives to building peaceful ones, and so much more.
When we take on the things of the Lord our lives become meaningful. In Jesus Christ we are able to throw off the yoke of fear — fear of death — fear of rejection — fear of life — afraid, sometimes, of our own shadows. Jesus watches and takes care of those who take his yoke — his way of living life.
Good yokes, bad yokes
The Bible tells of believers that were "fellow laborers". Paul called Timothy his fellow laborer. Have you ever considered that when you do the work of the Lord like Paul and Timothy did, that you, too, are in Paul and Timothy's circle of fellow laborers? It is a group that extends from generation to generation, and is not limited only to people living at the same time. If you are a servant of God, think about the team you belong to: Paul, Peter, Timothy, Priscilla and Aquila, St. Francis, Martin Luther, Corrie ten Boom, Billy Graham — the list goes on and on. What wonderful company to share yokes with!
On the other hand, the Bible warns not to be unequally yoked with the wrong people, things or ideas. We need to pay attention and be selective of who — or what — we allow to influence us. Years ago "Leave It To Beaver" was a popular TV show. I recall the kid star being all excited with youthful exuberance about something. He was trying to get his mom onboard with the idea, saying, "It's really cool". Mom was not buying and wisely replied, "I don't know, son. Sometimes "cool" means "not so hot." It seems the Corinthians were thinking something was cool that God thought was "not so hot". They heard God's view by way of Paul who warned the Corinthians not be be unequally yoked together with unbelievers. He asked them, "For what do righteousness and wickedness have in common? Or what fellowship can light have with darkness?"
When it comes to choosing friends, spouses, work, entertainment and other important relationships, we do well to check to see if what we are trying to yoke ourselves to fits with the yoke Jesus offers. The yoke of Jesus is easy. The burden is light. With Jesus our lives make sense. Anything less than Jesus's yoke will be less for our lives, and less honor to The One who has — and continues to — devote everything so we can have life with purpose. Life everlasting. Life to the fullest. His yoke is for our blessing. It is rest to our souls. What a wonderful savior! His burden is light. His yoke is easy!
God bless you lots!
Dale R.
---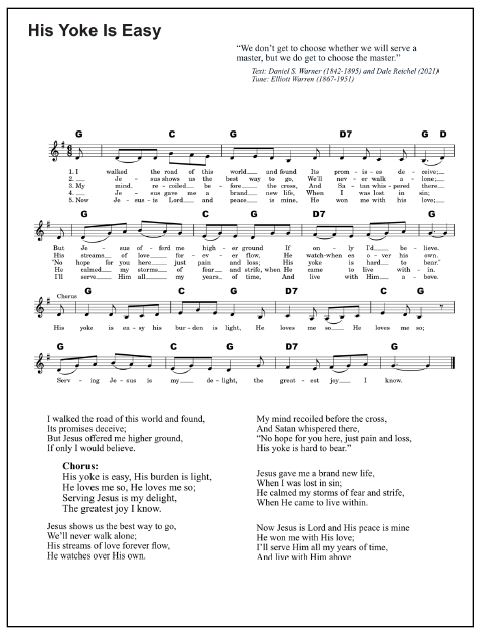 LYRICS: His Yoke Is Easy (1898)
Text: Daniel S. Warner (1842-1895) and Dale Reichel (2021)
Tune: Elliott Warren (1867-1951)

I walked the road of this world and found
Its promises deceive;
But Jesus offered me higher ground
If only I would believe.

Chorus:
His yoke is easy, His burden is light,
He loves me so, He loves me so;
Serving Jesus is my delight,
The greatest joy I know.

Jesus shows us the best way to go,
We'll never walk alone;
His streams of love forever flow,
He watches over his own.

My mind recoiled before the cross,
And Satan whispered there,
"No hope for you here, just pain and loss,
His yoke is hard to bear."

Jesus gave me a brand new life,
When I was lost in sin;
He calmed my storms of fear and strife,
When He came to live within.

Now Jesus is Lord and His peace is mine
He won me with His love;
I'll serve Him all my years of time,
And live with Him above.

Click "Get The Music Box" button BECAUSE …
When you click the button, you'll get to tell me where I can send you a note each time I post a new "Bible lesson and song for kids of all ages". I'll always put the new song's link in the note. Doing the email is a little extra work for me but saves time and is a real convenience for people who don't want to miss new songs. You will also get immediate access to "The Music Box" where I keep copies for download of the song sheets and other helps for learning to play these songs for yourself. Please give "The Music Box" a whirl.
Please share your thoughts in "Leave a reply" below.
Song and lesson first posted August 22, 2021. Reposted April 23, 2023.