Prayer is a powerful way to attack and dispel fear. Yet sometimes we forget to pray. Worse, some of us are not confident we even know HOW to pray. This song looks at a few different kinds of prayer and encourages us dive in and PRAY. Give "P-r-a-y Pray" a sing-along listen, then come back for more on this most amazing and wonderful invitation our Heavenly Father has given all of us to visit with Him — any time — in the living room of His heart.
Prayer – a path from fear to peace
There are many good reasons to pray. Here is one straight out of the Bible:
Prayer is a path to get us from our fears to God's peace.
Many live with fear and anxiety — and they do not need to. The book of Hebrews, speaking of Jesus, says, "that through death he might destroy him that had the power of death, that is, the devil; And deliver them who through fear of death were all their lifetime subject to bondage." Jesus Christ brought deliverance to those who would otherwise have spent their entire lives in bondage because of their fear of death.
That is huge, because all fears ultimately connect to this big one — the fear of death.
Jesus made available deliverance from this big fear.
But how can his followers receive this deliverance and actually get rid of fear in day to day living?
Philippians 4 instructs us to trade all our fear and anxiety in for peace. How? "By prayer and supplication with thanksgiving, let your requests be made known unto God".
The promised result: And the peace of God, which passes all understanding, shall keep your hearts and minds through Christ Jesus.
Let's trade in our anxiety for peace. Let's PRAY! Then let's go slay dragons! Many need to be taken out. CHARGE!
Using "p-r-a-y" to help us remember
Not everyone feels confident that they know how to pray. This song is offered to help fix that by teaching about prayer in a memorable way.
The song uses the word "pray" as an acronym. One way of making an acronym is to take the first letter of each word from a list and combine the letters into a word — in this case the word is "pray". Acronyms are a type of abbreviation, and can be helpful as memory aids.

p-r-a-y
praise
repent
ask
yield
Praise — When we approach the Lord with praise — by first saying how awesomely powerful and great He is — not only do we honor Him but also we remind ourselves that God is able and willing to help us. Praising the Lord helps us believe to receive what He has for us. He deserves praise, and we can usually use help with our believing. (For an example of a prayer of praise, see 2 Chronicles 20-22 where King Jehoshaphat heads into battle praising God. God gave him a miraculous victory.)
Repent reminds us that before we dive into asking the Lord for a lot of things, we should check ourselves and see if we need to get back into fellowship with Him. Would we disappoint our parents by behaving badly and then turn right around and ask them for some favor without first admitting our wrong and seeking their forgiveness? I doubt it. Would we do any less for the Lord? Prayers of repentance are sometimes needed. (For an example of repentance, see this record of King David getting out of — and back into — fellowship with God in 2 Samuel 11-12.)
Ask — Sometimes we complain about things to the Lord, but forget to ask Him for a solution. Have you read the record where the blind man cried out to Jesus for help? Did it ever seem odd to you that Jesus asked what the blind man wanted from Jesus? Couldn't Jesus see the man was blind? Of course. But Jesus did not assume that's what the man wanted. He made sure by asking the man. THAT is a good lesson in prayer. ASK. Be as clear and specific as you are able on what you want to have happen. Remember we have not because we ask not … or we ask amiss. (Don't complain and think that is the same as asking.) We don't want to ask amiss — but we do need to remember to ASK. (For an example of asking, see the record of Hannah in 1 Samuel 1.)
Yield reminds us that when we ask the Lord for something, we should listen to, remember and obey what He tells us. We should respect His answer even if it is not what we hoped to hear. He is the Lord. That's why we ask with a heart prepared to learn His will and do it. We yield to God's will. (For an example of obeying what God said, see the record of Samuel and Eli in 1 Samuel 3.)
Of course these four ideas that make "pray" into an acronym do not paint the full picture of prayer. Certainly this is not THE blueprint for prayers. But learning and remembering these ideas can add more power and versatility to our prayers.
(NOTE: I did not come up with this list myself. You could do a quick internet search and locate several teachings on splitting up the word "pray" this way. Our song is just a new contribution to those teachings.)
Prayer – an ongoing conversation
When we think of praying as an ongoing conversation with an ever-present, loving Lord, a lot of good things can happen. We are reminded we are not alone. We are not without help. We are not without love or guidance.
Prayer is not just us talking. It is us LISTENING. It is us LEARNING. It is us PRACTICING THE PRESENCE OF GOD. Powerful prayer includes being attentively quiet long enough for the Lord to impress on us what He wants us to know.
As much as possible, we should unplug. Turn off the distractions. Settle in and spend some time.
The best place to pray is right here. We don't need to wait until we arrive at the "perfect" location. But if we can improve our location — for instance, by turning off the TV — do.
The best time to pray is NOW. But if our attention needs to be on something else, then we usually do well to keep our attention where it belongs. But when we are free to direct our attention where we want, we invite the Lord back into a conversation. There is a time for everything. We need to be sure to make time for the important things.
A few years ago a cargo hatch blew off a plane that had just taken off from Hawaii. The large jet had a hole in the side of the cabin. The pilot skillfully and successfully limped the plane back for a landing that was called miraculous. Did the pilot pray? Well, yes. The pilot said that when the emergency hit, he immediately offered a very brief prayer for safety of the plane and the passengers — then he devoted his full attention, skill, confidence and 30-some years of experience to bringing them all to safety. No doubt his prayer helped but much credit is due to the pilot's experience, skill and focused attention. I imagine the Lord was watching and was cheering for that pilot. He loves his creation. He loves his people. (And what do you want to bet a LOT of other people were praying like crazy while that guy flew the plane?!? In the body of Christ, often when everyone is doing their part, it might not look like what the person next to them is doing.)
Yes, there is a time for everything. But if we find we never have time for prayer because our airplanes are always falling apart, it is time to make some serious changes. Can we agree on that?
Let's take advantage of the Lord's wonderful standing invitation to meet with Him anytime, under any circumstances in the beautiful living room of His heart. We are always welcome to seek His company. It is in His presence we lose our fear and find His peace.
God bless you lots,
Dale R.
---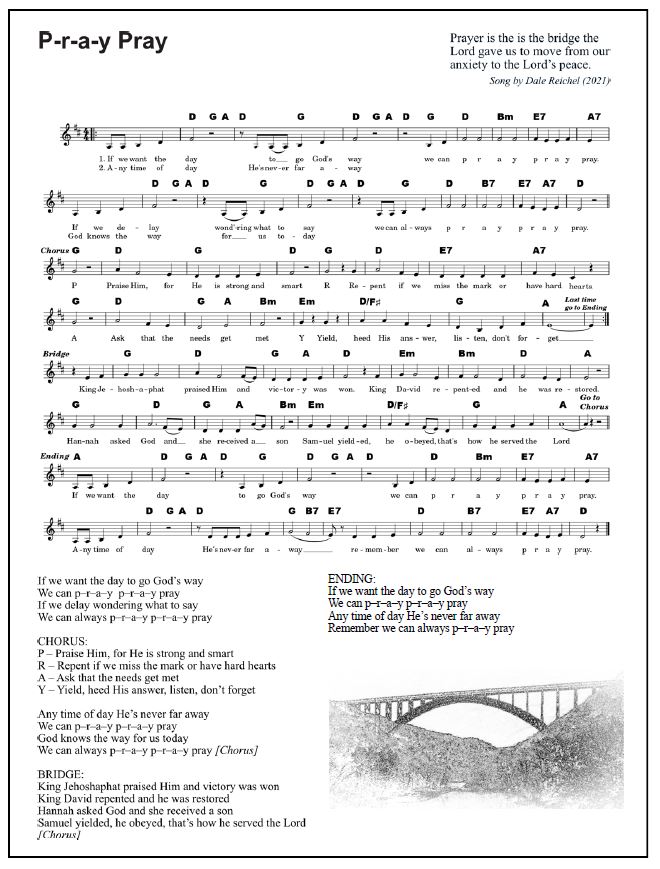 LYRICS: P–r–a–y Pray
Song by Dale Reichel (2021)
If we want the day
To go God's way
We can p–r–a–y
P–r–a–y pray

If we delay
Wondering what to say
We can always p–r–a–y
P–r–a–y pray

P – Praise Him, for He is strong and smart
R – Repent if we miss the mark or have hard hearts
A – Ask that the needs get met
Y – Yield, heed His answer, listen, don't forget

Any time of day,
He's never far away
We can p–r–a–y
P–r–a–y pray

God knows the way
For us today
We can always p–r–a–y
P–r–a–y pray

P – Praise Him, for He is strong and smart
R – Repent if we miss the mark or have hard hearts
A – Ask that the needs get met
Y – Yield, heed His answer, listen, don't forget

King Jehoshaphat praised Him and victory was won
King David repented and he was restored
Hannah asked God and she received a son
Samuel yielded, he obeyed, that's how he served the Lord

P – Praise Him, for He is strong and smart
R – Repent if we miss the mark or have hard hearts
A – Ask that the needs get met
Y – Yield, heed His answer, listen, don't forget

If we want the day
To go God's way
We can p–r–a–y
P–r–a–y pray

Any time of day,
He's never far away
Remember we can always
P–r–a–y pray



Get a heads up each time I post a new song
What is worse — getting one more email every week or missing the latest Bible lesson and song posted on this site? If a cheerful note from me would ruin your week, maybe you are living too close to the edge. But, no question about it, missing one of these songs or lessons would be a disaster! (Okay, maybe a little too much drama.)
But, really, click "Get The Music Box" button and tell me where to send it, and I'll drop you a quick heads up when I post a new song & lesson. AND, at the same time, I will include for you the link to "The Music Box", a free and handy collection of downloads, including super easy guitar/uke songs to get your own strumming going, song sheets & MP3 audio files of all these Music Minister songs and some other goodies, too. Easy to unsubscribe any time. It is all free, all part of the fun. Side benefit, this can help us stay connected if they pull the plug on soc media. I know … that could never happen here … but JUST IN CASE … CLICK the blue button!
Bold as lions, harmless as doves
Add your thoughts to this page! Leave a comment below. God bless you lots! – Dale R.