When it comes to songs about Thanksgiving, this one might not be among the best known — but it is a wonderful hymn that joins good instruction with a cheerful melody. Please give it a sing-along listen and come back for more on thanks.
Good company
Our song begins, "The voice of thanksgiving we cheerfully raise to God …"
What sort of person would cheerfully raise the voice of thanksgiving to God? Consider these wise sayings:
"Be careful of the company you keep."
"Surround yourself with only people who are going to lift you higher."
"The key is to keep company only with people who uplift you, whose presence calls forth your best." (Epictetus)
"Spend time with people who walk with God. The company we keep shapes our lives."
"Bad company corrupts good character." (I Corinthians 15:33)
These quotes about the company we keep are not about family, classmates or who we might get to serve as life goes on — though all of these are important.
These quotes are about a different group — those whom we CHOOSE to be our closest companions.
Where might we find such companions? The opening line of this old hymn offers a wonderful suggestion: we can go someplace where "the voice of thanksgiving" is cheerfully raised to God our Father. People who know to do that probably have a lot to offer and likely would be a good kind company for us to keep.
"God is _____" [fill in the blank]
What are we thankful for? The second verse suggests a few attributes of God's amazing character that everyone — be they new believers or old saints — can relate to and be thankful for:
God is light
God is loving
God is present
God blesses
God is good
God is merciful
Our little song packs a lot in a verse and sends our thoughts in a great direction. (Good songs are efficient that way.)
We enter His presence
Our song's last verse begins with "♫♪ We enter His presence…♫♪" . Let's talk about that.
God is spirit and does not have the same limits we who live in a material world have. We enjoy many benefits of His nature and greatness even though it is beyond our ability to understand or explain how He is able to do what He does. Psalm 139:6 puts it this way: "Such knowledge is too wonderful for me; it is high, I cannot attain unto it."
Though God is able to hear prayers spoken anywhere and any time, it is interesting that the Bible paints a picture of God dwelling in a place such that beings would enter and take their station before Him. Job 1 says "Now there was a day when the sons of God came to present themselves before the LORD …". The picture shows them coming to where God is, entering into His presence. They had to move themselves to go to God.
This is a beautiful truth. God can be wherever He wants to, whenever He wants to. He can fill "all in all". But still, the Bible gives us the picture of God inviting us to approach Him and present ourselves to Him. We can prepare our hearts and minds to "dress up" and put our best foot forward as we gather to where He is.
Isn't it amazing that God can know what's going on with and inside us, yet still He grants us the "space" to go from where we are to approach where He is? How does He do THAT?!? I don't know. But I do know His love draws us to Him, and He welcomes us to approach Him. To approach means we move and close the distance between us. He has given to each of us the ability to build an intimate and personal relationship with Him — as "Abba, Father" — through Jesus Christ and the gift of holy spirit we received at the new birth. Hallelujah!
Our songwriter gives us a single line to sing that can remind us of these truths: "♫♪ We enter His presence with carols of joy ♫♪ ". It is a beautiful line, all the more so when we think how great our Heavenly Father is to make access to Him possible through Jesus Christ. Wow!
How fitting are the next lines in that verse. Because God has given us new life in Jesus Christ, we gladly devote our energy, strength and abilities to the service of the Lord.
Oh — AND — we sing! Let's enter into His presence with gladness, making a joyful noise unto the Lord.
God bless you lots —
Dale R.
---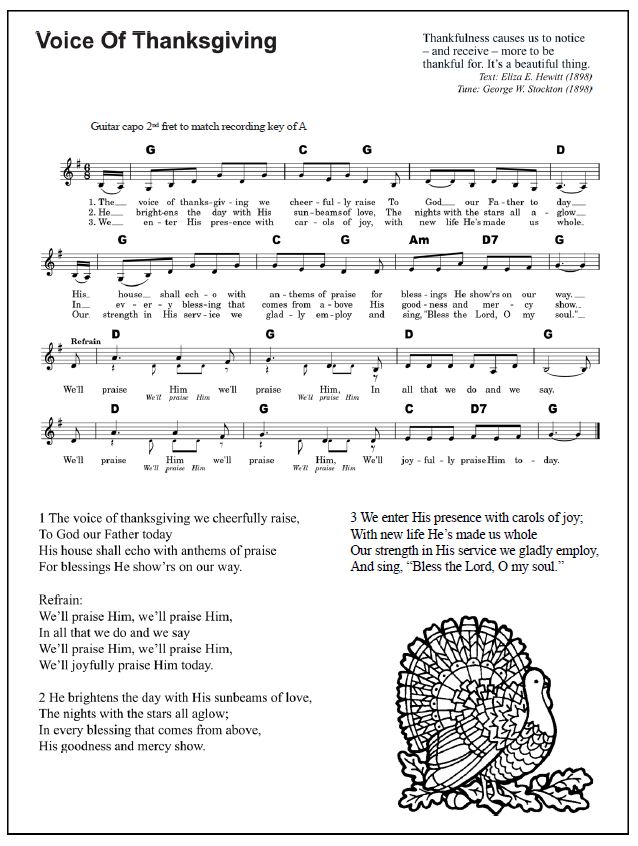 LYRICS: The Voice Of Thanksgiving
Text: Eliza E. Hewitt (1898)
Tune: George W. Stockton (1898)

1 The voice of thanksgiving we cheerfully raise,
To God our Father today
His house shall echo with anthems of praise
For blessings He showers on our way.

Refrain:
We'll praise Him, we'll praise Him,
In all that we do and we say
We'll praise Him, we'll praise Him,
We'll joyfully praise Him today.

2 He brightens the day with His sunbeams of love,
The nights with the stars all aglow;
In every blessing that comes from above,
His goodness and mercy show.

3 We enter His presence with carols of joy;
With new life He's made us whole
Our strength in His service we gladly employ,
And sing, "Bless the Lord, O my soul."

Join me in this song adventure
Let me personally invite you to subscribe to this song project. If you will tell me where to send it, I will include you on the list of people who receive a cheerful heads-up note each time I post a new song. The note includes links BOTH to the song AND to the sheet music — and always a link to unsubscribe. (Just know we hate to see you go!) I post the sheet music and other helpful free downloads at a place I call "The Music Box". I hope that explains why the "subscribe" button is called "Get The Music Box". Mystery solved, and all that. Hope to see you on my mailing list. Give it a whirl! God bless ya lots — Dale R.
Leave us a note
"Leave a reply …" below — thoughts on the song, the lesson or anything else you think would help the readers. Thanks for pitching in!