God promises a final harvest is coming. As this song describes it, on that day the "wheat" gets gathered into the safety of God's "garner" and the "chaff" is tossed into the fire. Done. It has been given to us in this life to choose which of those two ways we will go. This much-loved song of Thanksgiving artfully celebrates God's goodness and faithfulness in the harvests — both the agricultural kind and the final kind. A good harvest is always a reason to be thankful. Please give this song a listen, then come right back and let me plant some good ideas — I'm sure they grow on you!
We learn that we reap what we sow
Reap and sow,
plant and harvest,
cause and effect — these are different words for the same idea. An important part of growing up is learning causes and effects. As youngsters we want things to happen FAST. We don't want to plant and wait-wait-wait for some harvest that seems way out of sight. As we get older and wiser we learn some things take time. We learn what needs to be planted to get the results we want. Planting and harvesting worked for Adam and Eve and still works for us today.
God provides
Enjoy this wonderful poem by Maltbie Babcock — the same man who wrote the song "This Is My Father's World". His poem says "God supplies" so beautifully:
Back of the loaf is the snowy flour,
And back of the flour the mill,
And back of the mill are the wheat and the showers
And the sun and the Father's will.
Our poet gets it. He sees God's provision woven into creation. He sees it promised in the Bible. He sees it up close and personal on his dinner table. If you want to have a great time, ask a thankful person to tell you about how God has provided for them. Be prepared to sit and listen for awhile — and to be inspired and blessed! ?
A song about harvests
In four verses our song describes and compares two harvests:
1. The annual autumn harvest – crops gathered in for the season
2. God's "final" harvest – God's people gathered in forever
We learn from the Bible that in this "final" harvest the day is coming when the Lord returns and we are gathered together and shall ever be with the Lord. Others who rejected God in this life miss out on this great gathering.
Through all human history, God has desired that every person would be saved and come to the knowledge of the truth. He wishes everyone would accept His invitation to get in on the good side of the coming harvest. To that end, He sent His Word, He sent His Son, He still sends apostles, prophets, evangelists, pastors and teachers to bring the gospel of glad tidings and good news.
He faithfully honors His promises to provide. He still blesses sowing and reaping.
Since the beginning some people have argued against God's plan, and rejected and dismissed it. We, the "thankful people" of the song's first verse, understand that it is God Almighty — not His critics — who gets to say what He is going to do. We adjust to His Word, rather than attempt to adjust His Word to fit our own imaginations and desires. That's an important message, and this hymn carries it well.
Some people mock and scorn "wholesomeness" and "purity". Instead, this song beautifully repeats the Bible's call for both, in the form of a prayer to "The Lord of Harvest". Good use of language! What a gem this song is!
Some assembly required
The song is challenging to memorize, and takes some effort to understand. It is NOT the kind of song today's commercial music industry feeds on. Yet, like the Bible itself, this song has enough depth and substance that effort invested in absorbing its language pays back excellent returns. Read through the lyrics a few times thoughtfully and notice the skillful writing. Beautiful!
Memorizing Bible verses is vital to strong living. Memorizing a song like this can also help our thoughts. We've got the space up there … let's use it well!
God bless you lots!
-Dale R.
---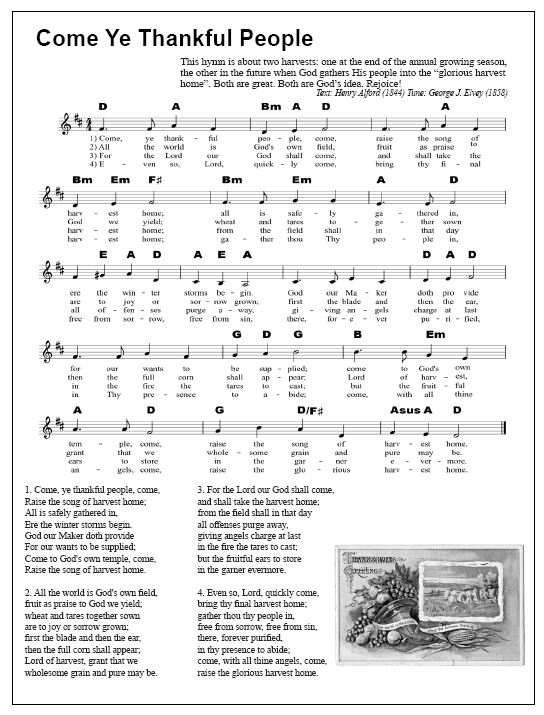 LYRICS: Come Ye Thankful People
Text: Henry Alford, 1844, alt.
Tune: George J. Elvey, 1858

1 Come, ye thankful people, come,
Raise the song of harvest home;
All is safely gathered in,
Ere the winter storms begin.
God our Maker does provide
For our wants to be supplied;
Come to God's own temple, come,
Raise the song of harvest home.

2 All the world is God's own field,
Fruit as praise to God we yield;
Wheat and tares together sown
Are to joy or sorrow grown;
First the blade and then the ear,
Then the full corn shall appear;
Lord of harvest, grant that we
Wholesome grain and pure may be.

3 For the Lord our God shall come,
And shall take the harvest home;
From the field shall in that day
All offenses purge away,
Giving angels charge at last
In the fire the tares to cast;
But the fruitful ears to store
In the garner evermore.

4 Even so, Lord, quickly come,
Bring thy final harvest home;
Gather thou thy people in,
Free from sorrow, free from sin,
There, forever purified,
In thy presence to abide;
Come, with all thine angels, come,
Raise the glorious harvest home.

Please share your thoughts
Jot a note in the "Leave a reply" spot below.
Subscribe!
If you like these articles and want to help them continue, please subscribe. Here's what happens when you subscribe:

1) You instantly get access to free resources at "The Music Box" — downloadable goodies — to help you with the songs I post every week.

2) You will receive a cheerful brief email head's up each time I post a new song.

Just click "Get The Music Box" button and fill in one blank. It will take a few seconds. Super easy – barely an inconvenience.
THANKS! – Dale