With God All Things Are Possible
We try to live healthy. Sometimes we need extra help. For many, the best they know is first to reach for pills or doctors. I've been helped by both. I DO want to offer the following thoughts on what a biblical mentor called "three great healing realities" from the Bible. This song is about one of them. Give it a listen, then come back to read more on these wonderful healing options.
Here's to your health
Healing occurs throughout the Bible. It's all around us, too. Have you ever seen a cut heal up? People's experience varies so much, I risk making ANY generalizations, but here I go anyway. Healing realities in the Bible include:
1. God's written word
2. Ministering
3. Communion
God's written word
God's word says, "He sent his word and healed them" (Psalm 107). Read His word and find many promises of healing such as: "I wish above all things you would prosper and be in [good] health" (III John 2). "[the Lord] Who forgives all your iniquities; who heals all your diseases" (Psalm 103).
We must be clear that God's desire for people is health, not sickness and disease. It is the THIEF that comes to steal, kill and destroy. Jesus came that we might have LIFE and have it more abundantly. We are in harmony with God's will and design when we seek healing.
Ministering
I Corinthians 12 lists gifts of healing among 9 manifestations of His gift of holy spirit. You find many records in scripture of healing ministered by Jesus, Elijah, Peter, Paul and others. You can get someone to minister to you, but you don't need to wait until you two can meet in person. Got aches, pains or worse? You have Christ in you, so minister to yourself. You might not need to do any more than to speak boldly and confidently to the issue yourself. Don't be like the lukewarm king who did not receive all the deliverance offered because he only struck the ground three times (see II Kings 13:18). Give the issue an appropriate rebuke and tongue lashing, like you would speak to a brash snarky trespasser trying to dump trash in your front yard. Nice and loud, yell at the pain, "Get OUT! Go AWAY! In Jesus' name!" Speak up and don't be timid. That pain does NOT belong to you. Send it back to where it came from.
Communion
Communion is not as widely recognized as a healing reality, much to our loss. But let's correct that! I Corinthians 11:30: "For this cause many are weak and sickly among you, and many sleep." Why? Not discerning the Lord's body. Not doing communion with the right respect, joy, understanding and expectation to RECEIVE.
Communion's two parts: FORGIVENESS & HEALING
His BLOOD was shed for our FORGIVENESS. This part seems to be well known. Knowing we are forgiven is SO IMPORTANT and helps us draw closer to God and receive His love, grace and mercy.

But there is more!

His BODY was broken for our HEALING. I already mentioned I Corinthians 11. Also read Isaiah 53:5:
But he was wounded for our transgressions, he was bruised for our iniquities: the chastisement of our peace was upon him; and with his stripes we are healed.

Compare Isaiah with I Peter 2:24:
Who his own self bare our sins in his own body on the tree, that we, being dead to sins, should live unto righteousness: by whose stripes ye were healed.
Did you see that change of tense? Isaiah, prophesying of Jesus still future, said "we ARE healed".
Peter, looking back, reads "ye WERE healed". HALLELUJAH!!!!
Promised, then accomplished. That is how God works. That is big!!
HUGE!

God keeps His promises.
Communion's third part: REMEMBER
Let's not miss the instructions repeated in I Corinthians 11, "This do in remembrance of me"

Communion is a time to remember the truth that through Jesus Christ's accomplishments our sins can be forgiven, and through Jesus Christ our bodies can be healed. Long before we were able to receive it, Jesus already got this done.
In communion we REMEMBER, we celebrate, we recognize, we acknowledge and we reach out to receive the reality that Jesus Christ has brought us forgiveness of sins … AND HEALING.
So, let's honor his work and receive the forgiveness he bled for.
Let's honor his work and receive the healing he was broken for.
Let it not be said we received not because we asked not.

Or worse, that we simply … forgot!

Communion is done in remembrance of both of these.

Communion …. REMEMBER
Be FORGIVEN!
Be HEALED!
Here is a song to help you remember. 😊🙏💗
God bless you LOTS!
-Dale R.
---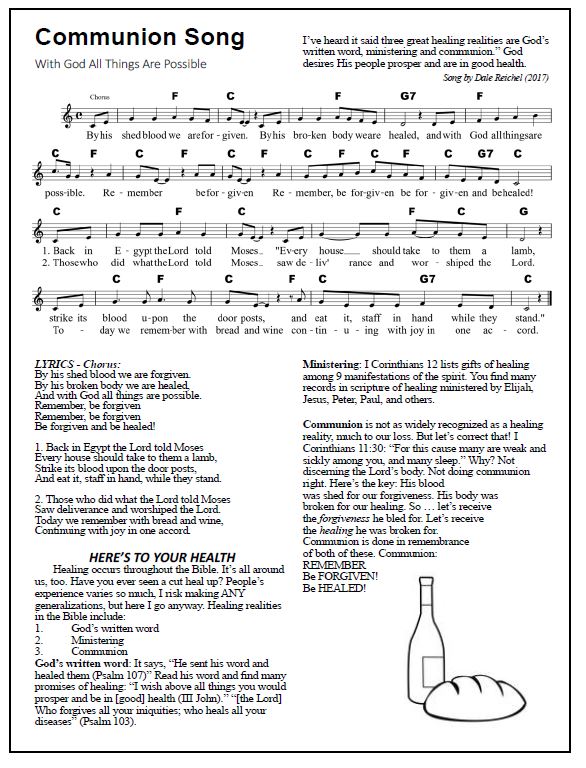 Download this sheet from The Music Box
LYRICS: Communion Song
Song by Dale Reichel (2017)

CHORUS:
By his shed blood we are forgiven.
By his broken body we are healed,
And with God all things are possible.
Remember, be forgiven
Remember, be forgiven
Be forgiven and be healed!

1. Back in Egypt the Lord told Moses
Every house should take to them a lamb,
Strike its blood upon the door posts,
And eat it, staff in hand, while they stand.

2. Those who did what the Lord told Moses
Saw deliverance and worshiped the Lord.
Today we remember with bread and wine,
Continuing with joy in one accord.

Your thoughts, please …
Have you seen healing at communion? Might you approach your next communion with greater expectations for both forgiveness AND healing? Please share your thoughts in "Leave a reply", below.
Subscribe to be in the loop & download free help
Join The Music Box Community and be the first to know when a new song is added to this site AND gain access to The Music Box, where you can download free helps to play and teach the songs you find here on MusicMinister.net. I'd love to have your company as this site grows. -Dale R. 😁