If it weren't for Dean Ellenwood's example to me of how to be a son of God, song writer and performer, I'd have lots more parts missing in all three of those areas. "It's Gotta Be God" is one of many of his beautiful songs about the goodness of God and the joy of His company. I hope this version carries enough of the heart of the original that you will get a measure of the blessing it has already delivered to thousands through the years. Please give it a sing-along listen and come back for a chat about finding God — even though He has never been the one who was lost.
Always the last place we look
The store's advertisement said, "Shop us last." That sounds like a bad marketing plan until we catch on to what they are claiming — "Once you shop us, you'll have no need to shop anywhere else. Come see for yourself. We have what you are looking for. We will be your last stop."
People find it is like that with God, and His Son Jesus Christ. They look for life in all the wrong places, but when they finally get around to checking out the Lord, the searching ends. The blessings pour in. The Bread of Life so satisfies that the person no longer feels hunger pangs in those areas where they have now been made whole by the Lord's goodness.
Whether a seeker's quest to get rid of fear, loneliness, anger or emptiness begins early or late in life, it will end happily when they look to the Lord, who cares for each and every one of us. The Lord will be the last place a person needs to look.
"I messed up. I get that"
Everyone messes up. Most of us don't really need to be told we messed up — but often that's exactly what happens. The person who only tells us how wrong we are does not help us get out of the soup.
Instead, when we are messed up, what we need is light, both so we can see the mess for what it is and light for the path that will lead us out of the mess.
God cares for people and loves people. God is light. The goodness of God leads people to repentance. It is our joy to imitate God. We can love people who arrive as a mess and share the light of God's Word with them. That light leads people either to begin to see clearly and sort out the mess and get delivered — or drives them away from the light back to their darkness. It is good to remember that the love of God attracts people. Deliverance and redemption are wonderful to behold. We play an important part in the good cause of deliverance when we look past the mess and, instead, love people and share God's Word with them. In that way we might help people to sort out their own mess and to leave it behind.
Attitude of gratitude
Those words pop up in the second verse of our song. Thankfulness is good medicine. It requires that we notice something that has gone well and then react appropriately. We become thankful. It's a wonder but its true — the more often we see something go well, the more we come to expect things to go well. The more we expect things to go well, the more they will go well. At every point, taking the time to notice the good and be thankful for it not only makes our lives more lively, but increases the things we will have to be thankful for.
As we walk through our days with an attitude of gratitude, we might become suspicious someone behind the scenes is blessing us. Who? My guess is it's gotta be God.
God bless you lots!
-Dale R.
---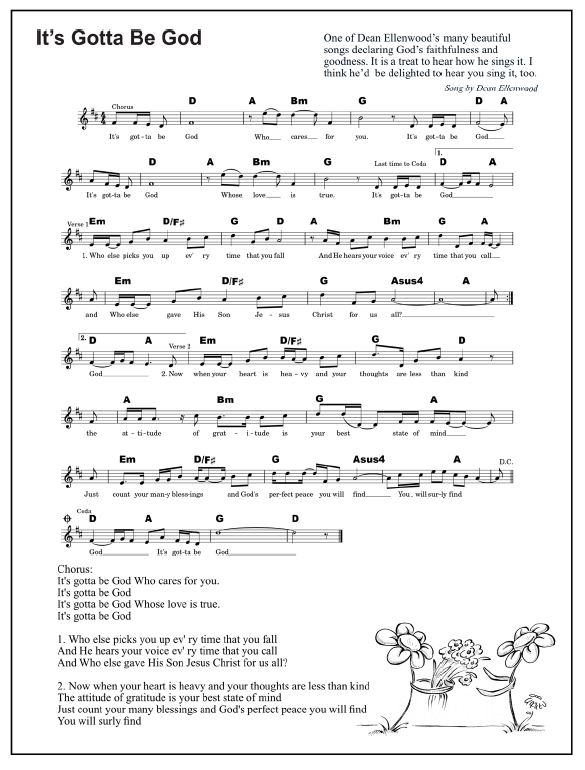 Download this sheet from "The Music Box" now
LYRICS: It's Gotta Be God
Song by Dean Ellenwood

Chorus:
It's gotta be God Who cares for you.
It's gotta be God
It's gotta be God Whose love is true.
It's gotta be God

1. Who else picks you up ev' ry time that you fall
And He hears your voice ev' ry time that you call
And Who else gave His Son Jesus Christ for us all?

2. Now when your heart is heavy and your thoughts are less than kind
The attitude of gratitude is your best state of mind
Just count your many blessings and God's perfect peace you will find
You will surly find

Let's stay in touch
Each time I post a new song and lesson here I send a brief, cheerful note to friends of this song site. The note gives a quick description of the song and lesson along with a link to the new song's page. It is super-easy for you to get a note from me, too. Just click the green "Song of the Week" button below and you are almost there.
To sweeten the deal, you will also get instant access to the "Music Box" where I put all the free resources and downloads that go along with these song pages. Check it out now! Good stuff.
Share your wisdom with other readers ...
Please feel free to add your thoughts to this conversation in the "Leave a reply" spot below.