This music is not a sing-along-strum-along song like others in our collection. I'm writing today's post on Christmas Eve as a love note to my Lord and Savior and a gift to you. I hope it blesses! Please give it a spin, and come back for notes about the work.
Bible text for Hallelujah Chorus
"Alleluia: for the Lord God omnipotent reigneth."
( Revelation 19:6b)

"And he hath on his vesture and on his thigh a name written, King of Kings, and Lord of Lords."
( Revelation 19:16b)

"And he shall reign for ever and ever."
( Revelation 11:15b)
Side note to aspiring song writers: You don't need a LOT of words to write a powerful song! The trick is to have powerful thoughts and say them simply.
---
History of Handel's Messiah
It's difficult to think of Handel's Messiah without thinking of The Mormon Tabernacle Choir. I was about 12 years old when I got to see them rehearse briefly during a tour of Salt Lake City. They were working on Stephen Foster's song " I Dream of Jeannie With the Light Brown Hair". I remember it to this day — they are impressive even when only rehearsing! I bring you this excerpt from one of their pages (DO read it all at https://www.thetabernaclechoir.org/articles/history-of-handels-hallelujah-chorus.html )
"Handel composed Messiah without getting much sleep or even eating much food. When his assistants brought him his meals, they were often left uneaten. His servants would often find him in tears as he composed. When he completed "Hallelujah," he reportedly told his servant, "I did think I did see all Heaven before me, and the great God Himself seated on His throne, with His company of Angels."
Four Guitars Christmas
In 2007 I arranged 11 pieces for guitar quartet to be played for Christmas. I finally recorded them in 2014, playing all four parts myself using a multi-track recorder. (The CD is still available at CDBABY.com, and includes the recordings plus PDF files of all the sheet music and MP3 audio of the individual parts to help with learning.) With the exception of "Hallelujah" Chorus, all the recordings on "Four Guitars Christmas" are well-known Christmas carols.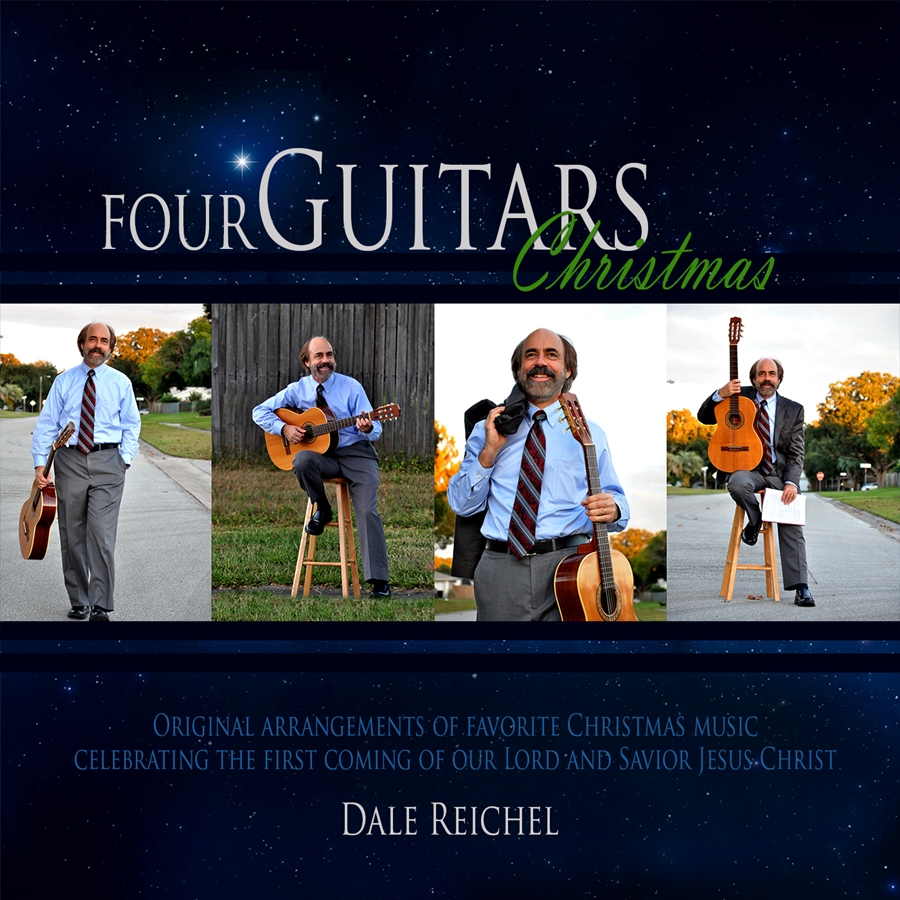 This post gives you the only video done of any of those arrangements. I'll offer these comments:
1) I play Hallelujah Chorus a little slower than most other performances you'll find. Reason — there are a LOT of little, fast notes, and I got to each of them as soon as I was able.
2) The recording uses only four individual acoustic guitar strings playing together at any one moment to make most of the sounds. That's "thin" arranging. For this video I added pictures and text so you can SEE what I HEAR when I play the parts. It might just be my own imagination, but doesn't it SEEM larger than four small strings?
God bless you lots!
Dale R.
---
LYRICS: "Hallelujah" Chorus
Text from Revelation 11:15b, 19:6b & 16b
Music by George Frideric Handel (1741)

Hallelujah, hallelujah, hallelujah, hallelujah, hallelujah
Hallelujah, hallelujah, hallelujah, hallelujah, hallelujah

For the Lord God omnipotent reigneth
Hallelujah, hallelujah, hallelujah, hallelujah
For the Lord God omnipotent reigneth
Hallelujah, hallelujah, hallelujah, hallelujah
For the Lord God omnipotent reigneth
Hallelujah, hallelujah, hallelujah, hallelujah
(For the Lord God omnipotent reigneth)
Hallelujah, hallelujah, hallelujah, hallelujah
For the Lord God omnipotent reigneth
(Hallelujah, hallelujah, hallelujah, hallelujah)
Hallelujah

The kingdom of this world;
is become the kingdom of our Lord,
and of His Christ
and of His Christ
And He shall reign forever and ever
And he shall reign forever and ever
And he shall reign forever and ever
And he shall reign forever and ever

King of kings forever and ever hallelujah hallelujah
and Lord of lords forever and ever hallelujah hallelujah
King of kings forever and ever hallelujah hallelujah
and Lord of lords forever and ever hallelujah hallelujah
King of kings forever and ever hallelujah hallelujah
and Lord of lords
King of kings and Lord of lords

And he shall reign
And he shall reign
And he shall reign
He shall reign
And he shall reign forever and ever
King of kings forever and ever
and Lord of lords hallelujah hallelujah
And he shall reign forever and ever
King of kings and Lord of lords
King of kings and Lord of lords
And he shall reign forever and ever
Forever and ever and ever and ever
(King of kings and Lord of lords)
Hallelujah, hallelujah, hallelujah, hallelujah
Hallelujah