"Whom shall I send, and who will go for Us?"
Isaiah replied, "Here am I. Send me!" Now what? Isaiah will move among the people to speak on behalf of God.
People like Isaiah who have been commissioned to speak for God — what could be their mindset? This song offers an answer to that question. The song pokes a little fun at some fake experts that the Bible exposes, shows real experts in action, and encourages us to get in the game. Please give it a sing-along listen then let's talk about printing our business cards.
"Where facts are few, experts are many"
I saw "expert" humorously defined as "a person with more data than judgment".

At times we are the best person for the job, but we hold back, cowering in the shadow of some "expert" naysayer.

But why listen to them? What if — instead of bowing to such "experts" — we stepped into the light and listened to our job description from God and His opinion of our qualifications to do it? Consider these for starters:
For we are his workmanship, created in Christ Jesus unto good works, which God has before ordained that we should walk in them. (Ephesians 2:10)
Preach the word; be instant in season, out of season; reprove, rebuke, exhort with all longsuffering and doctrine. (II Timothy 4:2)
Let a man so account of us, as of the ministers of Christ, and stewards of the mysteries of God. (I Corinthians 4:1)
And the things that you have heard of me among many witnesses, the same commit to faithful men, who shall be able to teach others also. (II Timothy 2:2)
And you shall teach them [God's precepts] to your children, speaking of them when you sit in your house, and when you walk by the way, when you lie down, and when you rise up. (Deuteronomy 11:19)
But you shall receive power, after that the Holy Ghost is come upon you: and you shall be witnesses unto me both in Jerusalem, and in all Judea, and in Samaria, and unto the uttermost part of the earth. (Acts 1:8)
But sanctify the Lord God in your hearts: and be ready always to give an answer to every man that asks you a reason of the hope that is in you with meekness and fear: (I Peter 3:15)
We get the message! We were built to talk for God.
"Tell me what I want to hear"
Telling someone what they want to hear might make us popular.

Telling someone what they need to hear might make us unwelcome. That's what most Bible prophets experienced.

This song strings together some records of men who spoke truth to people who needed it but had not exactly asked for it. We look at:
Micaiah contradicting Ahab's hundreds of prophets of Baal (I Kings 22 and II Chronicles 18)
Jesus contradicting the Sadducees (Matthew 22:29)
Peter telling the Jews they had crucified the Messiah (Acts 2)
Paul risking his life to teach the resurrection on Mars Hill (Acts 17)
Finally, a cameo appearance by the rest of us who want to teach the Word of God we have received to faithful men who shall be able to teach others also.
"If YOU can believe…"
I love the boldness of Jesus. When the man asked Jesus if he could heal his son, Jesus turned the question back on the father: "If you can believe…". This song borrows that boldness by asking the hearer, "Are you tired of messing around? Are you looking for higher ground? Are you ready to hear God's Word?" If so, "I'm here to tell you".
Shameless Self Promotion
We are charged to speak the truth with love. No one is obligated to listen to us — but it would be a mistake to think people are doing us a favor when they "let" us teach them God's Word. We bring words of life and healing. We lead them to Jesus Christ.
We are not ashamed of the gospel. We don't let our lights grow dim because of people who are not interested. We can hang in there. We will meet people who hunger and thirst for righteousness, who ask us a reason of the hope that is in us. Remember, we are here to tell them! Let's lead on!
Check out this rare photo of the only copy of Isaiah's business card. I'm sure he'd let you borrow his design.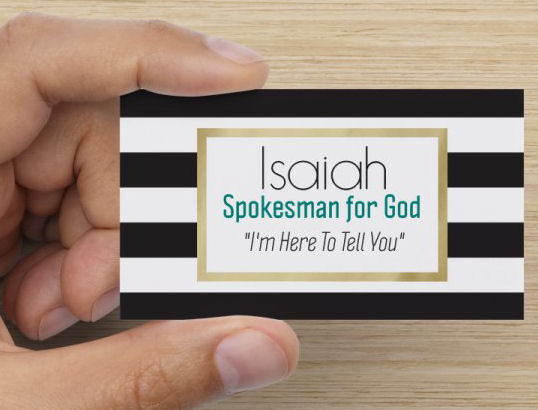 God bless you lots,
Dale R.
---
LYRICS: I'm Here To Tell You
song by Dale Reichel (1993)

Refrain:
Are you tired of messing around?
Are you looking for higher ground?
Are you ready to hear God's Word?
I'm here to tell you.

1.) King Jehoshaphat went to King Ahab's door
Ahab took him in and said, "Care to join my war?"
Jehoshaphat said, "It's true I'm just like you,
But shouldn't we ask the Lord what's the right thing to do?"

2.) So, Ahab called his prophets, four hundred of them.
He said, "I'd like to go to war. You got any problem?"
The prophets all said, "Go get 'em, O King,
And watch the victory God will bring!"

3.) Jehoshaphat was troubled by those words.
He said, "Don't you have a single prophet of the Lord?"
Ahab said, "Yeh, I do have one,
But I hate him 'cuz he thinks I'm a son of a gun."

4.) When they called the prophet they said, "Watch what you say
Don't make the king mad, don't ruin his day."
But Micaiah said, "If you want God's Word
I'm here to tell you." [chorus]

5.) Jesus said to the Sadducees, "I think it is odd
You don't know the Scriptures or the power of God.
That's why you're wrong, but if you want what's true,
I'm here to tell you." [chorus]

6.) On Pentecost the Church got its start.
When some heard they'd killed the Savior it tore their hearts.
When they asked, "What shall we do?" Peter said,
"I'm here to tell you." [chorus]

7.) There were many in the Bible who stood real tall;
Mars Hill got to hear from a man named Paul.
When, for fun, they asked "Hey, Dude, what's new??"
Paul said, "I'm here to tell you!" [chorus]

8.) Today there are many who still have not heard
Of the goodness of God, and of His wonderful Word.
If you'd like to hear what God's done for you
I'm here to tell you. [chorus]

Close:
Are you ready to abound?
Are you ready to walk on higher ground?
Are you ready to hear God's Word?
I'm here to tell you.


Let's stay in touch . . .
May I drop you a note when new songs are posted here?
May I send you the key to print-ready song sheets you can download FREE?
Click the green "Song of the Week" button below and tell me where to send them.
Your thoughts, please
How much does a person need to know before they could help someone else with God's Word? Please share your thoughts and stories in the "Leave a Reply" area below.