All human history revolves around Jesus Christ. Nothing more significant has occurred to change life for mankind than the death, resurrection and ascension of Jesus Christ. In four powerful verses our song "One Day" boldly proclaims what Jesus has already accomplished — and what he will do one glorious day coming soon! Give the song a sing-along listen then come back and join me for some serious rejoicing.
First – a little time on a soapbox
I promised you Bible lessons on this website, and we'll get to this one shortly, but first I need to get on a soapbox and vent a little. (I trust you know a "soapbox" is an improvised platform used by a self-appointed, spontaneous or informal orator — something that provides an outlet for delivering opinions. I want to offer an opinion.)
I want to address the complaint I hear sometimes: "Why does God allow things I hate like death [pain] [suffering] [evil]!?!" … etc.
(Fill in the blank with anything bad experienced by humans that the complainer wants to complain about.)
Hang around for a little while and the complaint shifts to "Why does God condemn things I want to do like [lying] [stealing] [gossiping]!?!"
(Again, fill in the blank with anything the complainer wants free rein to do but the Bible teaches is not right.)
With some humans it seems God cannot win. They complain:
"He allows the wrong things."
"He forbids the wrong things."
Humans disobey God and then consequences He warned would result cascade in every direction and somehow it is His fault.
He offers mercy and restoration and humans don't like the terms required to receive, and somehow it is His fault.
Instead, they say, "God is irrelevant. God is a tyrant. God needs to be cancelled. Impeached."
YIKES! Lord have mercy!
There. I have vented.
Now, for those same reasons I'll weep.
I sing "One Day". I read the lyrics. I consider how people (myself included) from all times and all cultures have failed to bow in awe and reverence to God the Creator of heaven and earth, who is also God the Father who so LOVED and SO GAVE. We raise our voices in songs like "One Day" and barely scratch the surface of what God has provided for us and what His magnificent Son, Jesus Christ endured for us.
I recognize my own unworthiness.
More than twelve legions of angels
This song begins, "One day when heaven was filled with his praises". It paints a picture of Jesus Christ, sinless and without any need to prove anything to anyone and owing no person anything. Heaven was filled with his praises. Moments later we are singing, "One day they nailed him to die on the tree."
That is terrible! What went wrong?
What went wrong started back in the Garden of Eden and continued to gain steam. The Bible calls it disobedience. Rebellion. Sin.
Jesus Christ did not see life on earth as a chance to try out all the "joys and glories of sin" for himself. He was the only person who never tried out ANY of the things God instructed mankind not to do. He was the only person who ever DID all that the Heavenly Father instructed that person to do.
Jesus willingly died to save us. When the soldiers came to haul him away toward horrible torture and miserable death, Jesus made his volunteer status clear: "Do you think that I cannot now pray to My Father, and He will at once give Me more than twelve legions of angels?" (Matthew 26:53)
Twelve legions would be a MINIMUM of 72,000 angels. And Jesus used the words, "more than …". It would have been enough angels to spring him.
Jesus did not pray that prayer to his Father.
I'm embarrassed to have ever complained about anything.
Enough about me
Though I opened this lesson grousing about complainers, I need to remember complaining is not interesting to God. Though I see my own unworthiness, I need to remember that is not what delights Jesus.
ENOUGH ABOUT ME!
Time to get with THE LORD'S program and change my focus to things the Lord is thinking about and working on — for example :
"Let not your heart be troubled: ye believe in God, believe also in me.
In my Father's house are many mansions: if it were not so, I would have told you. I go to prepare a place for you. And if I go and prepare a place for you, I will come again, and receive you unto myself; that where I am, there ye may be also." (John 14:1-3)
These verses give us a glimpse into things that interest and delight the Lord Jesus Christ.
Let our conversations be about things that interest HIM!
Our song "One Day" is able to REMIND us of these verses from John and dozens of others relating to the birth, life, death, resurrection, ascension, current ministry and promised return of the Lord. Let this song send you on a scavenger hunt in the Bible looking for the rest of this story. Enjoy moving among the family of changed, alive, thankful humans who engage in lives of serious rejoicing!
God bless you lots
-Dale R.
---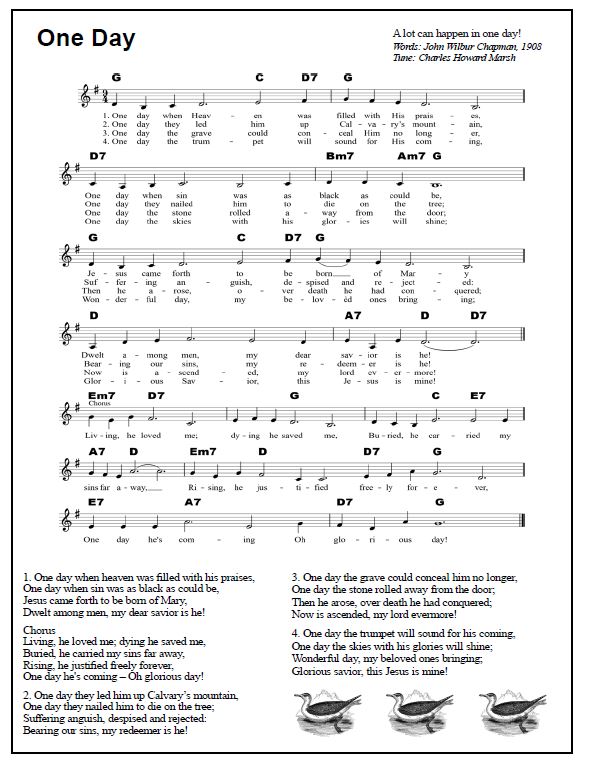 LYRICS: One Day
Words: John Wilbur Chapman, 1908
Tune: Charles Howard Marsh

1. One day when heaven was filled with his praises,
One day when sin was as black as could be,
Jesus came forth to be born of Mary,
Dwelt among men, my dear savior is he!

Chorus
Living, he loved me; dying he saved me,
Buried, he carried my sins far away,
Rising, he justified freely forever,
One day he's coming – Oh glorious day!

2. One day they led him up Calvary's mountain,
One day they nailed him to die on the tree;
Suffering anguish, despised and rejected:
Bearing our sins, my redeemer is he!

3. One day the grave could conceal him no longer,
One day the stone rolled away from the door;
Then he arose, over death he had conquered;
Now is ascended, my lord evermore!

4. One day the trumpet will sound for his coming,
One day the skies with his glories will shine;
Wonderful day, my beloved ones bringing;
Glorious savior, this Jesus is mine!




Leave a comment
What do you think? Please jot a note in "Leave a Reply" section below.
Get this handy tool
"The Music Box" is a great tool! I use it myself to quickly find everything related to "MusicMinister.net". Subscribe and you will immediately get free access to The Music Box. See for yourself how handy it is!
When you click the "Get The Music Box" button [below] you will see a screen with info how to get immediate access to The Music Box. When you do, you will also receive a brief email to remind you how to access The Music Box. That's it! Then, each time I publish a new song I'll drop you a note with a link to the song. Super easy! Please subscribe! Click "Get The Music Box" button below.
God bless you lots!
Dale R.