One reason we love the record of Daniel and the lions' den is that it teaches us about real peace, real power and real life. These were very real for Daniel. They can also be very real for each of us. Please give this video a spin, then come back for more — really!
We love the old, old story
In this Bible record we have Daniel, a wise and godly man who, though captive, had risen to the position of being a beloved, top advisor to the powerful king. We have a king who considered not only Daniel's counsel but also advice from his other advisors — ambitious men who enjoyed power and prestige, but who did not savor the things of God. These advisors conspired in lies and trickery to make a tragic setup which required the king to sentence Daniel to death, even though the king knew Daniel did not deserve it.
There was no way around it.
BUT GOD intervened and not only miraculously and publicly saved Daniel but also left the door open so the king could turn the evil advisors' intentions for Daniel right back on themselves, putting them out of business for good.
We admire Daniel's faithfulness to God. We are repelled by the treachery of the advisors. We groan at the tragic action forced on the king. We shudder as Daniel is dropped into the lions' den. We watch in breathless silence through the entire night. We are filled with awe at Daniel's peace and the lions' restraint lasting til morning's light. We share the king's joy and relief as Daniel is released from that awful pit. We square our shoulders and stand at attention at the just judgement rendered to the evil advisors.
Real peace, real power and real life
Daniel's understanding of what was real remains breathtaking and relevant to this day.
The evil advisors thought they had real power, but they did not.
They thought they held the path to staying alive, but they were mistaken.
They thought treachery would rid them of their adversary and bring to themselves a kind of peace, and they could not have been more wrong.
Daniel and his fellow captives Shadrack, Meshach, and Abednego were humans and had senses that reported the dire trouble confronting them. But they overruled their physical senses and ran with what their spiritual senses reported — that real life and real peace come only from God. Their example to all of us is priceless. Heaven and earth will pass away, but God remains.
Jesus Christ knew these records when he was in the Garden of Gethsemane. He, too, demonstrated for all time where lie real peace, real power and real life: "Not my will but Thy will be done."
Standing on solid ground
When we are confronted with hard choices, may we find in the core of our being the reality of these examples of clear thinking and believing action from Daniel. Even more, may we look squarely at Him, who is the author and finisher of faith, the Lord Jesus Christ. There is no other place to look for real peace, real power … and real life.
This wonderful little song can help remind us to keep our hearts and minds on what is real.
God bless you lots!
Dale R.
---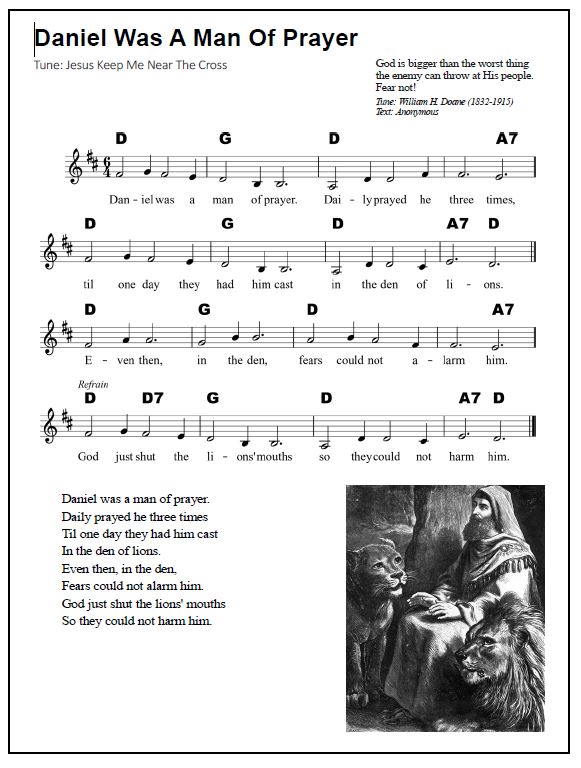 LYRICS: Daniel Was A Man Of Prayer
Tune: William H. Doane (1832-1915)
Text: Anonymous

Daniel was a man of prayer.
Daily prayed he three times
Til one day they had him cast
In the den of lions.
Even then, in the den,
Fears could not alarm him.
God just shut the lions' mouths
So they could not harm him.

Tell me what you think
Please add to this conversation and leave a comment below.
Join us in this song project
Would you please join us in this song project? I'd like to make sure you know when new songs are added here, and never miss out on blessings that are updated every week. There's a blue button below labeled "Get The Music Box". Just click it. A screen will pop up that lets you tell me how to send you a weekly "new song" notice. As soon as you click OK on THAT page, you will immediately see another button to access —all for free — The Music Box, which is my private collection of song and ministry materials that go along with this "sermon and song" web site. You will also receive a confirmation email with instructions on how to get to The Music Box.
I'd love to have you be part of the gang. Just click that button below, and you are almost there. Thanks much! God bless ya — Dale R.
Click this "Get The Music Box" button to join "The Music Box Community", which is our gang of fellow happy Bible music fans. You will receive a brief update note each week, and get immediate access to more free song stuff: