An anthem is "a popular song . . . felt to sum up the attitudes or feelings associated with a period or social group". Forty-seven years ago I first heard "My Life's Dream". For me — and many others — it has been an anthem. Back then a bunch of us drove many hundreds of miles, thrilled to see this song performed live. I got to meet this song's writer, Cliff Adelman — himself among the best of a group of marvelous music ministers I was just then becoming acquainted with — at a time when I was more certain than ever that the best days of life lay ahead. Many years have passed. Despite — or because of — bumps in the road leading from those days to these, this song blesses me now more than ever. Not too long ago I got to spend a little time with this song's writer, who is still blessed and still blessing — faithfully loving God and His people. And why wouldn't he be?!? We have been given much and have so very much to be thankful for. I offer the recording and notes as recognition and heartfelt thanks to Cliff and others along with him who were there all those years ago — who gave me something of such durable value. Please give this song a sing-along listen, then let's talk about living the dream.
"Wherefore remember …"
In this song's lyrics we can see Ephesians:
"Wherefore remember . . . in time past . . .
you were without Christ . . .
having no hope, and without God in the world.
But now in Christ Jesus you who were far off
are made near by the blood of Christ.
For he is our peace."
Compare those words from Ephesians with lyrics from our song:
"I was lost, my world was filled with tears and trouble,
Times were tough.
Evil days when living life was one big bother,
One big bluff …
God stepped in, and by His mercy love and kindness,
I was saved.
Now I love the life I'm living, and I know how God my Father set me free…
I've been given my life's dream,
Peaceful days with Jesus Christ alive inside me, life supreme."
Ephesians says we should remember that we were without God and without hope — but now … in Christ Jesus we have peace.
Through the years this song has helped me remember as Ephesians instructed. Good songs just keep serving and serving.
Sometimes we forget
Songs do serve to help us remember things — sometimes things we'd rather forget.
Some "oldies" songs might remind us of stupid things we've said or done in the past. For such times I offer these two happy thoughts —
1) If a memory of something I did — or something done to me — still stings, I can take it to the Lord now — knowing that He is willing and able to walk me through how to settle that account once and for all,
and
2) If something in the past made sense to me then but now strikes me as [dumb] [embarrassing] [useless] [etc.], I can count this as evidence of personal growth. WOOT.
But we are not supposed to forget everything. Consider these ideas —
1) "Prove all things — hold fast to that which is good." (1 Thessalonians)
2) "Don't throw the baby out with the bathwater". In other words, don't discard something valuable when trying to get rid of something unwanted.
3) "However beautiful the strategy, you should occasionally look at the results." (Winston Churchill) — (If this quote doesn't seem to fit the topic, read 1) and 2) a few more times, and its usefulness should come into focus.)
Living the dream and forgiveness
I've met people who knew this song years ago and cannot listen to it now. They found the cruise was not what they signed up for and, understandably, did not want to risk being disappointed again.
Dear Reader, we know life is more than just a cruise. If you believe God said what He meant in Ephesians, but find the dream life in Christ is marred by recurring nightmares from the past, I want to encourage you that your portion of of the Lord's peace is still within reach. Look at this brief video and then bring your basket of claims to the Lord.
He is faithful.
You really are God's best.
God's got a lot to give. Truth be told, so do you.
God bless you lots,
–Dale R.
---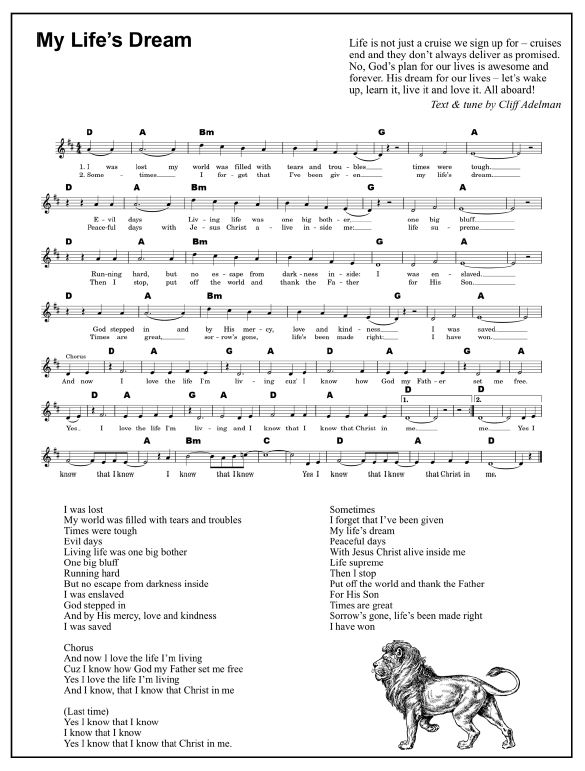 LYRICS: My Life's Dream
Song by Cliff Adelman

I was lost
My world was filled with tears and troubles
Times were tough
Evil days
Living life was one big bother
One big bluff
Running hard
But no escape from darkness inside
I was enslaved
God stepped in
And by His mercy, love and kindness
I was saved

Chorus
And now I love the life I'm living
Cuz I know how God my Father set me free
Yes I love the life I'm living
And I know, that I know that Christ in me

(Last time)
Yes I know that I know
I know that I know
Yes I know that I know that Christ in me.

Sometimes
I forget that I've been given
My life's dream
Peaceful days
With Jesus Christ alive inside me
Life supreme
Then I stop
Put off the world and thank the Father
For His Son
Times are great
My sorrow's gone, my life's been made right
I have won