The word "just" can be used to make something smaller or less valuable, as in, "Oh, it's just an old shirt." But the "just" in our song "Just Be Thankful" is not there to make "being thankful" smaller — rather to make us think about how much smaller life's "problems" become when we set them next to what God has done for us. When, in light of God's blessings, we right-size life's problems we can enter the joy of His presence wherever we are. Please give "Just Be Thankful" a sing-along listen, then let's aim our thoughts at thanks.
Of all the things to do well …
I know — and admire — a lot of people who work hard, accept responsibility, do things well and get a lot done. It seems the most productive ones have figured out how to regularly step away from the press of all that to enjoy quiet fellowship time with the Lord, thanking and praising Him for His blessings on their lives. Of all the things they do well, that is the one they'll say is among the most important — and for a lot of reasons.
Our song and the following quotes from folks and from Scripture touch on many of those reasons.
Thankfulness – points to ponder
It is not happy people who are thankful. It is thankful people who are happy.
A thankful heart is a happy heart.
What you take for GRANTED, others may be PRAYING for. Be thankful.
The most beautiful way to start and end the day is with a grateful heart.
The more you are thankful, the more you attract things to be thankful for.
If you can't be thankful for what you have, be thankful for what you have escaped. (John Wayne)
Find time to thank God for all the blessings you receive on a day to day basis.
Learn to be thankful for what you already have while you pursue all that you want. (Jim Rohn)
Enjoy the little things for one day you may look back and realize they were the big things. (Robert Brault)
Gratitude makes sense of our past, brings peace for today, and creates a vision for tomorrow. (Melody Beattie)
Gratitude helps us to see what is there instead of what isn't.
No duty is more urgent than that of returning thanks. (James Allen)
Give thanks for all of the opportunities that even our struggles bring.
Thankfulness is the quickest path to joy. (Jefferson Bethke)
Acknowledging the good that you already have in your life is the foundation for all abundance. (Eckhart Tolle)
Along my journey I have learned that the more thankful I am, the more I have to be thankful for.
There is always, always ALWAYS something to be thankful for.
Gratitude is riches. Complaint is poverty.
Gratitude is the sweetest thing in a seeker's life — in all human life. If there is gratitude in your heart, then there will be tremendous sweetness in your eyes. (Sri Chinmoy)
Gratitude is a powerful catalyst for happiness. It's the spark that lights a fire of joy in your soul. (Amy Collette)
Gratitude turns what we have into enough.
"When I started counting my blessings, my whole life turned around." (Willie Nelson)
Gratitude can transform common days into thanksgivings, turn routine jobs into joy, and change ordinary opportunities into blessings. (William Arthur Ward)
When gratitude becomes an essential foundation in our lives, miracles start to appear everywhere.
Let our lives be full of both thanks + giving.
Rest and be thankful. (William Wordsworth)
Trade your expectations for appreciation and your whole world changes in an instant. (Tony Robbins)
Be kind. Be thoughtful. Be genuine. But most of all, be thankful.
There is a calmness to a life lived in gratitude, a quiet joy. (Ralph H. Blum)
When we focus on our gratitude, the tide of disappointment goes out and the tide of love rushes in. (Kristin Armstrong)
Hem your blessings with thankfulness so they don't unravel.
Thankfulness is like a muscle . . . exercise it every day to create an attitude of gratitude.
A life without thankfulness is a life that never reaches its full potential promised by God.
Today is a gift of God. Be thankful.
Before we ask God for anything, we must first thank Him for everything.
Thankfulness – a few favorite verses
Enter into His gates with thanksgiving, And into His courts with praise.
Be thankful to Him, and bless His name. For the LORD is good;
His mercy is everlasting, And His truth endures to all generations.
Psalm 100:4,5 (NKJV)
In every thing give thanks: for this is the will of God in Christ Jesus concerning you.
1 Thessalonians 5:18
Speaking to yourselves in psalms and hymns and spiritual songs, singing and making melody in your heart to the Lord; Giving thanks always for all things unto God and the Father in the name of our Lord Jesus Christ;
Ephesians 5:19,20
Praise ye the LORD. O give thanks unto the LORD; for he is good: for his mercy endures for ever.
Psalm 106:1
Be anxious for nothing; but in every thing by prayer and supplication with thanksgiving let your requests be made known unto God. And the peace of God, which passes all understanding, shall keep your hearts and minds through Christ Jesus.
Philippians 4:6,7
But thanks be to God, which gives us the victory through our Lord Jesus Christ.
1 Corinthians 15:57
And let the peace of God rule in your hearts, to the which also ye are called in one body; and be ye thankful.
Colossians 3:15
Now therefore, our God, we thank you, and praise your glorious name.
1 Chronicles 29:13
What else can we say? Let's make it a regular habit to right-size life's pressures and responsibilities by laying them at the feet of the Lord as we take time to be with Him and just be thankful.
God bless you lots!
-Dale R.
---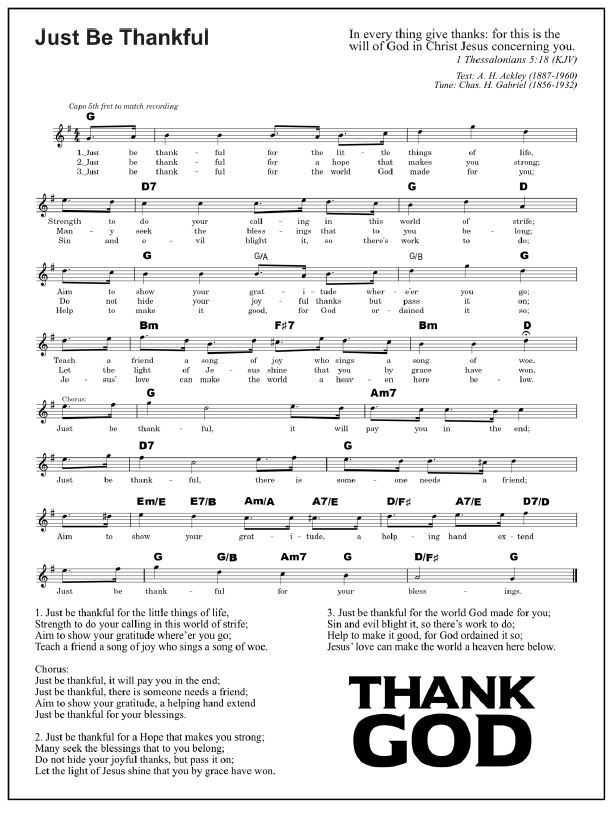 LYRICS – Just Be Thankful
Text: A. H. Ackley (1887-1960)
Tune: Chas. H. Gabriel (1856-1932)

1. Just be thankful for the little things of life,
Strength to do your calling in this world of strife;
Aim to show your gratitude where'er you go;
Teach a friend a song of joy who sings a song of woe.

Chorus:
Just be thankful, it will pay you in the end;
Just be thankful, there is someone needs a friend;
Aim to show your gratitude, a helping hand extend
Just be thankful for your blessings.

2. Just be thankful for a hope that makes you strong;
Many seek the blessings that to you belong;
Do not hide your joyful thanks, but pass it on;
Let the light of Jesus shine that you by grace have won.

3. Just be thankful for the world God made for you;
Sin and evil blight it, there is work to do;
Help to make it good, for God ordained it so;
Jesus' love can make the world a heaven here below.

Let's stay in touch
Each time I post a new song and lesson here I send a brief, cheerful note to friends of this song site. The note gives a quick description of the song and lesson along with a link to the new song's page. It is super-easy for you to get a note from me, too. Just click the green "Song of the Week" button below and you are almost there.
To sweeten the deal, you will also get instant access to the "Music Box" where I put all the free resources and downloads that go along with these song pages. Check it out now! Good stuff. (Side note — I still post announcements on social media, too, even though I have learned it is terribly unreliable at getting the message out and keeping us connected. Email gets that job done where social media fails. We do well to connect this way, and avoid getting throttled by social media.)
Share your wisdom with other readers ...
Please feel free to add your thoughts to this conversation in the "Leave a reply" spot below.