"My Thankful Heart" is another song from the lovely collection of hymns Charlie P. Johnston published in 2009. ("My Cup Runneth Over" is also his.) This is a peaceful prayer song of thanks to the Lord. Not only does this song fit well during the Thanksgiving holiday season, it serves well to spread the best of this season around to the rest of the year, too. Please give it a sing-along listen. I pray Mr. Johnston's song and the song notes will be among the delightful blessings you find in this day which the Lord has made for you.
What can we give to the Lord?
What can we possibly give back to the Lord. Our song offers this wonderful gift idea — "Lord, my heart is thankful — and I'm giving it to You." What a beautiful picture this song paints — we are thankful for all the Lord has done for us. Thankful for His grace and love, which never end. What wonderful thoughts to carry in the living room of our hearts.
Of all the things we might do with the Lord's never-ending grace and love to us, one of the greatest is to let these feed the thanks we give back to Him.
Life's tempestuous seas are no match for His smoothing
Revelation 21 opens with "And I saw a new heaven and a new earth: for the first heaven and the first earth were passed away; and there was no more sea."
I don't claim to know for sure what "no more sea" means, but I can report that an idea many Bible teachers offer is that "sea" represents the chaos — the raging evil and uncertainty — of this present world. One day these things will be done and gone for good.
We can picture being tossed in "life's tempestuous seas" and we can welcome the blessing of the Lord's smoothing stability instead, as the song says. At all times we may draw close to the Lord and receive His promise of peace. He promises peace and powerful encouragement to everyone who asks Him:
The LORD is my shepherd; I shall not want.
He makes me to lie down in green pastures: he leads me beside the still waters.
(Psalm 23:1,2)
Let not your heart be troubled: you believe in God, believe also in me.
Peace I leave with you, my peace I give unto you: not as the world gives, give I unto you. Let not your heart be troubled, neither let it be afraid.
(John 14:1 & 27)
Be anxious for nothing; but in every thing by prayer and supplication with thanksgiving let your requests be made known unto God.
And the peace of God, which passes all understanding, shall keep your hearts and minds through Christ Jesus.
(Philippians 4:6,7)
The light of God's Word
Our song includes giving thanks for God's Word. Among the Lords' many marvelous works, what tops His Word? What would our lives, our thoughts, our dreams, goals and efforts be like if we did not have His Word? We cannot thank Him enough for His revealing Himself to us in such magnificent, whole, powerful and loving ways.
And when we consider how the Lord has included us in His plan to make His Word known — that He gave to people like you and me the ministry and the word of reconciliation (2 Corinthians 5) — and that he made us to be lights in this world (Matthew 5) — and in all of this He never leaves us nor forsakes us (Hebrews 13:5) — Oh! What a life to be thankful for. He makes ordinary people like us able to live lives that are anything but ordinary.
Singing Charlie's song helps me see that the least I can do to give the Lord my thankful heart.
God bless you lots!
-Dale R.
---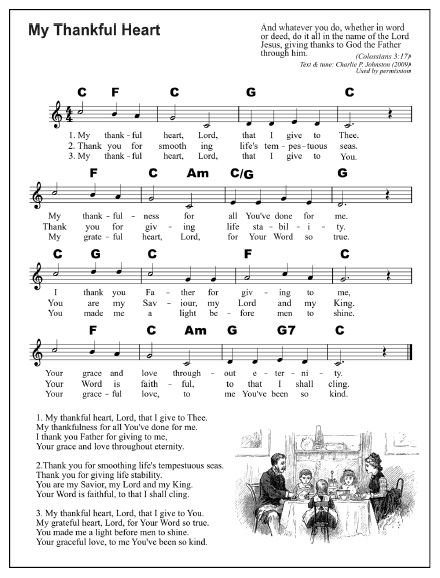 LYRICS: My Thankful Heart
Text & tune: Charlie P. Johnston (2009)

1. My thankful heart, Lord, that I give to Thee.
My thankfulness for all You've done for me.
I thank you Father for giving to me,
Your grace and love throughout eternity.

2. Thank you for smoothing life's tempestuous seas.
Thank you for giving life stability.
You are my Savior, my Lord and my King.
Your Word is faithful, to that I shall cling.

3. My thankful heart, Lord, that I give to You.
My grateful heart, Lord, for Your Word so true.
You made me a light before men to shine.
Your graceful love, to me You've been so kind.

Let's stay in touch
Each time I post a new song and lesson here I send a brief, cheerful note to friends of this song site. The note gives a quick description of the song and lesson along with a link to the new song's page. It is super-easy for you to get a note from me, too. Just click the green "Song of the Week" button below and you are almost there.
To sweeten the deal, you will also get instant access to the "Music Box" where I put all the free resources and downloads that go along with these song pages. Check it out now! Good stuff. (Side note — I still post announcements on social media, too, even though I have learned it is terribly unreliable at getting the message out and keeping us connected. Email gets that job done where social media fails. We do well to connect this way, and avoid getting throttled by social media.)
Share your wisdom with other readers ...
Please feel free to add your thoughts to this conversation in the "Leave a reply" spot below.