"Do NOT think of a dog wagging its tail! He's running toward you, happy to see you, and can't wait for you to pet him. Do NOT picture a happy dog!"
Did you think of a dog just then? I admit I did, even though I was told not to. Why didn't I think as I was told to think? Well, of course, because minds don't work like that. The way we stop thinking about one thing is to REPLACE the thought with another. REPLACE! For those times when thoughts are dreary or worse, here is a GREAT song with wonderful thoughts to REPLACE the gloom. Please give the song a listen, then come back and we'll soak up some gladness.
Lead every thought captive
"Lead every thought captive to the obedience of Christ" sounds a lot like instructions — like a command.
That is one way to think of it.
But there is another way to think of it, too.
"Lead every thought captive" is also a PROMISE.
The powers that want to hurt God's people HATE those words from II Corinthians 10.
Why?
Because those words shout the truth that we humans have a remarkable ability to defend against their attacks: We can think about what we are thinking about. Not only THAT— we can CHANGE what we are thinking about.
The promise is that we do not need to live lives filled with doubt, worry and fear. The promise is we CAN lead every thought captive to the obedience of Christ. We CAN live lives filled with trust, confidence and believing, resulting in love, joy, peace and success.
To receive God's peace, REPLACE unprofitable thoughts with thoughts that obey Jesus Christ.
Tending our garden
It takes weeks and months for gardens to bloom, but it also takes faithful minutes and hours of tending to get them there. We select the best location for light. We prepare the soil to support growth. We select and plant good seed. We water as needed. We constantly watch for weeds and pluck them out right away. None of these steps are hard to do, but each step is necessary to have a productive and beautiful garden.
We can also cultivate our minds toward productive beauty. We bring our minds to the source of light. We seek to learn. We deliberately plant good thoughts. We guard against anything that would discourage growth of the good seed.
Our song, "He Keeps Me Singing" is a wonderful way to feed and water the garden of God that grows as we lead every thought captive to obey Christ.
When worry tries to take over
Sometimes the weeds take over, the roots are deep, and we cannot get ahead of them. Our minds churn on a problem that we don't know how to fix. We cannot sleep, and our stomachs hurt. Just replacing the upset thoughts with happy thoughts is not enough to solve such a big problem.
In times like these we need to ACT. Here is an idea:
Pray. Sit with the Lord until you have an answer for this question:
"Lord, is this problem mine to fix or yours to fix?"
It may be this is NOT your problem, and God will tell you that He's got this one. So replace the worrying with rejoicing that a solution is in the works.
On the other hand, God may show you what action YOU need to take to fix the problem. Now you REPLACE the thoughts of worry with thoughts of obedience to what God just showed you to do. We can think of God's instructions as God's PROMISE that deliverance is available and within your reach if you will act. Now — act on God's promise!
Either way, you now know what to do: Lead every thought captive, get to work, and — keep singing.
God bless you lots!
-Dale R.
---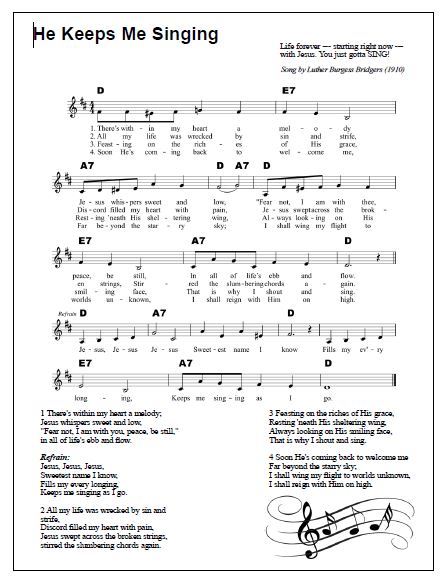 LYRICS: He Keeps Me Singing
Song by Luther Burgess Bridgers (1910)

1 There's within my heart a melody;
Jesus whispers sweet and low,
"Fear not, I am with you, peace, be still,"
in all of life's ebb and flow.

Refrain:
Jesus, Jesus, Jesus,
Sweetest name I know,
Fills my every longing,
Keeps me singing as I go.

2 All my life was wrecked by sin and strife,
Discord filled my heart with pain,
Jesus swept across the broken strings,
Stirred the slumbering chords again.

3 Feasting on the riches of His grace,
Resting 'neath His sheltering wing,
Always looking on His smiling face,
That is why I shout and sing.

4 Soon He's coming back to welcome me
Far beyond the starry sky;
I shall wing my flight to worlds unknown,
I shall reign with Him on high.

What do you think?
Please jot a note in the "Leave a reply" spot below.
Subscribe and get a cheerful note from me each week
I want you to be part of this "sermon and song" gang, to watch it grow, to share with others, and to suggest ideas as things develop. Yes??? AND there is even free stuff for subscribers. Check it out by clicking the "Get The Music Box" button [below] and read the note I wrote there.
God bless ya!!! – Dale R.