It is wonderful to have someone else take us by the hand and lead us to the Lord. But we each want to get to the place that we continue reaching out to the Lord on our own. One step is to decide to pursue a knowledge of God's Word. That is what this new song by Frank and Jane Manasseri encourages. Please give their delightful song a sing-along listen, then let's shine some light on the path to believing and healing wholeness.
Bible words
When we ask someone to do something, we often get better results if the person knows why the thing should be done. We might have been working on something for years, and the "why" is so obvious to us that we cannot imagine someone else might have no interest in doing what was asked because they don't know what benefits would be.
Our song asks that the singers open eyes, ears and hearts. How will it benefit our singers to do these things?
In Romans 10, Paul leads seekers through rich answers to that question. This song and Romans chapter 10 go together beautifully.
To review, in the beginning Adam had life and fellowship with God. But Adam decided not to do what God said. The Bible word for such disobedience is sin. Adam's sin broke the fellowship connection Adam had with God and introduced death to all mankind. Every person that came after Adam inherited both death and a broken connection with God. That was a big problem that required a big fix.
Rich in His grace and mercy, God saw to that "fix" by sending His sinless Son, Jesus Christ, to die on the cross and rise from the dead. Because Jesus was obedient and sinless, his death was able to bring a solution to man's sin problem and was able to make available to everyone who is willing to receive it new life and righteousness, able to stand before God without any sense of sin, guilt or condemnation.
Notice a few important "Bible" words we need to have some understanding of to make sense of all this:
life
death
sin
guilt
condemnation
righteousness
believing (& faith)
fellowship
For a person who wants to go from death to life, from sin to righteousness and from disconnect to fellowship, Romans 10 — and this song — can be a big help.
Paul teaches how to believe
In Romans, Paul makes it very clear that the way a person goes from death to life and from sin to righteousness is not through the person's own works, but rather through believing — believing God raised Jesus Christ from the dead — and by receiving Jesus as Lord.
Paul leads us through the mechanics of believing. He asks, "How then shall they call on him in whom they have not believed? and how shall they believe in him of whom they have not heard?"
There it is. There is the path to life — Hear leads to believe which leads to action ("call on Him").
Hear — believe — act.
Now it gets interesting. Notice all three of these things — "hear", "believe" and "act" are things we, ourselves, are in control of. If someone offered to buy any one of those abilities from you — so you would no longer have it for the rest of your life — what price would you demand? And … which of these three would you be willing to part with?
What would your life be like if you had to go through it without just one of those three abilities? Would you choose
"I cannot hear" or
"I cannot believe" or
"I cannot act" ?
Just a thought.
Not using our abilities to find and hear good information — and then believe it and act on it — brings the same results as giving any of these abilities away would. Our song encourages us to get off the bench and to decide to use these abilities.
Responding to good information
God's Word is true. Some of what people say are facts. Some of what people say are lies. It is important to recognize that all information is not equally valuable, reliable or profitable.
The scary part is that people can waste so much of the precious time available in this short life by focusing on information which is of little value and missing God's Word — which is most valuable.
As obvious as Paul's directions to the Romans might seem to us — as we read about it from our Bibles — let's try to picture the scene. Paul was not reading from the book of Romans to some Bible class. He was punching through the information noise rampant in that culture and reaching out to rescue these people from a desperately corrupt world — to bring them into something none had ever seen or imagined before. He was receiving vitally good information from the Lord and sending it along to them with all the believing he had.
Would it be enough for the Romans?
And will it be enough for you and me? That is the decision each of us makes.
It can be — if we will decide to seek good information in this life and respond to good information by believing and acting as appropriate. (And … we want to respond to bad information by giving it the treatment it deserves — ignoring it, discrediting it, exposing it — as appropriate.)
One other point — just because information is GOOD and we hear it, note this caution found in Hebrews:
Hebrews 4:2
We have heard the message, just as they did. But they failed to believe what they heard, and the message did not do them any good.
The salvation won through Jesus Christ includes everlasting life and wholeness for all who accept it. Let it not be said God's Word was of none effect to us because we did not believe it.
Our song says, "Let's look, hear and open our hearts and believe." Those are things in our own control that determine whether or not God's Word and Jesus Christ's finished work will do us any good. They did the work. We must decide to reach out, receive and act. Let's let the Lord's message do us good. Let's open our hearts and believe.
God bless you lots!
— Dale R.
---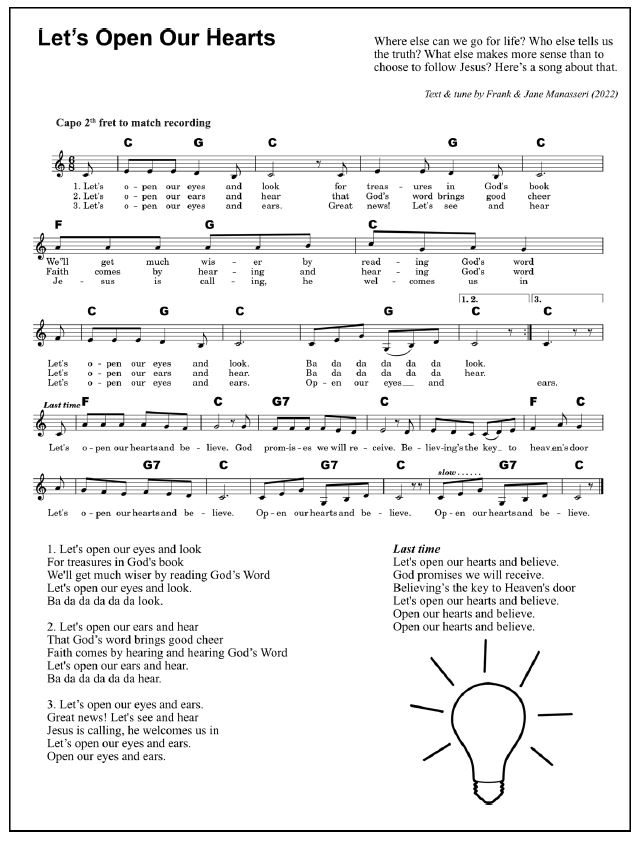 Download music sheet free from "The Music Box" – here's how
LYRICS: Let's Open Our Hearts
Song by Frank and Jane Manasseri (2022)

1. Let's open our eyes and look
For treasures in God's book
We'll get much wiser by reading God's Word
Let's open our eyes and look.
Ba da da da da da look.
2. Let's open our ears and hear
That God's word brings good cheer
Faith comes by hearing and hearing God's Word
Let's open our ears and hear.
Ba da da da da da hear.
3. Let's open our eyes and ears.
Great news! Let's see and hear
Jesus is calling, he welcomes us in
Let's open our eyes and ears.
Open our eyes and ears.
Let's open our hearts and believe.
God promises we will receive.
Believing's the key to Heaven's door
Let's open our hearts and believe.
Open our hearts and believe.
Open our hearts and believe.

Subscribe!
Subscribe so I can send you a heads-up note when I post a new song. The notes I send to my dear subscribers give a quick summary of the song and article topic, plus handy links to get you to the new song quickly. Don't want to keep you waiting for the blessing a second longer than necessary!
PLUS, subscribe and you'll get immediate access to "The Music Box" where all the free downloads related to this song site are stored. Sheet music, guitar & uke song books, MP3 files and some other neat Bible reference handouts. Click "Song of the Week" button below and explore what's there. Unsubscribe easily using link at the bottom of each email you get from me. I never share email info with anyone else. Click the "Song of the Week" button and tell me where to send YOUR immediate access key.
Leave a comment below
In the spot below, please share your thoughts with me and/or others who visit this page.