Do you go through your days with a sense that your life is meaningful? Do you know why you are here? Are you confident of your purpose, your place, your function? The Bible completely answers these questions. What's more, the Bible's answers bring joy, love, hope and confidence. Please give this song a sing-along listen, then come back for a chat on how Jesus Christ makes our lives meaningful.
What on earth is going on?!?
Information overload, anyone?
We can all agree there is a lot of information and action around us. The question is, how can we understand what's going on? Is it all just a lot of accidental chance and vibration taking us nowhere or is there some kind of intelligence driving things forward with plan and purpose and a final goal?
Years ago someone told me that there are only two basic starting points all people use to explain "What on earth is going on?!?" Everyone starts with one or the other of these two ideas — either:
1. God created man
or
2. Man created god
Pick one or the other, and then build your world from there.
Two schools of thought
Two schools of thought meet — and split — by believing or by rejecting Genesis 1:1 which says, "In the beginning, God created the heaven and the earth."
The "God created man" group depends on getting answers from God's revelation — through creation, through Scripture, through His Son Jesus Christ and through holy spirit.
The "Man created god" group depends for answers from what can be learned through the five senses of seeing, hearing, smelling, tasting and touching.
Usually, people who invest in understanding God's revelation learn to see evidence of God's plans and promises fulfilled through history and occurring in their lives each day, which feeds joy-filled hope for great things to come. They explain all the movement going on around them according to biblical ideas. This has worked for all kinds of people — young and ancient, beginners and seasoned seekers, brilliant and simple, great and small. Our Heavenly Father is a good father to all of His children. He made all of us to be able to enjoy lives full of meaning and purpose. He plans for us to live forever in a world that can beautifully support forever living.
It is from people who invest in understanding the world through their senses that we learn to evaluate what's going on around us in terms of chance happenings, not intelligent design for a purposeful plan. They teach that time alone was cause enough to get us "from goo through the zoo to you". They think it is a problem that there are so many "yous" roaming the earth so it would be smart to invest in real estate on Mars. And — since overpopulation is a reason to move to Mars, and since moving to Mars is difficult, these thinkers conclude it is a more realistic approach in the short term just to thin out the human herd. A quick review of history and current events illustrates ways this has been tried.
I don't want to paint with too broad a brush. God's creation — people — are awesomely and wonderfully made. Obviously not EVERY senses-only seeker has concluded that man created god. Not every human is so intellectually weak. For example, Socrates, Plato and Aristotle were arguably the brightest senses-learned humans that ever lived. They thought, reasoned, studied and observed brilliantly. They concluded there simply HAD to be some intelligent creative power beyond what man was capable of seeing or knowing through the five senses only. Of course most people have not done all the thinking work Socrates did. Many have tried to make their lives meaningful by applying their five-senses brains and energy to do worldly work based on the belief that man created god. All too often the results have been bad.
God's plan and promise — our faith, hope and love
Our song runs with the biblical view of what's been going on and where we are headed.
When times get tough and you feel like you just cannot win, remember the Gospel's bright promise, part finished, part still to come.

Yes, the devil bruised Jesus's heel. Jesus suffered greatly and died for us. But God raised him from the dead, and the victory was won.

Part of that promise is still future: Jesus will bruise the devil's head. How big a disaster do you think that will be for the old serpent?

What a glorious day that will be!

What a glorious life is being prepared for those who accept the invitation, offered to all, rejected by some!
John 1 declares with joy that God has had this plan since the beginning, and it is still moving ahead. We have wonderful things to look forward to.
Let us take heart knowing our God is mighty and has delivered, will deliver and DOES deliver His people. We do well to stay close to HIM in good times and evil. God's plan and promise is moving forward. Right now you and I get to help God's will to be done on earth as it is in heaven. Jesus Christ makes our lives meaningful. Let's live big for the Lord!
God bless you lots!
-Dale R.
---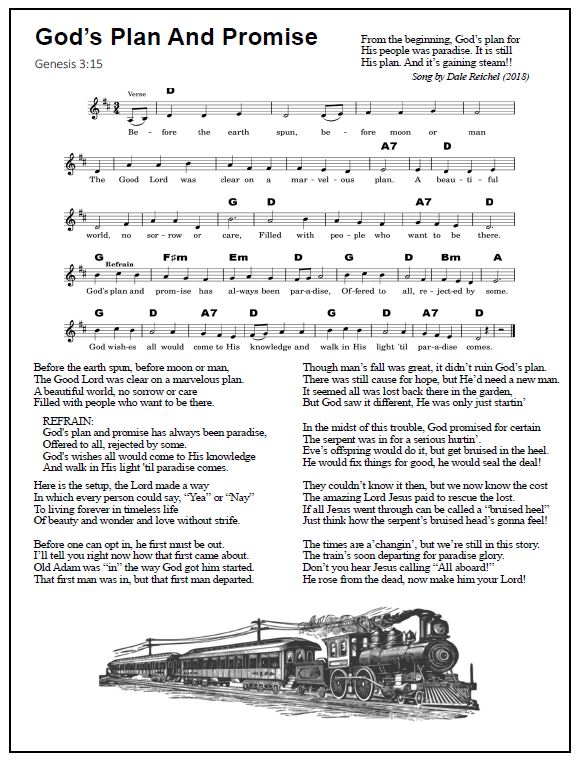 Get this music sheet at "The Music Box"
LYRICS: God's Plan And Promise
Song by Dale Reichel (2018)

Before the earth spun, before moon or man
The Good Lord was clear on a marvelous plan
A beautiful world, no sorrow or care
Filled with people who want to be there

REFRAIN:
God's plan and promise has always been paradise,
Offered to all, rejected by some.
God's wishes all would come to His knowledge
And walk in His light 'til paradise comes.

Here is the setup, the Lord made a way
In which every person could say, "Yay" or "Nay"
To living forever in timeless life
Of beauty and wonder and love without strife

Before one can opt in, he first must be out.
I'll tell you right now how that first came about
Old Adam was "in" the way God got him started
That first man was in, but that first man departed.

Though man's fall was great, it didn't ruin God's plan
There was still cause for hope, but He'd need a new man
It seemed all was lost back there in the garden
But God saw it different, He was only just startin'

In the midst of this trouble, God promised for certain
The serpent was in for a serious hurtin'
Eve's offspring would do it, but get bruised in the heel
He would fix things for good, he would seal the deal!

They couldn't know it then, but we now know the cost
The amazing Lord Jesus paid to rescue the lost
If all Jesus went through can be called a "bruised heel"
Just think how the serpent's bruised head's gonna feel!

The times are a'changin' but we're still in this story
The train's soon departing for paradise glory
Don't you hear Jesus calling "All aboard!!!"
He rose from the dead, now make him your Lord!
---

Your thoughts, please?
How do you think understanding God's plan and promise could help someone? Please share your thoughts in the "Leave a reply" section.
Subscribe and get a note when I post new sermons & songs
May I drop you a note when new songs are posted here?
May I send you the key to print-ready song sheets you can download FREE?
Click the "Get The Music Box" button below and tell me where to send them.