What a gift a fresh start is! We love watching the sun rise to greet the fresh new day. We make resolutions to improve our lives at the start of a new year. We stand in awe at the birth of a new child. We will rejoice evermore for the newness of life we received when we accepted Jesus as Lord. If they ever make a "Fresh Starts Hall of Fame" each of these will surly be inducted with magnificent celebration. Of course, the very FIRST fresh start recorded in Genesis chapters one and two should be celebrated there, too. Give our song "Adam And Eve In The Garden" a sing-along listen, then come back to celebrate TWO paradises connected to fresh starts — one past and a magnificent one yet to come.
How bad can it get?!?
I think a lot of us started at least once to read through the whole Bible. We opened to Genesis and read "In the beginning God created the heaven and the earth." In just two chapters we go from chaos to paradise, and know we are on a good roll.
But we get to chapter three and storm clouds form. We hit the terrible fall where Adam and Eve rebel against God and His Word and eat from the forbidden tree. We read about Cain, the first son, who becomes the first murderer. Rebellion against God increases. It says, "And GOD saw that the wickedness of man was great in the earth, and that every imagination of the thoughts of his heart was only evil continually." We read about Noah and the ark, his family and the animals. Only they survive the worldwide flood. Then just a few years pass before rebellion recurs with the Tower of Babel. Mankind is about to destroy itself so God confuses their language and people scatter. What a horrible difference it made to all mankind when Adam and Eve sinned!
Pause, rewind, replay the beginning
Many pages need to be read before we get to a lot of very good news. Before moving forward, for now, let's pause. Breathe. Turn back, and enjoy lingering a little longer in Adam and Eve's first paradise home, the Garden of Eden. It was beautiful! No sickness or sorrow, no fear or death, interesting work, abundant food, perfect weather. And best of all, they could walk in the garden and visit with the Lord right there! God's creation was very good! He liked it, and Adam and Eve certainly had a lot to enjoy, too.
Let's look at God's creation in Genesis chapters one and two and appreciate His abundant goodness, wisdom and might. The beginning was a magnificent and glorious world for Adam and Eve to live in and enjoy!
Fast forward
Did you know the Bible promises things will be magnificent in the end, too? The last book in the Bible, Revelation, teaches God will once again live with His people, and will wipe away all tears from their eyes. There will be no more death, or sorrow, or crying or pain. No one in that new, marvelous place will live in fear or sickness. No one will tell lies or hurt others. We will live forever with family and loved ones full of life and health and joy. It will be wonderful like the place Adam and Eve lived in — only better because we won't need to worry about destroying THAT paradise by disobeying God the way Adam and Eve did.
Bright days ahead! Until then, let's celebrate God's goodness right now TODAY! We are so thankful to be dear children of the Father and members of the body of Christ. We are privileged to be his ambassadors, ministering to a world that so desperately needs the fresh start of love, healing and newness of life through Jesus Christ. So much to be thankful for! "Adam And Eve In The Garden" is a song to help with the celebration. Enjoy!
God bless you lots!
-Dale R.
---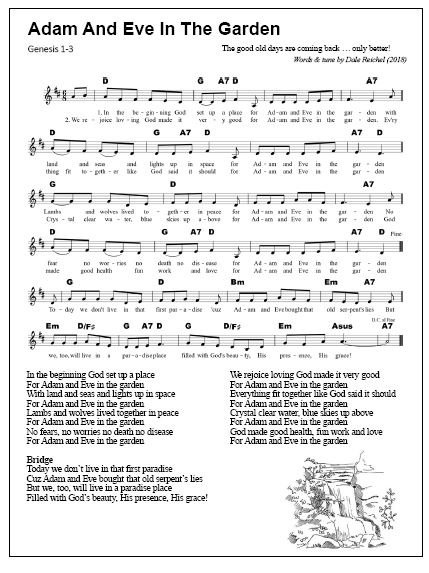 LYRICS: Adam and Eve in the Garden
Song by Dale Reichel

In the beginning God set up a place
For Adam and Eve in the garden
With land and seas and lights up in space
For Adam and Eve in the garden
Lambs and wolves lived together in peace
For Adam and Eve in the garden
No fears, no worries no death no disease
For Adam and Eve in the garden

Bridge
Today we don't live in that first paradise
Cuz Adam and Eve bought that old serpent's lies
But we, too, will live in a paradise place
Filled with God's beauty, His presence, His grace!

We rejoice loving God made it very good
For Adam and Eve in the garden
Everything fit together like God said it should
For Adam and Eve in the garden
Crystal clear water, blue skies up above
For Adam and Eve in the garden
God made good health, fun work and love
For Adam and Eve in the garden

Paradise: what will be the best part for you?
Please share your favorite Paradise thoughts below in "Leave a Reply"
Step right up for a better view
Are you interested in more songs? May I drop you a short note when new songs are posted here? Would you like FREE access to be able to download song sheets with melody, lyrics, and chords for tunes on this site? Just click "Get The Music Box" button below and tell me where to send it! You'll get instant access to everything in "The Music Box" plus a short email to help you get there any time you want. This is my way of thanking you for being here. Enjoy! – Dale R.