Our song "Beautiful Story To Tell" reminds us that the good news of the gospel about Jesus is a beautiful story to tell. Please enjoy a sing-along visit with this song, and come right back for a chat on story telling.
Lights of the world
Jesus called us to be witnesses — not defense attorneys. He wants us to win people for Him, not win arguments with people about Him. We have a beautiful story to tell. We can gain skill at telling it in a way that lets its beauty attract people so they will hang around long enough to gain strength by learning its truth.
Abraham Lincoln is quoted as saying: "A drop of honey catches more flies than a gallon of gall. So with men. If you would win a man to your cause, first convince him that you are his sincere friend. Therein is a drop of honey which catches his heart, which, say what he will, is the highroad to his reason."
We are lights of the world, not so we can expose a person's error for everyone to see, but to help the person by illuminating the path leading to higher ground.
The idea is to keep our attitude and goal right — we want to win people for the Lord. It helps when we remember to let the beauty of the Lord do the attracting.
Telling the beautiful story
We get better at telling the beautiful story through practice. A great way to practice telling the beautiful story is to regularly get together and converse with others who have already heard. There is so much to learn, know and discuss that we can always have interesting conversations with others who are interested. Where can we find such people? How about our families? People at church? School? Work? Take time to cultivate friends who enjoy talking about the things of the Lord.
We probably cannot have the regular conversations with such friends AT church or school or work. That's where we might meet them, but we'll probably need to arrange a time and place outside of church, school or work to actually talk. We just need to make it happen.
Many people find that the more regularly they talk about the Lord with a circle of friends, the more easy and natural it becomes to bring the Lord into conversations with "new" people.
The idea is to get better at telling the beautiful story to "anyone" by regularly sharing time with people who already enjoy talking about the things of the Lord.
Everyone's friend — not
A helpful outreach tip I was taught years ago was to "be everyone's friend". When meeting new people, be attentive and interested. Ask questions and listen. Be friendly. I think most people like to be liked. That is not a bad thing.
Still, if we are going to get better at telling the beautiful story, we need to honestly face the reality that some people are not going to like hearing it — even if we are warm and friendly. If — when — we run into rejection, let's remember we are in good company. Let's not get blown out of the water and take it personally.
In Acts 4 Peter and John shared the beautiful story and the religious leaders hauled them off and demanded they stop teaching about Jesus. (Recall their excellent reply, "But Peter and John answered and said unto them, Whether it be right in the sight of God to hearken unto you more than unto God, judge you. For we cannot but speak the things which we have seen and heard.") Lots of people heard and got saved. Some others took offense and demanded they be quiet. What Peter and John said was liked by some but not by others. But they kept on telling the beautiful story. They did not quit.
In Acts 17 Paul told a group of "new" people the part of the beautiful story about the resurrection of Jesus Christ. How did that go over with that crowd? "Some mocked: and others said, We will hear you again of this matter."
Being mocked is not fun. Only slightly better is being told — after delivering the best sermon ever — "I guess we can talk some more."
"So Paul departed from among them." Their lack of interest did not cause Paul to quit the ministry. He let their lack of interest be their loss. He was not giving them any more time. There were others who had not yet had the chance to hear the beautiful story, and Paul was determined to reach them. But the record in Acts says, "Howbeit certain men clave unto him, and believed." These people were drawn by the beautiful story and left with Paul so they could learn more. Paul found the richest prize in "eyes that open and minds that ask."
Jesus offers the best example of endurance in the face of rejection. He pressed forward so we could have life. What a beautiful story!
The idea is to remember that we are in good company if we tell the beautiful story and people reject it. We can think of Peter and John, Paul — and Jesus Christ.
Beautiful!
God bless you lots,
–Dale R.
---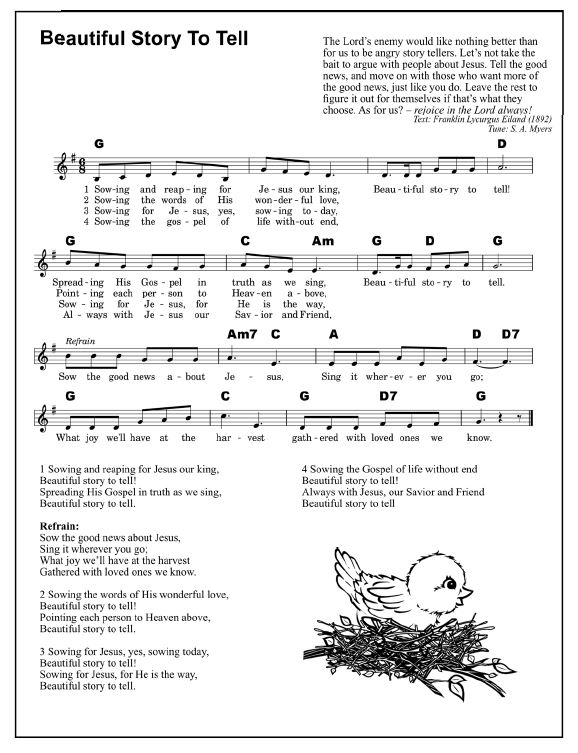 How to download this song sheet right now from "The Music Box"
Beautiful Story To Tell
Text: Franklin Lycurgus Eiland (1892)
Tune: S. A. Myers

1 Sowing and reaping for Jesus our king,
Beautiful story to tell!
Spreading His Gospel in truth as we sing,
Beautiful story to tell.
Refrain:
Sow the good news about Jesus,
Sing it wherever you go;
What joy we'll have at the harvest
Gathered with loved ones we know.

2 Sowing the words of His wonderful love,
Beautiful story to tell!
Pointing each person to Heaven above,
Beautiful story to tell.

3 Sowing for Jesus, yes, sowing today,
Beautiful story to tell!
Sowing for Jesus, for He is the way,
Beautiful story to tell.
4 Sowing the Gospel of life without end
Beautiful story to tell!
Always with Jesus, our Savior and Friend
Beautiful story to tell

May I send you a note?
I send a head's-up note to interested people each time I post a new lesson and song to this site. The note gives a quick summary of the new song and lesson and tells how to download the sheet music and MP3 file for every song & lesson on this site. The note also gives folks a link to the new song page. May I send you a note, too? Click the "Song of the Week" button [below] and tell me where to send it. Easy to stop getting the notes any time.
When you tell me where to send your note, you'll also get immediate access to explore "The Music Box" — where all the free downloads for MusicMinister are stored. -Dale R.
Leave a comment
What else should be said about this song and topic? Share your thoughts below.