This "kid's" song is a wonderful example of how to think about God as we learn more about what He has done for us. Here is a tip for raising children — a child's behavior is connected to his thinking. Kids need to be taught how to think. It is a nice thought that kids start life pure and should be left alone in their purity. But that is not good thinking. We don't start life "pure". We start life knowing nothing and we need to be taught how to think. Who do you think should do the teaching? Please give this song a sing-along listen, then let's talk about thinking and working.
God loved me so very much
What has God done for us? Let's begin at the beginning. We would not be thinking about doing our best for God if we never existed in the first place. We can be thankful God wanted us to exist.
What kind of existence did God give us? We are not "just barely" here. No, we were awesomely and wonderfully made. In the beginning, sickness and death were not even part of human experience. God — not wanting to have to fellowship with mere mind-numbed robots — formed, made and created mankind to have a will independent from God's. Man started off using that independence for good, but a little time passed and man chose to disobey.
When thinking about what God has done for us, we see that two of the most amazing parts of God's plan and design are these:
1. He made it possible for a Savior to come to Earth
2. He made it possible for people to hear, believe and receive the Savior — to get SAVED. (Remember that free will thing?)
God loves us SO VERY MUCH! What a joy to be built enough like Him that WE CAN LOVE HIM BACK!
Whatever I'll be, I'll be for God
I saw a quote, "Ships don't sink because of the water around them. Ships sink because of the water that gets in them."
Likewise, we don't fail to live for Christ because we are in the world. We fail because the world gets into us.
Large ships often have pumps running all the time to get rid of water that might have leaked in. In a similar way, we can keep a different kind of "pump" running — one that pumps the presence of God through our minds. We can "S.I.T." (you know — stay in touch) with God throughout the day. Prayer, scripture — even songs running through our heads help us stay in step with the Lord.
The refrain from our song (♫♪ Whatever I'll be, I'll be for God . . . ♫♪) is a wonderful example of the kind of healthy thoughts of affirmation we want to keep in our minds throughout our days. Affirmations are statements based on truth that we speak to ourselves to help us keep a light shining on the path we want to follow for the Lord. Usually an affirmation is a goal or standard we want to move toward — something we want to get better at doing. Colossians 3 says: "Let the word of Christ dwell in you richly in all wisdom; teaching and admonishing one another in psalms and hymns and spiritual songs, singing with grace in your hearts to the Lord." Running songs, hymns and spiritual songs through our minds are some ways we can practice the presence of God and stay on track with Him.
The reward of work well done
Lets talk about work. There is a quote — attributed in error to Ralph Waldo Emerson, but actually from Seneca, the Roman Stoic philosopher — that goes, "The reward of a thing well done is to have done it."
Someone was being funny and changed that quote to say "The reward of work well done is more work" — meaning if we do a chore well, we'll probably get stuck with more chores. I've heard that seasoned members of the army might pass along this "funny" version as advice to new recruits, telling them to "never volunteer."
That is clever, but is it good advice?
"Work" is a subject for another time, but I'll simply say that God's loving design for "work" to be a blessing to people is very much misunderstood. Work is often viewed only as a necessary evil — as something we must do to pay the bills. We might think the opposite of work is play. That view of work misses SO MUCH of God's loving design for us. (Think about this: the opposite of both work and play is to "do nothing at all". Nothing. That doesn't sound like much of a life, does it?)
The second verse of our song (♫♪ I love to work because God says to do it heartily . . . ♫♪) tips us off to a greater, higher truth about the wonderful privilege to work the way God designed it. We are built for it. It is part of what makes life worth living. Ephesians alerts us to an amazing blessing that is bundled with the new birth: "For we are his (God's) workmanship, created in Christ Jesus unto good works, which God hath before ordained that we should walk in them."
What part of this ability and blessing are we willing to miss out on?
Do we WANT to function as God's workmanship?
Do we like being created in Christ Jesus to be able to do good works?
Does it make our lives meaningful knowing that these good works have already been decreed and blessed by God so the path is paved for us to succeed doing them?
Once again, we have a kid's song that pitches a few big ideas to us. What do you say that we work to get in the game, step up to the plate, knock the ball out of the park and win big in this life — by being our very best for God.
God bless you lots!
Dale R.
---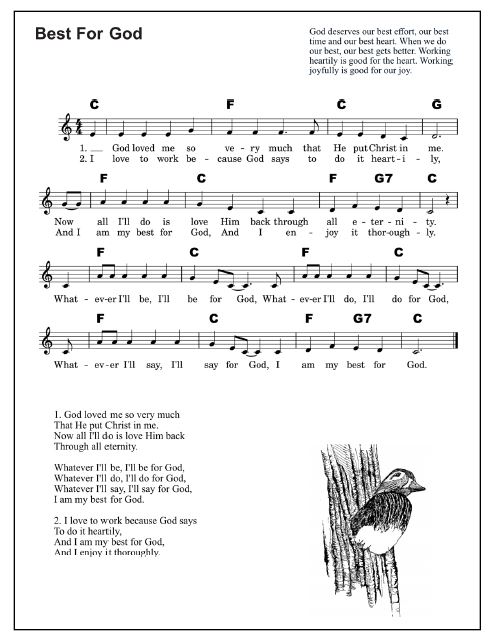 LYRICS: Best For God

1. God loved me so very much
That He put Christ in me.
Now all I'll do is love Him back
Through all eternity.

REFRAIN:
Whatever I'll be, I'll be for God,
Whatever I'll do, I'll do for God,
Whatever I'll say, I'll say for God,
I am my best for God.

2. I love to work because God says
To do it heartily,
And I am my best for God,
And I enjoy it thoroughly.

Reaching out to you
Click that blue button below that reads "Get The Music Box" and tell me where to send your access link to The Music Box — a handy one-stop resource of extras that go along with these Bible lessons and songs pages. All free, just extra helps and goodies for you to explore at your convenience. Also, as long as you wish to continue receiving them, I'll send you a cheerful note letting you know each time I post a new song here. Click the button now and explore the free stuff right away!
I'd love to hear your thoughts
Please add your comments and contribute to the lesson in the "Leave a reply" section below.