Rev. Johnson Oatman, Jr. wrote the lyrics to "There's No Friend Like Jesus" and to this song, "Count Your Blessings" — two of the three thousand hymns he wrote in the late 1800's. He was an ordained clergyman who preached in his local New Jersey church, and to an even larger audience through his songs. In his prime he wrote lyrics to about 200 hymns a year. Oh — and he had a day job running a successful insurance business. His secret to success? He was obviously industrious — but I think the kinds of things he wrote about give us the best clues. His friend? Jesus. What did he count? Blessings. Give the song a sing-along listen, then lets count some blessings.
How to count blessings
Probably not everyone would approach "counting blessings" from the same angle.
For the unschooled or the unthankful, the idea of counting blessings might seem as murky as trying to plan a trip through an uncharted land.
For those raised to appreciate common courtesy, counting blessings might seem novel and interesting.
For born-again believers, counting blessings may seem like an overwhelming undertaking — where to begin?
Here is one idea for a plan to help anyone get started counting blessings:
Open Bible
Learn blessings God has done in the past that feed our faith
Learn blessings God has promised for the future that give us hope
Learn blessings God weaves into our lives right now that evoke love
Ponder these blessings — one by one
EXTRA CREDIT — after doing these steps to see blessings recorded in Scripture, we'll be able to recognize blessings from the Lord just for us personally.
Trying the plan
I can start listing things from the Bible. I'm sure you will be able to add so many more.
Blessings in the past — creation, life, free will, love, beauty, justice, instruction, ability to do things, grace and mercy
Blessings promised for the future — new bodies, everlasting life, no sickness or sorrow, rewards, evil destroyed
Blessings in our lives today — my list includes family, friends, and most especially a relationship with my Lord and Savior, Jesus Christ
Yes, these lists are ridiculously short. More to be done here, right?
Count your blessings
This hymn is like others we love that remind us to THINK about what we are THINKING ABOUT. When our thinking places us under dark rain clouds, we can grab our thoughts and MOVE them to a better place. A few wake up verses come to mind:
— "renew your mind" (Romans 12)
— "set your affection on things above" (Matthew 6)
— "lead every thought captive to Christ' (I Corinthians 10)
— "And let the peace of God rule in your hearts, . . . and be ye thankful" (Colossians 3)
Another list that is much too short as written. More to be done here too, right?
We have a bright, joyful life to build, and we have many blessings with which to furnish the living rooms of our minds. Big project, but hard to begin? Not at all. One day, one verse at a time … count your blessings!
God bless YOU lots!
Dale R.
---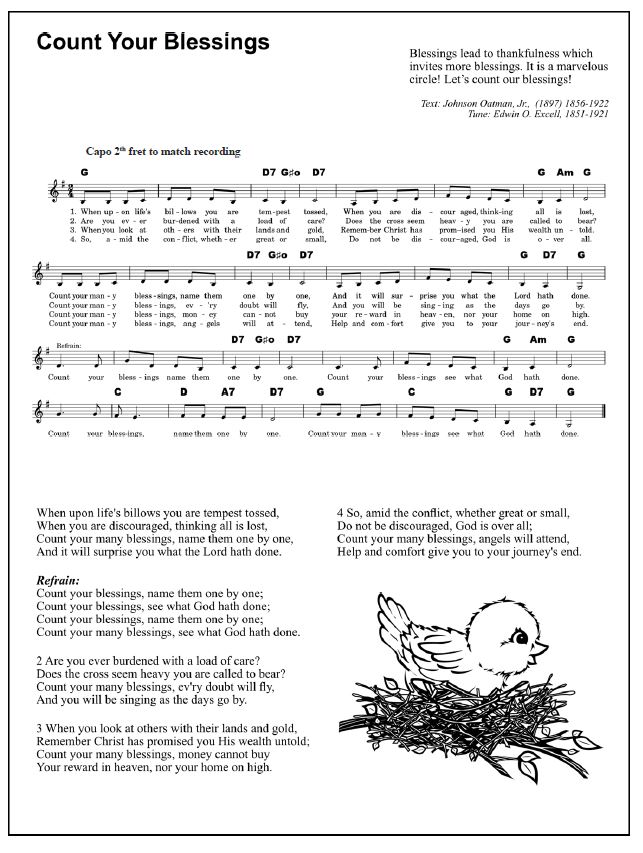 Download this song sheet now from "The Music Box"
LYRICS: Count Your Blessings (1897)
Text: Johnson Oatman, Jr., 1856-1922
Tune: Edwin O. Excell, 1851-1921

When upon life's billows you are tempest tossed,
When you are discouraged, thinking all is lost,
Count your many blessings, name them one by one,
And it will surprise you what the Lord hath done.

Refrain:
Count your blessings, name them one by one;
Count your blessings, see what God hath done;
Count your blessings, name them one by one;
Count your many blessings, see what God hath done.

Are you ever burdened with a load of care?
Does the cross seem heavy you are called to bear?
Count your many blessings, ev'ry doubt will fly,
And you will be singing as the days go by.

When you look at others with their lands and gold,
Remember Christ has promised you His wealth untold;
Count your many blessings, money cannot buy
Your reward in heaven, nor your home on high.

So, amid the conflict, whether great or small,
Do not be discouraged, God is over all;
Count your many blessings, angels will attend,
Help and comfort give you to your journey's end.

Please subscribe because . . .
You'll get a quick note from me each time I post a new Bible lesson & song. The note has the link to the new song page … CONVENIENT!
When you subscribe you immediately get access to all the free downloads that go along with this Bible lesson & song website — song sheets with chords, guitar/ukulele beginner song books and other neat stuff… EXPLORE IT NOW!
If social media dumps us, we can still stay in touch and keep the songs going… "THEY WOULDN'T … would they?"
Sound good? Just click the button below ["Song of the Week"] and tell me where to send your note. Easy to unsubscribe … every note I send you will have an "unsubscribe" link on it. Give it a whirl, won't you? — Dale R.
Add your thoughts on "Count Your Blessings" below