Bringing In The Sheaves is a classic gospel song about outreach whose melody was reused for the newer outreach song There Were Twelve Disciples. I think the writer of the classic would be delighted to see this new use for his melody. The arrangement combines both old and new lyrics. Please give it a listen, then come back for tips on discipleship.
Sowing and sheaves and harvests
"Sowing" and "bringing in the sheaves" are terms used both
in wheat farming
and
in the Bible regarding winning souls for the Lord.
Sowing must be done before there can be a harvest.
Wheat farmers sow wheat seeds to get a wheat harvest.
Jesus taught that we can sow God's Word as seed to get a "soul" harvest. Our first tip on discipleship:
Sow the seed of God's Word by speaking it
Matthew 9 records Jesus teaching his disciples, "The harvest is plentiful, but the laborers are few; therefore pray earnestly to the Lord of the harvest to send out laborers into his harvest." That is our next tip on discipleship:
Pray earnestly to the Lord of the harvest to send out laborers into his harvest
The Crown of rejoicing
Here is a "gotta know it" verse from I Thessalonians 2:
For what is our hope, or joy, or crown of rejoicing? Are not even you in the presence of our Lord Jesus Christ at his coming?
You may have heard the wise saying about treasures we collect during these days on Earth: "You can't take it with you — BUT YOU CAN SEND IT ON AHEAD." Of course we can't send our Subaru or sofa. What CAN we send ahead? Much, including the "crown of rejoicing" we just saw in that verse above from I Thessalonians. This crown has been called the "soul winner's crown". The Lord gives it to people who lead others to Christ. Clearly, soul winning is important to Him, so He rewards those who do it. Discipleship tip:
Lead people to Christ. Tell people about the goodness and saving grace of God. Tell people about our Wonderful Savior's resurrection and ever-present Lordship.
♫♪ God has called us too ♫♪
The original Twelve in our song received marvelous training. We can, too. Ephesians 6 offers super rich tips for aspiring disciples of the Lord, including:
Don't serve with eye-service, as men-pleasers, but as the servants of Christ, do the will of God from the heart
Be strong in the Lord, and in the power of his might
Know that we are in a fight, not against flesh and blood, but against spiritual wickedness in high places
Put on the whole armor of God, which is necessary to be able to stand against the wiles of the devil
Be armed with God's TRUTH, God's RIGHTEOUSNESS and God's PEACE
Be armed with faith in God, the assurance of salvation, and the sword of the Spirit which is the Word of God
Pray diligently and always for our believing brothers and sisters and that the gospel will be made known
Having done all: STAND!
The Church Epistles to the Romans, Corinthians, Galatians, Ephesians, Philippians, Colossians and Thessalonians are a fabulous resource to help us learn more about discipleship. They serve as our "how-to" handbook as we get out and learn by doing. It is amazing how alive these writings become as we go out and live them!
Each one reach one
I'll close with this tip. There is only one of you and one of me and billions of people out there. But we don't need to feel overwhelmed by the task! Here is a workable plan:
Each one reach one
There are those who can draw a crowd of thousands. But that is NOT the only way to help people. It is true that Jesus taught to large crowds — but not every time. One of the best known verses in the Bible, John 3:16, was part of a conversation Jesus had with only ONE other person, Nicodemus. We should not underestimate the importance of reaching just ONE person. If everyone reached just one, every person in the whole world would have a chance to hear. Let's start there! Start with ONE.
Can there be any question what God's plan is for our lives? Whatever we do for a living, sowing and harvesting will fit in, and will honor the Lord and lead to rewards we'll enjoy for ever.
Dear Ones, let's plant and water, and be part of the Lord's increase!
God bless you lots!
Dale R.
---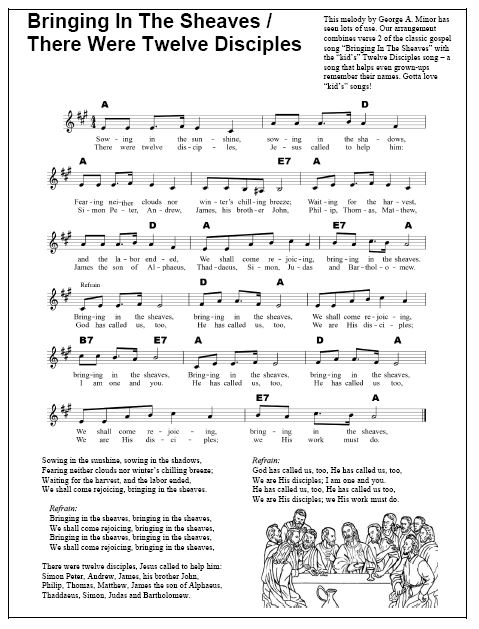 LYRICS: Bringing In The Sheaves / There Were Twelve Disciples
George A. Minor

Sowing in the sunshine, sowing in the shadows,
Fearing neither clouds nor winter's chilling breeze;
Waiting for the harvest, and the labor ended,
We shall come rejoicing, bringing in the sheaves.

Refrain:
Bringing in the sheaves, bringing in the sheaves,
We shall come rejoicing, bringing in the sheaves,
Bringing in the sheaves, bringing in the sheaves,
We shall come rejoicing, bringing in the sheaves,

* * * * *
There were twelve disciples, Jesus called to help him:
Simon Peter, Andrew, James, his brother John,
Philip, Thomas, Matthew, James the son of Alphaeus,
Thaddaeus, Simon, Judas and Bartholomew.

Refrain:
God has called us, too, He has called us, too,
We are His disciples; I am one and you.
He has called us, too, He has called us too,
We are His disciples; we His work must do.
Please share your thoughts
Do you have a favorite disciple tip or story? Please share it by jotting a note in the "Leave a reply" spot below.
See you later?
If you like these articles and want to help them continue, please subscribe. Here's what happens when you subscribe:

1) You instantly get access to free resources — downloadable goodies — to help you with the songs I post every week.

2) You will receive a brief email head's up when I post a new song.
PLEASE SUBSCRIBE! Just click the "Get The Music Box" button [below] for quick details. It will take a few seconds. Super easy – barely an inconvenience.
THANKS! – Dale