This beautiful old hymn is based on 2 Timothy 1:12b "… for I know whom I have believed, and am persuaded that he is able to keep that which I have committed unto him against that day." I've loved this hymn since I was a kid. Since then I've learned a bit more about Paul and Timothy and I see more in this verse than I did back then. Please give it a sing-along listen, then come back and we'll chat about this remarkable section of scripture.
How does this verse read?
Over the years Bible scholars have debated what should be the correct translation of 2 Timothy 1:12. To this day the verse appears different ways in various Bibles. That's true of our song — different lyrics for the chorus show up in different books.
Some versions, similar to the KJV quoted above, read
"He is able to guard what I have entrusted to Him"
and others read
"He is able to guard what has been entrusted to me"
This is one of those situations in the Bible where the Greek could be translated either way. I believe a better case has been made to go with the one that reads "has been entrusted to me".
What had been entrusted to Paul?
In Ephesians 3:2 Paul speaks of "the administration of God's grace that he gave me for you". In 2 Timothy 1:11 Paul says, "For this gospel I was appointed a herald, apostle, and teacher" (CSB). Paul was assigned the ministry of God's grace and was given the Good News of the Gospel to carry it out.
That is a lot of responsibility!
Now, here in 2 Timothy Paul knows his days on Earth are drawing to a close. Paul is faced with the reality that not only is the ministry work not yet done, it appears he may have failed at the responsibility he was given. Paul writes to Timothy "You are aware of the fact that all who are in Asia turned away from me, among whom are Phygelus and Hermogenes."
What would be your frame of mind if you were Paul, the work was not done — maybe was even ruined, and you knew time was almost up and that you would be answering to your Maker?
We don't have to guess about Paul's frame of mind. 2 Timothy 1:12 gives us the answer — and also teaches a remarkable truth. "But I am not ashamed, because I know whom I have believed and am persuaded that he is able to guard what has been entrusted to me until that day." Paul ran his race and completed his course, confident that his work was not in vain because the Lord would guard the work Paul had done and would raise up others to see it through. Paul was indeed a good and faithful servant, a beloved son, in whom the Lord could be well pleased. He was not ashamed, nor need he be.
Do you see what is the Lord's plan going forward? Each believer that followed after Paul is given the same access to the Lord that Paul was given, the same invitation to serve in areas of concern, interest and need, the same spiritual enablements and authority to walk with new life power and produce fruit of the spirit, win souls from darkness to light, rejoice — and suffer– with all the members, earn rewards and stand with all who have their name written in the book of life. All this the Lord is able to keep "against that day" — that day when time ends the way we know it. What glory!
We remain connected with Paul and all the rest of the saints through time in the same ministry mission, covered by prayers lifted up through the ages, standing on their shoulders — and in a place to offer our shoulders for the next generation to stand on.
Generation to generation
The ministry first given to Paul has indeed continued advancing right up to the very days we live in. "HIS-story" marches on. In particular, the last hundred and twenty years have seen dramatic growth. In his book "The Seven Mountain Prophecy" Johnny Enlow reports, "In 1900, the ratio of Christians to non-Christians worldwide was 1 to 27. Now it's 1 to 2 — 33 percent of the world's population. (When trying to count only those who are truly born again, the ratio can drop as low as 1 to 5.) Any way we look at it, this last century has seen the Holy Spirit move in His people like never before, causing the mountain of religion to shake and its dark forces rapidly to be displaced."
Some say the Lord is returning soon. Who knows? We know Him, and can be confident it will be soon enough. But until then, we must recognize the times we live in and put our shoulder to Kingdom work ourselves while raising the next generation to do the same. Why should we not rise up and occupy until He comes? This is our Father's world. Let's engage with it like children of the Most High have been enabled to, bringing light to dispel darkness and love to dispel fear.
Our song beautifully declares that — though there is a lot we do not know — we know HIM who has the power, has the plan and rules over the Kingdom which will not end. What a privilege to be entrusted with our part of the work!
We don't need — nor are we able — to know everything about how the Lord does what He does. But we can be confident our labor is not in vain in the Lord because we know whom we have believed.
God bless you lots!
-Dale R.
---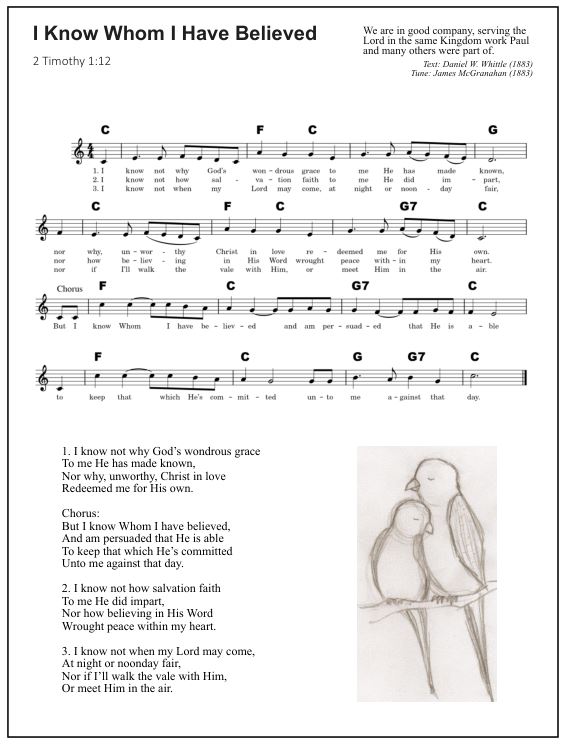 LYRICS: I Know Whom I Have Believed
Text: Daniel W. Whittle (1883)
Tune: James McGranahan (1883)

I know not why God's wondrous grace
To me He hath made known,
Nor why, unworthy, Christ in love
Redeemed me for His own.

Refrain:
But I know Whom I have believed,
And am persuaded that He is able
To keep that which He's committed
Unto me against that day."

I know not how salvation faith
To me He did impart,
Nor how believing in His Word
Wrought peace within my heart.

I know not when my Lord may come,
At night or noonday fair,
Nor if I'll walk the vale with Him,
Or meet Him in the air.


Let's stay in touch
Each time I post a new song and lesson here I send a brief, cheerful note to friends of this song site. The note gives a quick description of the song and lesson along with a link to the new song's page. It is super-easy for you to get a note from me, too. Just click the green "Song of the Week" button below and you are almost there.
To sweeten the deal, you will also get instant access to the "Music Box" where I put all the free resources and downloads that go along with these song pages. Check it out now! Good stuff. (Side note — I still post announcements on social media, too, even though I have learned it is terribly unreliable at getting the message out and keeping us connected. Email gets that job done where social media fails. We do well to connect this way, and avoid getting throttled by social media.)
Share your wisdom with other readers ...
Please feel free to add your thoughts to this conversation in the "Leave a reply" spot below.
First posted March 29, 2019. New video and article posted August 25, 2023.