The best lessons often use the fewest words. Pastor Les is one of many fellow-laborers in the Lord that taught me things I still use. One of his best quotes — and his straightforward manner of speaking — were inspirations for this song. Give it a sing-along listen, then lets take a look at hearing from the Lord.
If I'd had more time I would have said less
A professional speaker was asked how much he charged to give a talk. He said, "I'll speak one hour for ONE thousand dollars. I'll speak thirty minutes for TWO thousand dollars. A three-minute talk will cost you FIVE thousand dollars."
The person could not believe his ears, and asked, "Why so much more for less time?!?"
The speaker replied, "It takes much more time to prepare a great speech that must be short."
Packing large truth in few words is a wonderful art. Our song tips its hat to that idea.
You have not …
Have you read in James "You have not because you ask not" ? Let's not miss out on receiving God's answer just because we fail to ask! There are a number of ways of reaching out to the Lord — among them are:
Search the Scriptures — Often our answer is in the Bible. Internet searches can help us find helpful verses, as can lexicons, concordances — maybe even a Bible dictionary.
Wise counselor(s) — Seek advice from someone who knows the Lord — find folks who get prayers answered. "Where no counsel is, the people fall: but in the multitude of counselors there is safety." (Proverbs 11:14)
Revelation — The whole Bible is revelation from the Lord. He is not going to contradict what He has promised us there. Always remember we need the written Word to keep us out of the soup. But when we need something more specific delivered directly to us, we can ask to receive by way of the manifestation of holy spirit. 1 Corinthians 12 lets us know it is available. Paul told Timothy, "Consider what I say; and the Lord give you understanding in all things." This is a wonderful promise and a present reality. He offers a lamp for our feet and a light for our path. Ask Him.
Ask … and listen … and act
I love Pastor Les's simple way of instructing. Love in his heart, a twinkle in his eye — but delivering a life-and-death level of value and importance.
That kind of communication is the art of geniuses. That kind of love is the art of great pastors. I am richer for knowing Pastor Les. The coaching he gave me years ago is still serving.
How simple — ASK — LISTEN — ACT. How wise. How powerful.
One more tip: a good request to the Lord is often made better if begun with praise and thanksgiving.
Much can be said. Sometimes less is more. Just remember how Pastor Les said more.
God bless you lots,
Dale R.
---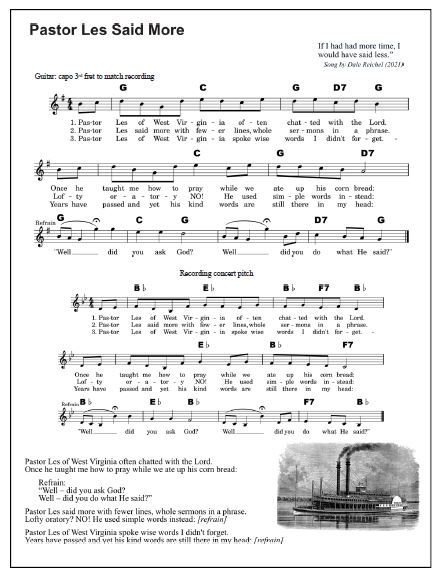 LYRICS: Pastor Les Said More
Song by Dale Reichel (2021)

1. Pastor Les of West Virginia often chatted with the Lord.
Once he taught me how to pray while we ate up his corn bread:
"Well – did you ask God?
Well – did you do what He said?"

2. Pastor Les said more with fewer lines, whole sermons in a phrase.
Lofty oratory? No! He used simple words instead:
"Well – did you ask God?
Well – did you do what He said?"

3. Pastor Les of West Virginia spoke wise words I didn't forget.
Years have passed and yet his kind words are still there in my head:
"Well – did you ask God?
Well – did you do what He said?"

Don't miss new songs! Get free stuff, too!
After I finish each new "Bible lesson and song for kids of all ages" I do ONE MORE thing. I write a brief note to subscribers alerting them that new stuff was just published. In the note I describe the song and lesson and include a link directly to the new post.
May I include YOU in this free service? Of course you can easily unsubscribe any time using a link included in every email I send. AND as an EXTRA extra freebie, you'll also get instant access to "The Music Box" where I stash downloadable MP3 audio files and PDF document files to go along with every song on this post. You'll even find songbooks specially made for to help anyone wanting to learn to play guitar or uke. Check it out! Click the "Get The Music Box" button below, and tell me where to send YOUR note. God bless you! … Dale R.
Leave a comment below
You are welcome to add your thoughts to help round out the ideas on this page. Help me out here! Write in "Leave a Reply" below. Thanks. – D.
First posted August 28, 2021. Song video with revised lesson posted September 2, 2023.