The best lessons usually use the fewest words. Pastor Les is one of many fellow-laborers in the Lord that taught me things I still use. One of his best quotes — and his style of delivering useful truth in a manner so clear and simple everyone could understand — is the inspiration for this song. Give it a sing-along listen, then please come back and allow me to say more about a few of the many admirable qualities of this wonderful man's ministry.
If I'd had more time I would have said less
When speaking off the cuff, my stories are often too long, too long. Writing is usually kinder to me because it sits still and lets me carve away until most of the baggage that would confuse readers can be tossed overboard.
It is a magnificent art to speak simply. A professional speaker was asked how much he charged to give a talk. He said, "I'll speak one hour for ONE thousand dollars. I'll speak thirty minutes for TWO thousand dollars. A three-minute talk will cost you FIVE thousand dollars."
The person could not believe his ears, and asked, "Why so much more for less time?!?"
The speaker replied, "It takes much more time to prepare a great speech that must be short."
Our elevator speech
I Peter 3:15 says, "But sanctify the Lord God in your hearts; and always be ready to give an answer to everyone who asks you a reason concerning the hope that is in you, with humility and fear"
This verse reminds me of a thing called an elevator speech—a prepared, practiced quick talk on some topic you want to be able to convey at the drop of a hat. It's called an elevator speech because it needs to be short enough to be told well during a brief elevator ride.
That takes practice.
Important tip: practice on your own and practice in front of friends. Practice with strangers, too. We can expect to improve, so do NOT be discouraged if it does not go well the first time or every time. Repeat. Refine. Gain confidence through experience. That verse coaches us how to do the work of the Lord. With the Lord's work comes the joy of blessing others and ourselves while honoring Him. We've got a great big wonderful God and a magnificent Savior. With them — and serving them — blessings abound!
What is God's will in this situation?
Our song "Pastor Les Says More" is about a real person who was answering the age old complaint — er, QUESTION — "I don't know what God wants me to do." Isn't Pastor Les's approach elegant? "Well, did you ask God? Well, did you do what He said?"
It sounds so simple.
If we don't know how to ask God, THAT would be a great thing to learn.
If we don't know how to recognize God's answer, that TOO would be a great thing to learn.
If we have not thought to ask — or if we have not actually ACTED — on what we know God's answer to be, isn't it wonderful to be lovingly reminded to do a course adjustment?
Ephesians says, "Redeem the time". Would you agree shoring up any lack in the things listed above belong at the top of our to-do lists?
I loved Pastor Les's simplicity and directness in this instruction — this question — this confrontation. It is loving, with a touch of humor — but carries a life-and-death level of value and importance.
That kind of communication is the art of geniuses. That kind of love is the art of great pastors. I am richer for knowing Pastor Les and I love that the service he did for me long ago is still serving. Who but the Lord could have designed things so our lives can extend in such a way?
Where we lack because we ask not or ask amiss, let's decide that is an important place to grow. Maybe we could BEGIN by ASKING. One more tip: often a good request is made better if begun with praise and thanksgiving.
Praise the Lord! Thanks be to God! He is GOOD!
God bless you lots,
Dale R.
---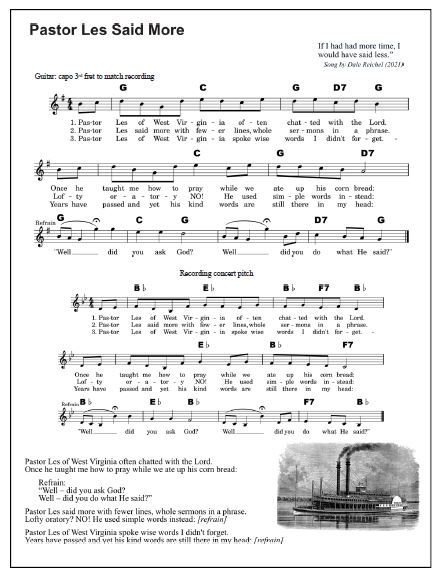 LYRICS: Pastor Les Said More
Song by Dale Reichel (2021)

1. Pastor Les of West Virginia often chatted with the Lord.
Once he taught me how to pray while we ate up his corn bread:
"Well – did you ask God?
Well – did you do what He said?"

2. Pastor Les said more with fewer lines, whole sermons in a phrase.
Lofty oratory? No! He used simple words instead:
"Well – did you ask God?
Well – did you do what He said?"

3. Pastor Les of West Virginia spoke wise words I didn't forget.
Years have passed and yet his kind words are still there in my head:
"Well – did you ask God?
Well – did you do what He said?"

Don't miss new songs! Get free stuff, too!
After I finish each new "Bible lesson and song for kids of all ages" I do ONE MORE thing. I write a brief note to subscribers alerting them that new stuff was just published. In the note I describe the song and lesson and include a link directly to the new post.
May I include YOU in this free service? Of course you can easily unsubscribe any time using a link included in every email I send. AND as an EXTRA extra freebie, you'll also get instant access to "The Music Box" where I stash downloadable MP3 audio files and PDF document files to go along with every song on this post. You'll even find songbooks specially made for to help anyone wanting to learn to play guitar or uke. Check it out! Click the "Get The Music Box" button below, and tell me where to send YOUR note. God bless you! … Dale R.
Leave a comment below
You are welcome to add your thoughts to help round out the ideas on this page. Help me out here! Write in "Leave a Reply" below. Thanks. – D.