We can get so excited about the life that is to come that we might forget to live fully in the life that is here now. Enablements the Lord bundled to include with the new birth are designed to be used here and now. The Lord calls on us to do exploits in our current land of the living because the fight — the Lord's righteous fight — is on. Our song, "The Fight Is On" is an energetic, century-old hymn that still rings true today. Please give it a sing-along listen, then come back to meet an inspiring lady who became skilled and prolific at a useful hobby.
People can surprise you
I had already spent many hours trying to figure out how my guitar and I could convey this song's bright, abundant "Stars-And-Stripes-Forever" like energy when I paused to get acquainted with its writer. I expected to meet a character like John Philip Sousa himself. I have to confess, I was a little surprised with who I met instead. Read it for yourself:
"Lelia (Mrs. C.H.) Morris (1862-1929) was born in Pennsville, Morgan County, Ohio. When her family moved to Malta on the Muskingum River [note: still in SE Ohio] she and her sister and mother had a millinery shop in McConnelsville. She and her husband Charles H. Morris were active in the Methodist Episcopal Church and at the camp meetings in Sebring and Mt. Vernon. She wrote hymns as she did her housework. Although she became blind at age 52 she continued to write hymns on a 28-foot long blackboard that her family had built for her. She is said to have written 1000 texts and many tunes." (From Hymnary.org. See https://hymnary.org/person/Morris_CHMrs)
Sixty-seven was a little longer than an average lifespan for women in America in the late 1920's. It appears Mrs. Morris used her time well. Family millinery business, served with her husband in church and camp meetings, and spent her last fifteen years blind, but continued to write hymns on a 28-foot long blackboard. She crafted about a thousand texts and many tunes. I've seen several which are as energetic and timely as the hymn we are looking at here. What a wonderful example of a useful, full life energized through the love of the Lord.
Surf's up
A little while ago our daughter and son-in-law moved from Oklahoma to Jacksonville, Florida. Now they are 20 minutes — not 20 hours — from the Atlantic Ocean, and so it made perfect sense for each to get a surf board. A surf board in Oklahoma would have been weird. A surf board needs an ocean to perform.
This might be a leap, but bear with me. With the new birth, the Lord equipped us with spiritual abilities. Have you ever thought about what kind of world those abilities were designed to serve in? All we need to do is look around us and we see we have been built for such a time as THIS. We are not surf boards in Oklahoma. We were created in Christ Jesus unto good works, and the fields around us are ripe with harvest. The fight is on. Surf's up!
If God be for us …
Our song mentions "If God be for us …", part of Romans 8:31, which says "What shall we then say to these things? If God be for us, who can be against us?" This verse holds its own in one of the hottest chapters in the entire Bible. Elsewhere in Scripture we can read about the future, of the life to come and happier days ahead. But these verses in Romans are not about good things we need to wait for. Let's never allow the hope of things to come to cause us to cool down on the love, faith — and focus — to compete in the contest today. We were built to be more than conquerors in the Lord's kingdom work during our days here. There are mountains of influence to reclaim, souls to reach, darkness to be dispelled and truth to be proclaimed. In Oklahoma, in Florida and everywhere else, we can "ride the Lord's waves" — because right here and right now, the fight is ON.
God bless you lots!
-Dale R.
---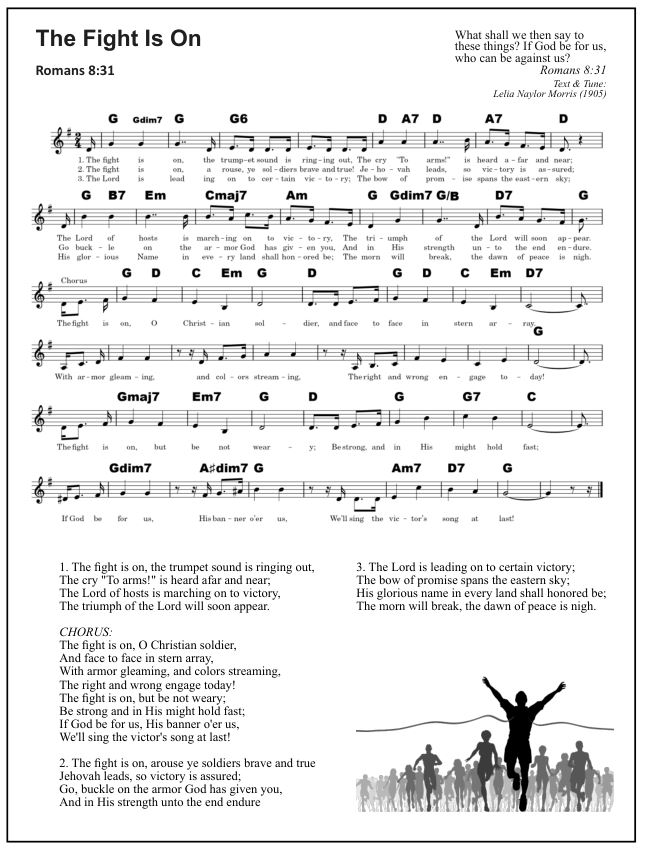 LYRICS: The Fight Is On
Text & Tune: Lelia Naylor Morris (1905)

1. The fight is on, the trumpet sound is ringing out,
The cry "To arms!" is heard afar and near;
The Lord of hosts is marching on to victory,
The triumph of the Lord will soon appear.

Chorus:
The fight is on, O Christian soldier,
And face to face in stern array,
With armor gleaming, and colors streaming,
The right and wrong engage today!
The fight is on, but be not weary;
Be strong and in His might hold fast;
If God be for us, His banner o'er us,
We'll sing the victor's song at last!

2. The fight is on, arouse, ye soldiers brave and true!
Jehovah leads, so vict'ry is assured;
Go, buckle on the armor God has given you,
And in His strength unto the end endure.

3. The Lord is leading on to certain victory;
The bow of promise spans the eastern sky;
His glorious name in ev'ry land shall honored be;
The morn will break, the dawn of peace is nigh.

Let's stay in touch
Each time I post a new song and lesson here I send a brief, cheerful note to friends of this song site. The note gives a quick description of the song and lesson along with a link to the new song's page. It is super-easy for you to get a note from me, too. Just click the green "Song of the Week" button below and you are almost there.
To sweeten the deal, you will also get instant access to the "Music Box" where I put all the free resources and downloads that go along with these song pages. Check it out now! Good stuff. (Side note — I still post announcements on social media, too, even though I have learned it is terribly unreliable at getting the message out and keeping us connected. Email gets that job done where social media fails. We do well to connect this way, and avoid getting throttled by social media.)
Share your wisdom with other readers ...
Please feel free to add your thoughts to this conversation in the "Leave a reply" spot below.