As a child I was taught Jesus saves, and as far as I knew, I would be with him some day. It wasn't until my 21st year that I gained the PEACE and ASSURANCE based on God's promises — that I knew beyond a shadow of a doubt — that my name was INDEED in the book of life. This song glows with that assurance. What happened to me at age 21 that gave me that confidence? Please enjoy the song video, then come back for more.
WHEN … not if
I think most people believe the first line of this song, which says one day, for every person, labors and trials on earth will end. A person does not have to be a Bible scholar or brilliant philosopher to notice that people die. It is a matter of when, not if.
It is the next line of the song — "And I am safe on that beautiful shore" — where we want to KNOW that we KNOW. The Bible says each person must — each person "gets to" — decide if they are going to "that beautiful shore."
I have heard it said, "You have to WAIT until you die to find out if you qualified to get into heaven." YIKES!! Waiting until you die is too late to determine THAT!
I am convinced God wants His people to KNOW and to ENJOY knowing NOW that they are indeed saved. He wants us to be MOTIVATED by His promise of Paradise. Let me share three reasons I believe that, reasons that brought me to the peace and assurance of salvation.
1. God's PLAN for salvation
First, the more I understood God's PLAN for salvation, the more certain I became of His PROMISE of salvation to everyone who accepts it.
John chapter 1 is louder and brighter than the best fireworks show you ever saw. John lived during the times of Jesus Christ's life, death, resurrection, and ascension. In this gospel, John's personal experience is framed by revelation as he writes this triumphant announcement:
God has had the plan for salvation since "the beginning"
and NOW Jesus Christ
has successfully completed
the most daunting,
dramatic part of the plan:
He has swung open the doors to everlasting life.
God's plan of salvation through Jesus Christ is woven into every part of the Bible story — starting with creation, and moving through the fall of man, the flood, the patriarchs, Egypt and the Promised Land, the law, judges, kings, captivity, rebuilding, and finally, Jesus Christ's amazing obedience and success. The part of the Bible that comes after the Gospel of John continues adding light to God's plan for salvation, including aspects that had never before been revealed. The Bible's details on God's plan is breathtaking and convincing.
2. God's POWER for salvation
Second, as I learned from the scriptures about God's POWER, my confidence in His ability to save me increased.
The Sadducees did not believe in life after death. In reply, Jesus told them,
"You do err, [1] not knowing the scriptures, nor [2] the power of God."
We briefly looked at how "knowing the scriptures" leads a person to gain confidence in God's plan for salvation. Let's look at how God's power and ability are used in His salvation plan.
My parents were believers in the Lord Jesus Christ, and I was at both of their memorial services. How can someone have everlasting life, and still die? This is so very important — and not all that difficult — to understand.
Jesus cut through the noise and gave us the best picture ever when he challenged the Sadducees and Pharisees with these words:
"I say unto you, that God is able of these stones to raise up children unto Abraham."
That's some kind of power!
Pause and consider this:
The word "resurrection" shows up 40 times in the New Testament.
Jesus taught about the resurrection from the dead.
Jesus himself was resurrected from the dead.
Hebrews 9 says, " … it is appointed unto men once to die, but after this the judgment". How does a dead person show up at the judgment? He has to be raised from the dead. It is no wonder Jesus taught about the reality of resurrection.
Everlasting life is a PROMISE now, and becomes a reality through resurrection — or through ONE OTHER MEANS. I Thessalonians 4 and I Corinthians 15 tell of a day coming soon, when:
"… the Lord himself shall descend from heaven with a shout, with the voice of the archangel, and with the trump of God: and the dead in Christ shall rise first: Then we which are alive and remain shall be caught up together with them in the clouds, to meet the Lord in the air: and so shall we ever be with the Lord."
What a day! The "dead in Christ" rise. Then "we which are alive and remain" are changed. Both the dead in Christ and the living receive new bodies like Christ's glorious body. THAT is when "everlasting life" really sails ahead with full winds!
Thessalonians continues, "Wherefore comfort one another with these words." When we know the scriptures AND the power of God, we truly receive comfort from these words.
3. God's PROOF of salvation
Third, it was God's PROOF of salvation that fired up my confidence and sealed my assurance.
When I was 21 I received life-changing instruction, including things we just looked at. I was learning God's PLAN for salvation, and God's POWER for salvation, and my heart was thrilled.
When I confessed Jesus as Lord and believed in my heart that God raised Jesus from the dead, I was saved, born again, filled with God's gift of holy spirit. That happened long before I was 21. But that year I learned how to MANIFEST God's gift of holy spirit by speaking in tongues.
Speaking in tongues is proof in the senses world of the reality and presence of God's gift of holy spirit, which is everlasting life. I Corinthians 12 talks about "gifts of the spirit", then switches to "the manifestation of the spirit" just before listing nine ways to manifest God's unspeakable gift of holy spirit life. I am aware Bible teachers don't all agree on how to understand these verses. If you are open to learning, I offer these thoughts from scripture and my experience:
It is not necessary to "operate" any of these nine "manifestations" in order to be saved. But you must be saved to operate them.
Every Christian — EVERY ONE — has the privilege of operating ALL NINE
The work that needs to be done in our day and time asks for ALL NINE to be in operation in God's people. This is our "toolbox" for ministry.
Of the nine, speaking in tongues is the ONLY one that can properly be done by any believer at any time. Out loud or silently or fast or slow — it works.
I struggled at first because I made it too difficult. A simple description of how to speak in tongues appears in the record of the first time it was done, in Acts 2. "They spoke as the Spirit gave the utterance." WHO spoke? THEY did. WHAT did they speak? The Spirit took care of that. I move my mouth and speak — the words happen as I act. Every time. Simple. What are we saying when we speak in tongues? God knows. Sometimes others will know, too, because the Bible says it will be the tongues "of men or of angels".
For more on the benefits of speaking in tongues, please see "The Pentecost Song" post.
Just do it
Dear Ones,
Jesus won WHOLENESS for everyone.
God wants EVERYONE to be saved AND to come to the knowledge of the truth.
No guessing, no "wait and see".
Time is precious. Only the things of God endure.
Jesus Christ is the living proof of God's PLAN and POWER. He beseeches us to receive LIFE, and shows us how to put on the whole armor of God.
He enables us to STAND.
Don't think for a moment God would deny ANY good thing He's promised you.
Suit up!
If there is anything keeping you from being able to rejoice whole-heartedly in the lyrics of our song, "♪♫ O That Will Be Glory ♪♫" ask God to help you fix it!
It is a joy to share with you the peace and assurance of salvation.
God bless you lots,
Dale R.
---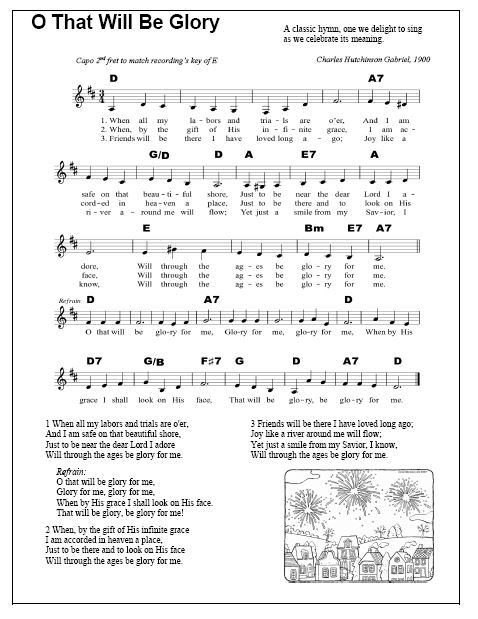 LYRICS: O That Will Be Glory
Charles Hutchinson Gabriel, 1900

1) When all my labors and trials are o'er,
And I am safe on that beautiful shore,
Just to be near the dear Lord I adore
Will through the ages be glory for me.

Refrain:
O that will be glory for me,
Glory for me, glory for me,
When by His grace I shall look on His face.
That will be glory, be glory for me!

2) When, by the gift of His infinite grace
I am accorded in heaven a place,
Just to be there and to look on His face
Will through the ages be glory for me.

3) Friends will be there I have loved long ago;
Joy like a river around me will flow;
Yet just a smile from my Savior, I know,
Will through the ages be glory for me.

What do you think?
Please jot a note in the "Leave a reply" spot below.
Please subscribe!
I send subscribers a quick note each week when a new "sermon & song" is added to this growing collection. Might be JUST THE SONG you were looking for! Don't miss out. Just click the blue "Get The Music Box" button [below] and tell me where to send your note. You will also instantly gain access to free stuff that goes along with this Music Minister site. Simple instructions on the other side of the little blue button. Please subscribe! THANKS! – Dale R.