Sometimes the best thing anyone can do for another is just to be a friend. Though Jesus is also much, much more, no one could have a better friend than Jesus! A person need never feel lost or lonely when they know Jesus as their friend. I invite you to sing along with this song, then come back for more.
Jesus then and now
Many historical scholars, even religious skeptics, call Jesus of Nazareth the most influential life ever lived. And many of them only count the brief time of his ministry leading up to his death on the cross.
For someone whose ministry was no more than three years, who never traveled more than 200 miles from his birthplace, never recorded a hit song, never ran for office, never led an army, and who was executed as the worst kind of criminal — isn't it mind-boggling that 2000 years later, a third of all people living call themselves his followers?
No question, what Jesus accomplished in so little time so many years ago is simply astounding. But those accomplishments back then do not completely explain why so many have followed him ever since.
Jesus, the everlasting contemporary
Jesus Christ was raised from the dead, received a new and everlasting body, ascended into heaven, and for about 2000 years has been building the church, which is his body, the fullness of him which fills all in all.
He is alive, well, active, engaged and moving TODAY, building toward the day when he will appear in the clouds with the voice of the archangel and with the trumpet call of God, and his followers past and present will receive bodies like his glorious body and will begin to know "even as we are known".
In 2012, author Tom Doyle released a book giving remarkable accounts told by many real people who became followers of Jesus Christ after hearing from him through "dreams and visions" (which is also the title of the book. Put it on your reading list!) One lesson from this book: we should be careful speaking of Jesus in the past tense, as if it were not still alive and active today!
Jesus our friend
Jesus is our Lord. Jesus is our Master. Jesus is also our friend, the best friend we'll ever have. Jesus is the friend who remains even when all others leave us.
Here's how Jesus expressed it to his disciples in John 15:
Greater love hath no man than this, that a man lay down his life for his friends. Ye are my friends, if ye do whatsoever I command you.
Henceforth I call you not servants; for the servant knoweth not what his lord doeth: but I have called you friends; for all things that I have heard of my Father I have made known unto you. Ye have not chosen me, but I have chosen you, and ordained you, that ye should go and bring forth fruit, and that your fruit should remain: that whatsoever ye shall ask of the Father in my name, he may give it you. These things I command you, that ye love one another.
What kind of friend is Jesus? He is the kind that gives everlasting life, love, hidden knowledge, direction and work that makes our lives meaningful and for which we are paid in a more abundant life now and everlasting rewards in times to come. He is cheering for us, watching our backs, lighting our way, and best of all — calling us friends. Hallelujah!
God bless you lots,
Dale R.
---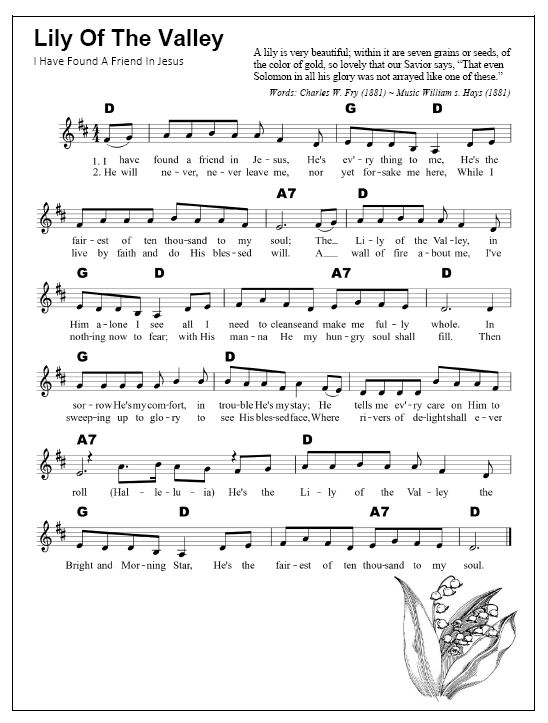 LYRICS: Lily of the Valley
Words: Charles W. Fry (1881)
Music William s. Hays (1881)

1) I have found a friend in Jesus,
He's ev'ry thing to me,
He's the fairest of ten thousand to my soul;
The Lily of the Valley,
In Him alone I see
All I need to cleanse and make me fully whole.
In sorrow He's my comfort,
In trouble He's my stay;
He tells me ev'ry care on Him to roll (hallelujah!)
He's the Lily of the Valley
The Bright and Morning Star,
He's the fairest of ten thousand to my soul.

2) He will never, never leave me,
Nor yet forsake me here,
While I live by faith and do His blessed will.
A wall of fire about me,
I've nothing now to fear;
With His manna He my hungry soul shall fill.
Then sweeping up to glory
To see His blessed face,
Where rivers of delight shall ever roll (hallelujah!)
He's the Lily of the Valley
The Bright and Morning Star,
He's the fairest of ten thousand to my soul.

What do you think?
Please jot a note in the "Leave a reply" spot below.
Please subscribe!
PLEASE SUBSCRIBE to get immediate 24 x 7 access to free stuff from "The Music Box" AND to be part of this growing community of "sermon & song" fans! Just click "Get The Music Box" button [below] for quick details. It will take a few seconds. Super easy – barely an inconvenience.
THANKS! – Dale