"The Old Rugged Cross" has been called one the greatest hymns. It is about one of the greatest events in human history. Please give it a sing-along listen, then come back and we will ponder the greatness of what our Lord did for you and for me.
If you could tell them just one thing …
On Mars Hill the Apostle Paul drew a crowd described in Acts 17 as people who "spent their time in nothing else, but either to tell, or to hear some new thing." They sought entertainment from Paul. What would you say to such an audience?
Paul seized the opportunity to bring as many as he could from death to life.
Paul said, "I found an altar with this inscription, TO THE UNKNOWN GOD. Whom therefore you ignorantly worship, him declare I unto you." Paul opened with a big claim that he could tell them something they didn't know, and then artfully moved to the greatest event of human history — the resurrection of Jesus Christ:
"… He [God] has appointed a day, in the which he will judge the world in righteousness by that man whom he has ordained; whereof he has given assurance unto all men, in that he has raised him from the dead."
In less time than it takes some of us teachers to clear our throat and thank the host for inviting us to speak, Paul introduced to them God's authority and character, their future judgment, the Lord's resurrection from the dead and — one more remarkable thing — assurance.
Assurance. What a beautiful word. Does anyone need assurance?
Assurance anyone?
American philosopher Henry David Thoreau offered this observation — "The mass of men lead lives of quiet desperation. What is called resignation is confirmed desperation." He might have been seeing what Hebrews 2 describes as "… them who through fear of death were all their lifetime subject to bondage." I wonder if on that day at Mars Hill Paul might have been inspired along these lines, too.
I can speak for myself. I had heard the story of Jesus' resurrection and the gift of everlasting life he won for everyone. I had said "YES!" to being saved. But a lingering doubt remained.

I never doubted Jesus rose from the dead.
I never doubted that everlasting life was offered.

My doubt was about ME.
Was I really included in the "everyone"?
Had I really done what was required to receive this unspeakable gift of everlasting life?
I took some comfort in the thought that since I was an average person and felt I was doing what others at church were doing that — surely — the Good Lord wouldn't leave ALL of us out in the cold. Comfort in numbers. That was about the best assurance I had for years.
It turns out the Good Lord had a better assurance policy for me.
Assurance through information … AND evidence
"If you openly declare that Jesus is Lord and believe in your heart that God raised him from the dead, you will be saved." (Romans 10:9 NLT). Okay, I got it. That's God's Word, and that should be enough. I have openly declared that Jesus is Lord, and I believe in my heart that God raised him from the dead. So I'm saved.
But if I slip, and entertain any doubt that I am saved, haven't I just called God a liar? And if I doubt God's promise, does it make me UN-saved? YIKES! What can I do just to be sure?
Apparently a lot of people have gone down that path of thinking – so many that books like Galatians and Colossians were included in the "all truth" parts of the Bible Jesus promised the "spirit of truth" would be bringing.
Getting saved by declaring Jesus as Lord and believing he was ALIVE because of the resurrection – that was new thinking to these people. They were used to getting right with God by doing works, by observing days and times and hours, by doing sacrifices and keeping any number of other legal observances. Galatians and Colossians firmly take such thinking to task.
It just seems too simple to make Jesus Lord and believe God raised him from the dead. Even Peter struggled with this. We read in the Gospel of John that even though Jesus Christ had gotten up, Peter was still behind closed doors because of fear. After SEEING the resurrected Jesus, he remained behind those doors. Just knowing — and believing — God raised Jesus from the dead was not enough to chase Peter's fear away.
Yet only a few weeks later, this same Peter was standing boldly in front of those same people he was so afraid of, and he confronted them with some of this "all truth" the spirit of truth had just given him. Peter had gotten a good dose of assurance.
What could possibly explain this change in Peter's level of assurance — when actually seeing Jesus alive a few weeks earlier had not?
Only one thing. Only one gracious, merciful, amazing thing is recorded in the Bible that accounts for Peter's boldness. That one thing is Pentecost. Peter got filled with holy spirit AND he manifested the evidence of this filling by doing something he had never done before. Peter spoke in tongues.
On that day, Peter received God's gift of holy spirit and he manifested that gift into the senses world so he and others could witness the reality of the new birth. Thanks to the Lord, Peter and the rest now had BOTH information and evidence of the Lord's resurrection. That evidence would remain with Peter and all the others for the rest of their lives.
Peter was told to "tarry in Jerusalem" until the promise came. You and I don't need to tarry at all. The spirit has been outpoured. The new birth is available. The assurance that comes from God's written word and from manifesting the gift by speaking in tongues is available to all men right now.
Peter spoke in tongues. The gentiles Peter taught spoke in tongues. (Read about Cornelius in Acts.) Paul spoke in tongues "more than you all" and urged us to do it, too.
This was God's design for their blessing and assurance. Nothing has changed. It is for us, too.
When we stand in front of the old rugged cross, are we going to say to Jesus, "Thanks all the same, but I don't want all the blessings you bought for me here. Just let me do some of the law so it is not all on you…" ?!?
May the Lord have mercy!
Years ago someone loved me enough to teach me about speaking in tongues and help me walk into that blessing. Since that time I have continued to enjoy the blessing of the evidence and have never lost the joy of assurance that my name is indeed written in the book of life. Never. This was the Lord's plan for us, a blessing that is exceeding abundantly above all we could ask or think.
The old rugged cross. Resurrection. Assurance for you and for me right here, right now.
God bless you lots,
Dale R.
---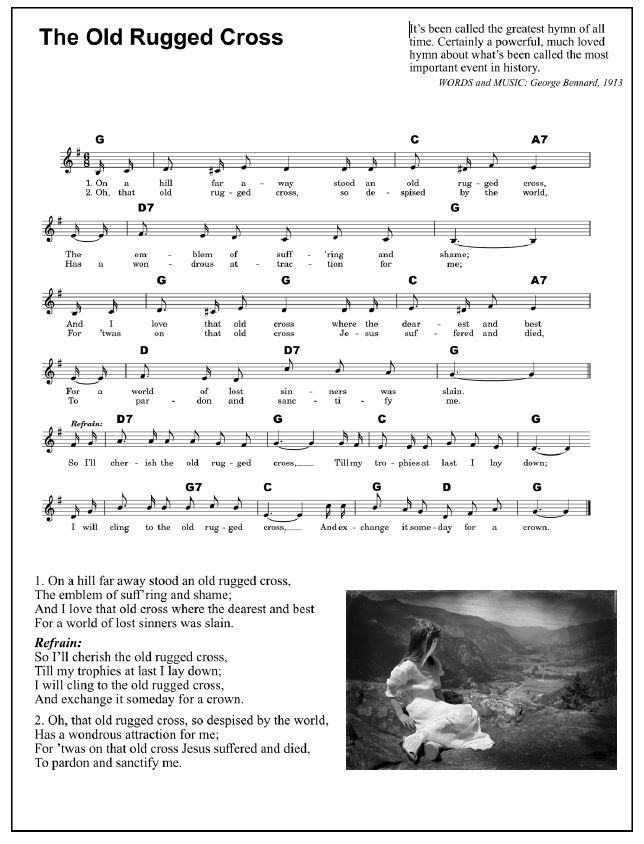 Download this song sheet from The Music Box
LYRICS: The Old Rugged Cross
WORDS and MUSIC: George Bennard [1913]

1. On a hill far away stood an old rugged cross,
The emblem of suff'ring and shame;
And I love that old cross where the dearest and best
For a world of lost sinners was slain.

Refrain:
So I'll cherish the old rugged cross,
Till my trophies at last I lay down;
I will cling to the old rugged cross,
And exchange it someday for a crown.

2. Oh, that old rugged cross, so despised by the world,
Has a wondrous attraction for me;
For 'twas on that old cross Jesus suffered and died,
To pardon and sanctify me.

Get note when new songs are added
I offer a free convenience of sending folks a note when I put a new song and lesson on this site. Just click the "Song of the Week" button below and tell me where to send YOUR note. I'll also give you the key to "The Music Box", where I put all the song sheets, MP3 files and guitar/uke easy-play song books — all free, all available 24×7. Only downside? You get an email (who needs more of THAT, right?!?) … but it will be short and cheerful. Easy to unsubscribe any time. Besides, this enables us to stay connected if the social media sites quit on us. Give it a whirl. Click this "Song of the Week" button and tell me where to send your note. – Dale R.
Please leave a greeting or comment below
Share your encouragement with others who visit here. Thanks. – Dale R.