Some songs are about things that have been done already. Some are about how things are now. Some are about how we'd like things to be as we move forward. This hymn touches on all three. It is a newer hymn done in a classic style and was written with skill and heart. It was not widely published, but deserves a larger singing audience, so I'm happy to try to bring it to new ears — both those hearing it for the first time and those hearing it again but with ears refreshed by a heart thankful for much good that might still mingle with some unhappy memories. We are wealthier when we allow good to outshine unhappiness. Please give this song a sing-along listen and come back for a chat about some of these things.
Past and present
We cannot change our PAST.
Good news: We can change how we think about our past.

One natural way to soften bad memories of the past is to have a good present. When we are happy — blessed — thankful — content NOW, the sting of a bad past softens. (Unfortunately it works the other way, too. A bad turn in life now can change okay memories into bad ones.)
One thing we can always do something about in the PRESENT is raise our level of thankfulness. For more happiness now — and for happier memories of the past, try thankfulness.
Another thing we can do now is described beautifully in this song and in Psalm 119:11 — "Thy word have I hid in mine heart, that I might not sin against thee." We can hide God's word in our hearts now. As we do, our perception of the past often improves, our lives right now get better, and we build toward a brilliant future living in fellowship and harmony with God the Father and our Lord and Savior Jesus Christ. In our hymn, hiding God's Word in our hearts provides the foundation for standing up for God, defeating fear, walking in love, ministering with the power of holy spirit and winning souls for Jesus Christ. What kind of joy would blossom in a life filled with these?
Affirmations help us go forward
To grow in these things, not only does this hymn suggest hiding God's Word in our hearts, but one other idea, too — AFFIRMATIONS. An affirmation is a statement of truth — truth which the person speaking the affirmation aspires to manifest in his life. Affirmations are not wishful thinking. One reason they work is because they are based on truth. They can help us consciously think and act on truth, thereby bringing the benefits of truth into our lives.
Look at the lyrics of this hymn. If you were to ask a roomful of people to sing this, it is possible not every singer there has already decided to take a stand or walk in love or do other things the hymn mentions. But if they have a heart to work for the Lord, singing these words — affirming these truths — can help them move in that direction.
Lyrics are often affirmations, but many are not positive. Some of us grew up singing songs with words like "I'm a loser" (Beatles – great beat, but the LYRICS….?!?) or "Manic depression captures my soul" (Jimi Hendrix – great beat, but the LYRICS…?!?). So many songs with a great beat left a lot of us feeling greatly beat up. I'm liking the idea of switching songs and singing something like "I have decided to take a stand." How about you?
Speaking in tongues
Our hymn mentions "speaking in tongues." This hymn was written by and for people who spoke in tongues.
QUESTION: Why did they speak in tongues?
ANSWER:There are many great and wonderful benefits that spring from speaking in tongues, and these people enjoyed them all.
QUESTION: How did most of these people first get started speaking in tongues?
ANSWER: Someone got them to open up a Bible and read what speaking in tongues is and then they taught them how to do it. It was a beautiful thing. Still is.
When Paul — in 1 Corinthians 14 — said "I would that you all spoke in tongues" and other verses like it, he made it clear this odd and new behavior was both available and good.
Jesus Christ accomplished so much, it will take eternity to even hope to see it all. When we start to list all that changed because of his life, death, resurrection and ascension, we soon become overwhelmed with awe and gratitude.The ability for a person to get born again — and manifest God's gift of holy spirit by speaking in an unknown tongue — are among changes brought by Jesus Christ.
Jesus Christ did not speak in tongues. But he came to Earth — and he ascended into heaven — to make speaking in tongues available. Before Jesus ascended he promised to send "the comforter" — holy spirit. The Bible records this promise being fulfilled in Acts 2 on the day of Pentecost when the apostles received holy spirit and began speaking in tongues. The Book of Acts records at least four more times that the evidence people were born again was they spoke in tongues. Pentecost was NOT a one-time fluke.
Paul teaches a lot about speaking in tongues in 1 Corinthians. Does this apply to us today? Absolutely YES! Read 1 Corinthians and notice it is addressed "Unto the church of God which is at Corinth, to them that are sanctified in Christ Jesus, called to be saints, with all that in every place call upon the name of Jesus Christ our Lord, both their's and our's." I don't live in Corinth, but I DO live in one of the "every place(s) that call upon the name of Jesus Christ our Lord." So I'm IN! How about YOU?!?
I, too, was taught how to do it. This stuff is living and real. I am thankful for the people who taught me, and I fondly remember those times — the GOOD most certainly outshines the unhappy.
Once we decide to take a stand, much of our lives — how we view the past, what we expect of the future and how we see our purpose now — begins to take shape in marvelous ways. The decision to stand might need to be dusted off and polished at times in our lives, but it is always relevant. As Paul said, having done all — STAND!
Let's enjoy standing on solid ground.
God bless you lots!
-Dale R.
---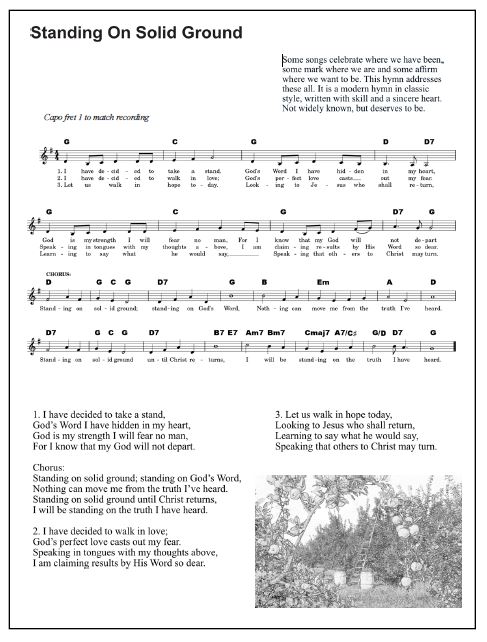 LYRICS: Standing On Solid Ground

I have decided to take a stand,
God's Word I have hidden in my heart,
God is my strength I will fear no man,
For I know that my God will not depart.

Chorus:
Standing on solid ground; standing on God's Word,
Nothing can move me from the truth I've heard.
Standing on solid ground until Christ returns,
I will be standing on the truth I have heard.

I have decided to walk in love;
God's perfect love casts out my fear.
Speaking in tongues with my thoughts above,
I am claiming results by His Word so dear.

Let us walk in hope today,
Looking to Jesus who shall return,
Learning to say what he would say,
Speaking that others to Christ may turn.

Subscribe and be in the know!
May I drop you a note when new songs are posted here?
May I send you the key to print-ready song sheets and MP3 audio files you can download FREE?
Click the "Get The Music Box" button below and tell me where to send happy notes & key to related resources.
Your thoughts?
Please share your thoughts about any part of the post in the "Leave a reply" spot below. Thanks!