This wonderful old "kid's" song encourages us to check our thinking about praise — what it is, why do it, how to do it, when to do it and what to teach about it. I think most of us understand that praise does not require a band to lead it or fancy lights or smoke, though all that can be nice. Praise does not count only when done as a congregation or at a set time and place. But for praise to be what it should be does require certain things. Please give our song a sing-along listen and come back for some thoughts on praise.
The word "praise" can have many meanings
Bible and secular dictionaries largely agree on what "praise" means. Typical definitions include:

[noun]
an expression of approval
commendation
applause
[verb]
to express a favorable judgment of
to proclaim the glory of
to declare enthusiastic approval of
Notice here two characteristics of "praise"
1. praise is EXPRESSED
2. praise is APPROVAL
SO
It is not praise unless it is: communicated, conveyed, declared, indicated, revealed, shown or said, etc.
It is not praise if it is: criticism, unfavorable judgement, complaining, displeasure, objection, discontent, etc.
Praise can be given and received "horizontally" — from one person to another person
Praise can be given "vertically" — from a person to God and from God to a person. Look at John: Nevertheless even among the rulers many believed in Him, but because of the Pharisees they did not confess Him, lest they should be put out of the synagogue; for they loved the praise of men more than the praise of God. (John 12:42–43)
Lots of food for thought from this passage.
Q: How might a person receive praise from God?
A: Here, by receiving Christ. (Also, in 2 Timothy, by "rightly dividing the word of truth")
Q: Is it okay to love praise?
A: That depends on whose praise we love and WHY:
It is good to love the praise of God for doing good.
It is evil to love the praise of men or evil spirits for doing evil.
Q: Is it good to praise?
A: Look at the previous answer and switch the words around a little. Then wonder what was going on in the heads of the people in John 12 who were praising the Pharisees.
Big takeaways here:
1. RECEIVE CHRIST!
2. Praise only WHO and what deserves praise
God deserves our praise
God is not insecure. He does not need his ego stroked by my praise. Yet He tells us over and over in His Word to praise Him. What is going on?
God wants to be known. God wants people to know He is love, that He is gracious, that He is merciful, that He is holy, righteous, just, pure and mighty. God created and God provides for His creation. Even as the "unknown" God (see Acts 17) He has blessed so many and so much. But He wants to be known by His creation. He wants a family relationship. Consider this verse:
"But without faith it is impossible to please him: for he that comes to God must believe that he is, and that he is a rewarder of them that diligently seek him." (Hebrews 11:6)
God wants to be known. He rewards them that diligently seek Him.
As we grow in knowing our Heavenly Father we come to love Him more and more. We want to tell Him.
We were built to know God.
We were built to be able to express to Him our understanding of His greatness.
We were built to praise God.
Is this a kid's song?
It is called "Praise Him, All Ye Little Children" so obviously it is a kid's song.
Right?
At what age do we outgrow the desire to sing
"Praise Him all ye little children. God is love."
"Love Him all ye little children. God is love."
"Thank Him all ye little children. God is love."
The better question might be, "How old does a kid need to be to learn this?" It is never too early to start teaching children how to think right and do right. Our children are going to learn thinking and acting from SOMEONE. Parents, don't transfer your responsibility — and your privilege — to others. Be diligent to teach your children what is good and right and true — early and often.
I love how these words put my big problems in my big life in a little different perspective by reminding me that I am loved. I am not alone. I am not without help.
I think I'll keep singing these words awhile longer. Will you join me?
Praise the Lord!
God bless you lots!
-Dale R.
P.s. — I was just reminded that a key to KEEPING your healing is to praise God for it and minister healing to others.
P.p.s. — Want more? Read Psalm 34 — a wonderful psalm on praise as a way to engage with the Lord.
BLESSINGS! – D.
---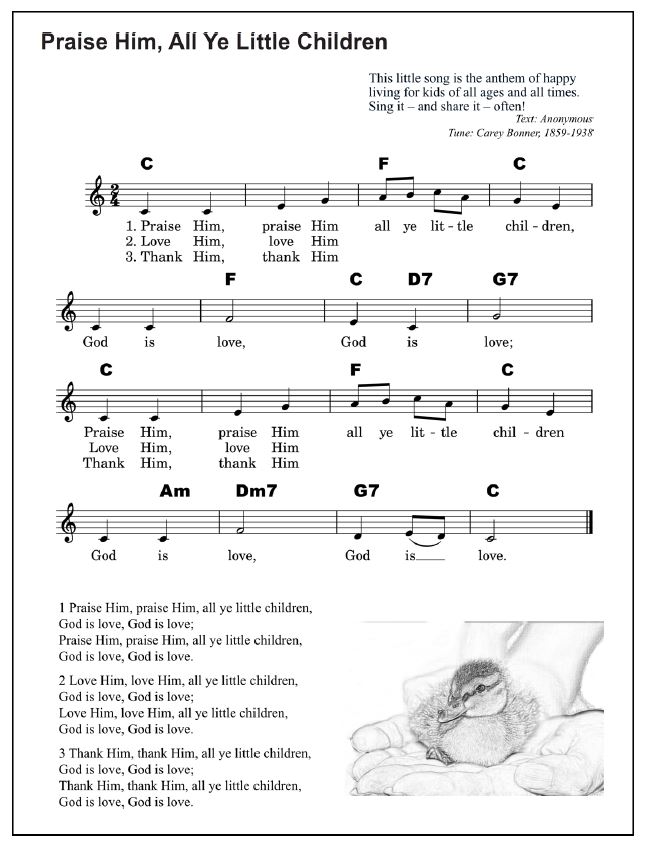 LYRICS: Praise Him, All Ye Little Children
Text: Anonymous
Tune: Carey Bonner, 1859-1938

1. Praise Him, praise Him, all ye little children,
God is love, God is love;
Praise Him, praise Him, all ye little children,
God is love, God is love.

2. Love Him, love Him, all ye little children,
God is love, God is love;
Love Him, love Him, all ye little children,
God is love, God is love.

3. Thank Him, thank Him, all ye little children,
God is love, God is love;
Thank Him, thank Him, all ye little children,
God is love, God is love.

Do us both a favor …
Click the "Get The Music Box" button below and tell me where to send you the link to "The Music Box" — which is a convenient resource I use myself to get to the handouts, sheet music and playlist links so I can listen to these songs on my phone when I go for evening walks. You will be able to explore The Music Box immediately AND I'll send you a cheerful note when I post the next "Bible lesson and song for kid's of all ages." The note you get from me will have a link to the new song & lesson as soon as it is posted. I think you'll enjoy the note and the convenience of the link. I'm asking you to subscribe because it is the best way I can think of to let you know of new posts each week. Social media is fickle, and I don't want to depend on it to keep you in this loop. Of course you can unsubscribe with one click — the link is always at the bottom of emails I send. Won't you give it a try for a few weeks? Always free — these songs and lessons are always a labor of love. I don't want you to miss one. God bless you lots! – Dale R.
Please share your counsel with other readers
Leave your comment in "Leave a Reply" below. Thanks! – D.