I love the saying, "God is good all the time. All the time God is good." I suspect the people who really love that saying have found a good answer to this question: "Why does God in the Old Testament seem so mean and merciless, but in the New Testament is so full of grace and love?" Please give our song a sing-along listen, then come back and we'll talk about it.
A couple of misconceptions
1. If you think the Old Testament portrays God as mean and judgemental you would not be alone. But the more we read it, the more it is clear that is not the case. The Old Testament shows God to be amazingly patient, forgiving, loving, attentive, honest and fair.
2. You would also not be alone if you think the New Testament portrays God as all love and no judgement. Reading the New Testament shows that is not the case.
In truth, both the Old and New Testaments solidly support the understanding that "God is good all the time. All the time God is good."
Love and mercy abound in the Old Testament
It is true prophets in the Old Testament often had messages of "change your ways or die". They were not trying to bully anyone. Hardly! They were warning people of looming disaster they were bringing on themselves if they did not get back to a place of accepting God's help.
What's more, the prophets did NOT issue the warnings with smiles but with tears. Perhaps the greatest example is Jeremiah. He's referred to as "the weeping prophet". In love, compassion and genuine concern for the well-being of God's people, Jeremiah is regarded by some as being the best example in the Bible next to Jesus Christ.
There are many, many examples of God's amazing mercy, patience and love in the Old Testament in direct contrast with almost unbelievable hardness of heart and treachery on the part of the people. When the Old Testament is read while paying attention to those TWO parts — God's offer to help His people LIVE and the people's refusal to listen to God — what becomes abundantly clear is that God went above and beyond time and time again to bless. He is a good God!
Look at this from Ezekiel and feel the frustration of God needing to say words like these: "Have I any pleasure in the death of the wicked, declares the Lord GOD, and not rather that he should turn from his way and live? For I have no pleasure in the death of anyone, declares the Lord GOD; so turn, and live. Say to them, As I live, declares the Lord GOD, I have no pleasure in the death of the wicked, but that the wicked turn from his way and live; turn back, turn back from your evil ways, for why will you die, O house of Israel?" (Ezekiel 18:23, 32; 33:11 ESV)
God was willing to forgive even the Assyrians for their sinful behavior if only they would repent. Jonah was angry that God would save the Assyrians and angry God told him to go preach repentance to these enemies of Israel. Jonah did not doubt God would indeed forgive. Jonah said, "I knew that you are a gracious and compassionate God, slow to anger and abounding in love, a God who relents from sending calamity." (Jonah 4:2)
Jonah, Jeremiah and Ezekiel are a tiny representation of tons of Old Testament records of God's wonderful goodness. He is always good.
New Testament — love, mercy & judgement, too
The New Testament shows God's patience, love and mercy for His people, as does the Old Testament. And, like the Old Testament we also see in the New Testament judgement and the charge to rise up to the righteousness and holiness of God.
Jesus said, "But unless you repent, you too will all perish." (Luke 13:3). Jesus taught much about the kingdom, but also taught much about hell.
And the book of Revelation is not a warm fuzzy read!
This passage draws from the Old Testament but is placed in the New Testament — its truth still applies: For if we sin willfully after we have received the knowledge of the truth, there no longer remains a sacrifice for sins, but a certain fearful expectation of judgment, and fiery indignation which will devour the adversaries. Anyone who has rejected Moses' law dies without mercy on the testimony of two or three witnesses. Of how much worse punishment, do you suppose, will he be thought worthy who has trampled the Son of God underfoot, counted the blood of the covenant by which he was sanctified a common thing, and insulted the Spirit of grace? For we know Him who said, "Vengeance is Mine, I will repay," says the Lord. And again, "The Lord will judge His people." It is a fearful thing to fall into the hands of the living God (Hebrews 10:26-31). This is in the New Testament.
God's nature and character never change
The more we read the Bible and take a fair look at what it says, the more we will see that God's nature and character do not change, and DID not change from one testament to the other. It may be that the abundant good news to us in the New Testament seems to highlight the abundant bad news in the Old Testament. But when we look at what God had to deal with in both places, we see consistency in His nature and character.
And for that consistency of nature and character we can be thankful. We can rest in it. Malachi gives one really good reason we can be thankful: "For I, the Lord, do not change; therefore, you, O sons of Jacob, are not consumed." That is something to think about and lock into our understanding!
God is good all the time. All the time God is good. It is the goodness of God that leads men to repentance. His goodness motivates us to act and enables us to have unspeakable rest.
Amen?
God bless you lots!
–Dale R.
---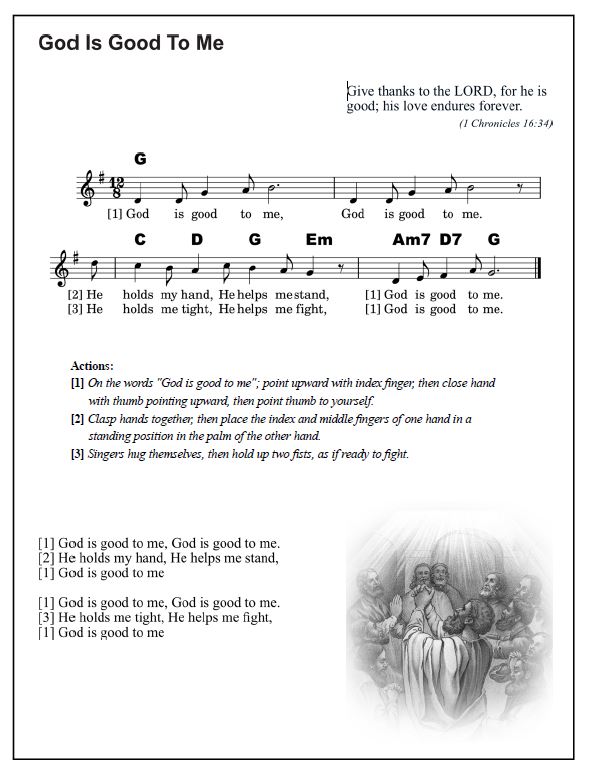 LYRICS: God Is Good To Me

[1] God is good to me, God is good to me.
[2] He holds my hand, He helps me stand,
[1] God is good to me.

[1] God is good to me, God is good to me.
[3] He holds me tight, He helps me fight,
[1] God is good to me.
Actions:
[1] On the words "God is good to me"; point upward with index finger, then close hand
with thumb pointing upward, then point thumb to yourself.
[2] Clasp hands together, then place the index and middle fingers of one hand in a
standing position in the palm of the other hand.
[3] Singers hug themselves, then hold up two fists, as if ready to fight.

Subscribe and make your life a bit easier
If you are reading THIS you are no quitter! Would it simplify your life a little if you got a cheerful note from me when I post a new song? It's easy — just hit the blue "Get The Music Box" button [below] and tell me where to send YOUR note. The note will give you a quick overview of the new song — and lesson — and includes link directly to the new stuff. Convenient! AND you'll get instant access to The Music Box, which holds my growing collection of extras that add value to the songs. Always free, a labor of love. Easy to start getting this. Easy to quit, too. Give it a try! God bless you lots – Dale R.
Share your thoughts
"Leave a reply" is the place to share with me and others thoughts you'd like to add to this article. Please share!