Psalm 46:10 (NIV) says, "Be still, and know that I am God; I will be exalted among the nations, I will be exalted in the earth." The message of Psalm 46 has always been current information. The very week I'm writing this, it still speaks with authority and brings comfort, hope and encouragement. Whatever swirls around us, we can remain confident because Jesus Christ has already won the victory. "Be Still" is a brief but powerful exhortation — and promise. Enjoy the song video, then come back as we blow "loneliness" to smithereens — with all due respect 😁.
It's not all about me
Quick. Make a list of all the things Christians are supposed to be and do. Read the Bible, pray, love, be kind … patient … long-suffering … serve others … witness … watch your mouth … edify … forgive — ALL this and much, much more. No end of sermons can, are (and probably SHOULD be) preached on what we need to be thinking and doing. Amen?
The first and great commandment
A lawyer asked Jesus "which is the great commandment in the law?" "Jesus replied: 'Love the Lord your God with all your heart and with all your soul and with all your mind.'" What a wonderful truth!
God first. There's plenty given for us to do, but through it all we need to remember this is God's place we are living in. Our eyes and hearts are fixed on Him from whom we get our purpose and provision. Psalm 46 is timeless — and timely. Read it and notice how much God does and notice (in bold letters, below) what we are given to do. Clearly, the Lord is doing all the heavy lifting in Psalm 46. Hallelujah!
Psalm 46
God is our refuge and strength,
A very present help in trouble.
Therefore we will not fear,
Even though the earth be removed,
And though the mountains be carried into the midst of the sea;
Though its waters roar and be troubled,
Though the mountains shake with its swelling. Selah
There is a river whose streams shall make glad the city of God,
The holy place of the tabernacle of the Most High.
God is in the midst of her, she shall not be moved;
God shall help her, just at the break of dawn.
The nations raged, the kingdoms were moved;
He uttered His voice, the earth melted.
The Lord of hosts is with us;
The God of Jacob is our refuge. Selah
Come, behold the works of the Lord,
Who has made desolations in the earth.
He makes wars cease to the end of the earth;
He breaks the bow and cuts the spear in two;
He burns the chariot in the fire.
Be still, and know that I am God;
I will be exalted among the nations,
I will be exalted in the earth!
Deliverance has history
Remember the children of Israel? Behind them, Pharaoh's chariots and slavery. In front of them, the Red Sea. Above them, God Almighty. With them, God's prophet Moses saying "Do not be afraid. Stand still, and see the salvation of the LORD, which He will accomplish for you today. For the Egyptians whom you see today, you shall see again no more forever."
We know what followed. What huge deliverance for God's people! What awesome and sudden destruction of the enemy!
There are seasons when evil seems to be winning and there is nothing more we can do. God sees and His hand is not shortened. God says "ENOUGH!" and seas part. Are we in such a time? As we continue to do ALL WE CAN for God, what a joy, what a comfort, what a CHARGE to us to remember we are NOT IN THIS ALONE. Remember — "be still and know that I am God"! We've read the book. Evil does not win, and we have reason and confidence to believe it can end suddenly in our day and time, too.
Can we say AMEN?!?
God bless you lots!
-Dale R.
Ps.
A little, practical suggestion. Try some "still" time this week. How about one day, spend 15 minutes in quiet. Later the same week, do 30 minutes. Two quiet times in one week. Electronics off. Music off. Quiet. Away from phone, chores, obligations. Maybe a nature walk? A public library? A park bench? Get in touch with God. Visit awhile. Ask Him things and see how He impresses your awareness with answers. Ask the Lord how you can get better at liking yourself, at seeing yourself the way He does. Spend some time exploring how to be still. 🌄
---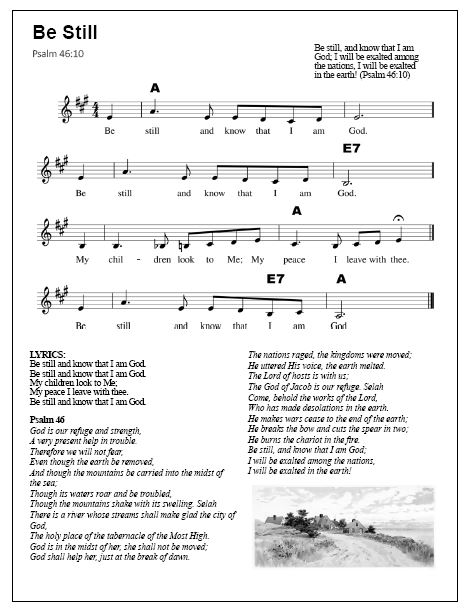 LYRICS: Be Still

Be still and know that I am God.
Be still and know that I am God.
My children look to Me;
My peace I leave with thee.
Be still and know that I am God.

Let's stay in touch
Each time I post a new song and lesson here I send a brief, cheerful note to friends of this song site. The note gives a quick description of the song and lesson along with a link to the new song's page. It is super-easy for you to get a note from me, too. Just click the green "Song of the Week" button below and you are almost there.
To sweeten the deal, you will also get instant access to the "Music Box" where I put all the free resources and downloads that go along with these song pages. Check it out now! Good stuff. (Side note — I still post announcements on social media, too, even though I have learned it is terribly unreliable at getting the message out and keeping us connected. Email gets that job done where social media fails. We do well to connect this way, and avoid getting throttled by social media.)
Share your wisdom with other readers ...
Please feel free to add your thoughts to this conversation in the "Leave a reply" spot below.
First posted December 23, 2020. Revised article posted July 13, 2023.