Today's troubles will not go on forever. God promises that better days are certainly coming. Through the years, this well known song has encouraged many not to quit by reminding them of that wonderful home we look forward to. Please give it a listen, then come back here and we'll talk about home.
Your home might not be my home
I had just moved onto a new campus toward the end of my final year of a rigorous training program. The man at the front of the auditorium was giving us the orientation lecture. He said, "Welcome to your new home."
I had been in enough of these meetings to be a little cynical. "Home!" I thought to myself, "This place is not MY home." I quickly came up with a reason why this place was not my home. "Home is where I decide what time to go to bed, and that's not how they do it here."
Not a minute later, the man said, "You are near the end of this training. If you have not figured out by now what time you should go to bed, there's no point in us telling you. During your time on this campus, there will be no set bedtime."
WOW! That's all I had said I needed for this place to count as home. I whistled under my breath and started humming "♫♪ Be it ever so humble, there's no place like home ♫♪."
Our new home will be wonderful
In "Swing Low, Sweet Chariot" we sing "coming for to carry me home". But will this new home God promised have what we require to make us really feel at home?
I offer this short answer: God designed it, so there is no doubt it will exceed our wildest expectations.

I Corinthians says something similar: "But as it is written, Eye hath not seen, nor ear heard, neither have entered into the heart of man, the things which God hath prepared for them that love him."
It will be great beyond anything we can imagine. But it has not ALL been left to our imaginations. There ARE a few hints in the Bible …
"He will wipe away every tear from their eyes; and there will no longer be any death; there will no longer be any mourning, or crying or pain." No more sorrow, sickness or tears. We won't miss our old lives. We'll know even as we are known. We will lack nothing. Justice and righteousness will prevail. We will have interesting work to do. We'll enjoy being with others who enjoy being with us.
The Bible says even more. Bottom line, we can be confident there is a lot to look forward to. ?
Until then …
The point of this song is NOT that we quit all efforts to live right now, and just sandbag until that day comes. That would be an awful plan. Instead we
look to Jesus's example of endurance, and
we persevere when times are bad, and
we don't get sidetracked when times are good.
Until then, we REMEMBER and FEED ON God's promises of the glory to come, and we do our utmost to tell others how to start enjoying better days of love, joy, peace and hope NOW as they join us on this wondrous path to forever with The Lord.
God bless you lots!
Dale R.
---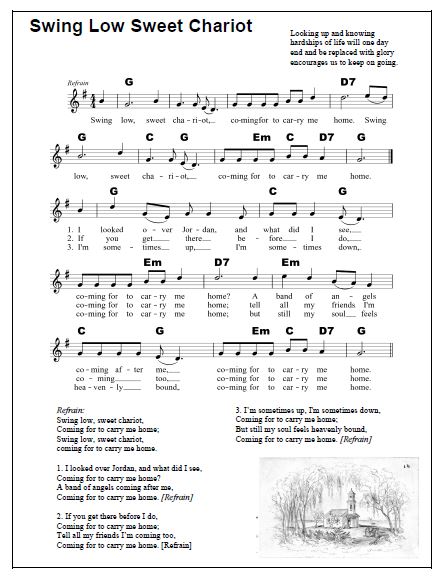 LYRICS: Swing Low Sweet Chariot

Refrain:
Swing low, sweet chariot,
Coming for to carry me home;
Swing low, sweet chariot,
Coming for to carry me home.

1. I looked over Jordan, and what did I see,
Coming for to carry me home?
A band of angels coming after me,
Coming for to carry me home. [Refrain]

2. If you get there before I do,
Coming for to carry me home;
Tell all my friends I'm coming too,
Coming for to carry me home. [Refrain]

3. I'm sometimes up, I'm sometimes down,
Coming for to carry me home;
But still my soul feels heavenly bound,
Coming for to carry me home. [Refrain]

What do you think?
Please jot a note in the "Leave a reply" spot below.
Please subscribe!
I send subscribers a quick note each week when a new "sermon & song" is added to this growing collection. Might be JUST THE SONG you were looking for! Don't miss out. Just click the blue "Get The Music Box" button [below] and tell me where to send your note. You will also instantly gain access to free stuff that goes along with this Music Minister site. Simple instructions on the other side of the little blue button. Please subscribe! THANKS!
– Dale R.