Good Bible lessons can help us LIVE better — and good Bible songs can help us REMEMBER Bible lessons. Joining Bible lessons with songs is the main idea behind this project called "Music Minister.net — Bible lessons and songs for kids of all ages".
We've all been marvelously swept by songs lasting many minutes, accompanied with lights, smoke and volume. These have their place. We might think longer or fancier Bible songs hold more — or better — truth than shorter or simpler songs, yet that is not always the case.
Our song "A Wonderful Treasure" is a great example of how much deep truth a few short lyrics can bring to our minds. In only 60 seconds it touches on key parts of the greatest knowledge ever revealed to men.When we sing the song its simple words are able to stir profound thanksgiving in our hearts because we know a little bit about the value of its message. Teaching this brief song opens a door to share with people — of any age — some of the greatest truths God gave mankind to know. It is a big song in a little package. Give it a listen and see if you agree.
How many PhD dissertations are in these lyrics?
The "final report" required to complete a PhD degree is called a "dissertation". Someone — who himself was working on a PhD — calculated that the average length of dissertations written at the University of Minnesota was about 175 pages. (They ranged in length from 21 to 2002 pages!)
I mention this because I believe our little song floats enough topics to keep several PhD candidates busy writing dissertations without exhausting the topics. Yet the song is simple, singable and short. Amazing.
While I dive in with some questions, try to imagine how we might answer these so a young child just starting out life with the Lord could understand. Then think about how advanced students of the Bible might discuss these. Could you imagine how someone might write 175 pages about any ONE of these questions and not exhaust the subject? (When we visit the theology sections of libraries and bookstores we see that a lot has been written already.)
This little song assumes we know some things
♫♪ I have
How did I get in on this? Who else gets in on this? Can I get kicked off the island? How long will I have this? Where do I have this?
♫♪ A wonderful treasure
What is the treasure? Can I spend the treasure? Can I lose the treasure? Can I add to the treasure?
♫♪ The gift of God
What makes it a gift? Who paid for the gift? When does God give the gift? How would I know if I had the gift? Is there anything I need to do to receive the gift? Is there anything I can do to help someone else get the gift?
♫♪ Without measure
What size is something 'without measure'? Where can I put a gift that is without measure? Does 'without measure' have anything to do with time?
♫♪ We will travel together, my Jesus and I
Where? When? What does that look like? What will we do? Do I need to report in to start the trip? How long will we travel? Will there be a large group traveling with us? Will I get lost in that group?
♫♪ I have a wonderful Savior
What have I been saved from? Why do I need a savior? Am I the only one needing a savior? What makes my Savior wonderful? When did I get saved? How long does salvation last?
♫♪ He took me into His favor
What does 'favor' mean? How was I taken into His favor? What must I do to remain in His favor? Can I fall out of His favor? If I fell out of His favor, is there any way to get back in?
♫♪ Governs all my behavior
What does "govern" mean? Is there any 'free will'? Are there rules? Who gets to say? Who is part of the governing body? Is there anything in writing? Do the rules ever change? What if I misbehave? Is there a benefit to being governed? How do I hear from the "Governor"? Is it possible I might miss — or forget — an instruction? What happens if I do?
♫♪ Since I made Him mine
When did "since" start? I thought He 'took' me — what did I do to make Him mine? What does it mean to 'make Him mine'? How do I keep Him 'mine'? Does this relationship grow or change?
More thankful than overwhelmed
Praise the Lord we do not need to write PhD dissertations to live — and love — a life filled with this wonderful treasure! Even so I'm guessing you dear readers have PLENTY to say to anyone asking you the reason for your hope as a believer, and are always ready — and delighted — to share. I would not be surprised if some of these questions show up in the conversation.
Lives — everlasting lives — get started by such conversations. Who knows, the chat might even lead to — or be helped by — a little song!
God bless you lots!
–Dale R.
---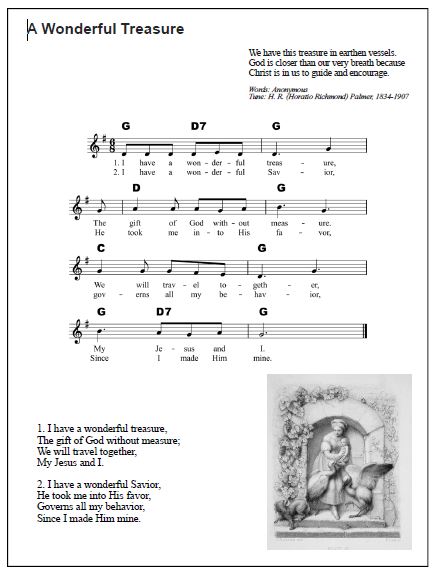 LYRICS: A Wonderful Treasure
Words: Anonymous
Tune: H. R. (Horatio Richmond) Palmer, 1834-1907

1. I have a wonderful treasure,
The gift of God without measure.
We will travel together,
My Jesus and I.

2. I have a wonderful Savior,
He took me into His favor,
Governs all my behavior,
Since I made Him mine.



Please join us — subscribe!

Each time I add
a new song here
I always send
a note of cheer.
I'll gladly send
a note to YOU —
Just tell me where
to send it to.
Click "Get The Music Box" button [below] and tell me where to send your note. Simple!
Free stuff, too, you can explore immediately at "The Music Box".
Please add your thoughts
What are your thoughts about real treasure? Please leave a comment in "Leave A Reply" below. Thanks!
—Dale R.