"The Treasure Principle" by Randy Alcorn is a wonderful, easy-to-read book which teaches Biblical truths that rewards are generated up above when we get in step with God's plans down here. He defines "the Treasure Principle" this way:
"Jesus takes that profound truth, 'You can't take it with you' and adds a stunning qualification. By telling us to store up treasures for ourselves in heaven, He gives us a breathtaking corollary, which I call the Treasure Principle: You can't take it with you —
but you CAN send it on ahead." (from "The Treasure Principle" by Randy Alcorn)
How does that work? Please give this song a sing-along listen and come back for more on rewards and incentives with a view to living for God right now and always.
Honey or vinegar?
"You catch more flies with honey than with vinegar." Wise parents (and teachers, managers — anyone tasked with shaping behavior in others) know how important it is to:
1. Make sure the "kid" KNOWS what behavior is correct — and expected — and
2. REWARD behavior they want to see more of.
[Food for thought: If a child craves attention, and the ONLY time he gets attention is when he misbehaves, what behavior is actually being encouraged and rewarded here? What should be done instead? I know we are not God, but I'm hoping we can learn from how He does this. Let's keep reading.]
Someone might say "You should do what's right just because it's right. I should not need to bribe you with rewards." First of all, a bribe is payment given to pervert judgement. Do you really think recognizing and rewarding a child's proper action — especially in a training relationship — is going to cause him to lie or cheat? We DO want to help kids develop good hearts and attitudes along with good habits and behavior that they will do on their own — even when no one is watching. I'm saying recognition and rewards can most certainly help get us there.
When it comes to obeying God, someone might try the same argument — that rewards should NOT be a motive for our behavior. But this time they would have to take it up with God Himself, because rewards are HIS idea. Learn it, live it, love it!
Rewards and treasures to come: the Bible speaks
God has the best ideas. One of His great ideas is to tell people about rewards and treasures that will be received in the life to come for things they do to honor and serve Him now. Does God want us to consider rewards as we make life decisions now? YES!
Certainly, God is God, and we are not. He could have set things up — and it would not have been unreasonable — that we should learn His will and just do it, end of story.
But God is so wonderful that He sees to it that living for Him now most often results in benefits we can easily SEE now. For example, when we use the spiritual abilities given to us with the new birth we cultivate and produce more and more "fruit of the spirit" – love, joy, peace, longsuffering, gentleness, goodness, faith, meekness and temperance. That is sowing and reaping in action. In God's creation, things just love to grow!
The Lord is gracious and sees to it that our obedience to Him is rewarded — often quickly here and now, ALWAYS in our heavenly account to be drawn from over a period of time called "everlasting". What a wonderful Lord!
Let's look at just a few of the references to rewards found in Scripture.
Five Crowns
Definitions for "crown" include: a reward for achievement; a recognition of authority and/or honor that has been given to the person; recognition of victory.
Incorruptible Crown (1 Corinthians 9:25-27)
Given to those who strive for mastery over worldly pleasure, to be "temperate in all things."
Crown of Rejoicing (1 Thessalonians 2:19)
Given to those who bring others to Christ — the "soul-winner's crown"
Crown of Righteousness (2 Timothy 4:8)
Given to those who eagerly look forward to Jesus Christ's coming.
Crown of Glory (1 Peter 5:4)
Given to faithful shepherds of God's people — a reward for those who answer the call to lead and guide.
Crown of Life (James 1:12; Revelation 2:10)
Given to those who endure persecution, pain, even martyrdom but remain faithful to the end.
Colossians 3 — treasure hid with Christ will one day be revealed
Colossians 3 is one of those chapters that is just LOADED with quotable verses to live by. Notice in the opening words below the charge to seek things above, things we cannot clearly see with our senses down here. He wants us to understand that right now our senses cannot see the very best of the Lord's reality, but the Lord promises the day is coming when that will change.
… seek those things which are above, where Christ sits on the right hand of God. Set your affection on things above, not on things on the earth. … your life is hid with Christ in God … when Christ, who is our life, shall appear, then you shall also appear with him in glory.
(NOTE: Elsewhere on this website I posted a song that sets some of Colossians 3 to music — simply named "Colossians 3 Song". I hope you'll give it a listen. You can find it using the "A-Z Song List" link located on the navigation banner near the top of each song page.)
Matthew 6 — lay up for yourselves treasures in heaven
This is a rich section where Jesus teaches on durable rewards. Here is a brief excerpt: "Lay not up for yourselves treasures upon earth, where moth and rust do corrupt, and where thieves break through and steal: But lay up for yourselves treasures in heaven, where neither moth nor rust do corrupt, and where thieves do not break through nor steal."
♫♪ Send Treasures To Heaven ♫♪
Though this song takes some poetic liberties (much like a parable does) the song has a lot of literal truth in it. "Mansions" as we know them are not promised in the Bible. But marvelous dwelling space designed by our magnificent Lord is promised. We know our dwellings will be good.
Can Grandpa really help Jesus build for his grandchild? In this song, he actually does just that — not by dying, going straight to heaven and grabbing a hammer, but by teaching and encouraging his grandchild to live for the Lord right now — and thereby causing him to send more treasure on ahead. The love in this grandpa's heart is sweet honey that wins. No vinegar here! (You might say this song lets us be flies on the wall watching Grandpa help raise his grandchild in the nurture and admonition of the Lord.)
What does all this talk of rewards do to any thought that we are making some great sacrifices by deciding to live for the Lord? As an answer to that question, I'll close by offering this quote:
"He is no fool who parts with that which he cannot keep, when he is sure to be recompensed with that which he cannot lose." (English clergyman Philip Henry – 1631-1696)
Trading any part of this brief life for everlasting rewards seems like a no-brainer, doesn't it?
God bless you lots!
-Dale R.
---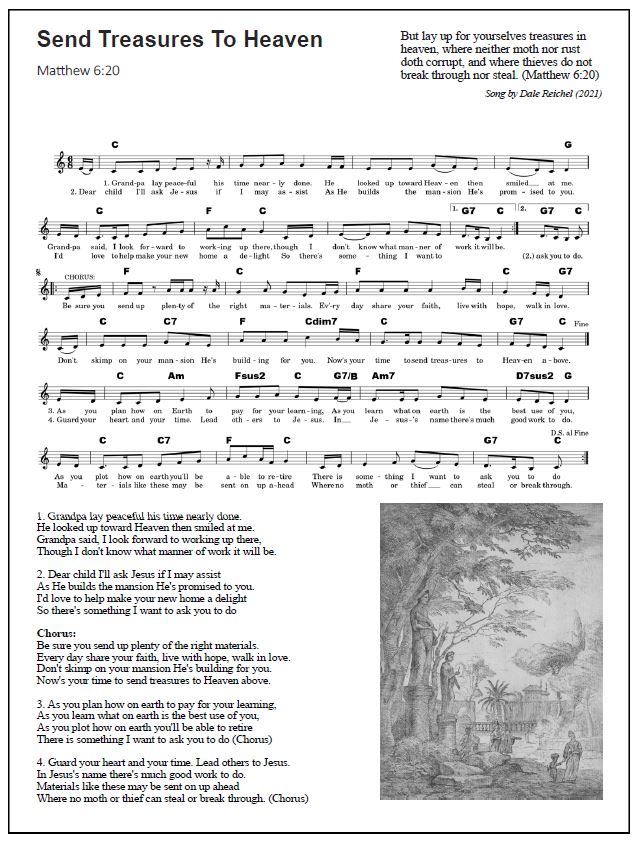 LYRICS: Send Treasures To Heaven
Song by Dale Reichel (2021)

1. Grandpa lay peaceful his time nearly done.
He looked up toward Heaven then smiled at me.
Grandpa said, I look forward to working up there,
Though I don't know what manner of work it will be.

2. Dear child I'll ask Jesus if I may assist
As he builds the mansion He's promised to you.
I'd love to help make your new home a delight
So there's something I want to ask you to do

Chorus:
Be sure you send up plenty of the right materials.
Every day share your faith, live with hope, walk in love.
Don't skimp on your mansion He's building for you.
Now's your time to send treasures to Heaven above.

3. As you plan how on earth to pay for your learning,
As you learn what on earth is the best use of you,
As you plot how on earth you'll be able to retire
There is something I want to ask you to do
[Chorus]

4. Guard your heart and your time. Lead others to Jesus.
In Jesus's name there's much good work to do.
Materials like these may be sent on up ahead
Where no moth or thief can steal or break through.
[Chorus]



Get a quick note ♫ when new songs appear!
Click "Get The Music Box" button [below] and tell me where to send a quick, cheerful note with link to new songs when I post them. You'll also get access to "The Music Box" — a free resource I maintain to help people navigate through more than 100 valuable Bible songs & lessons PLUS other goodies for music ministers, home schools, home churches and helps for aspiring guitar and uke players. I use the page myself. Give it a look. Let me send you the key to get in. All free – a labor of love to bless you and your family.
-Dale R.
Please share your thoughts
What is treasure? Please add to this page by jotting a note in "Leave a Reply" below.