The LORD is my light and my salvation; whom shall I fear? the LORD is the strength of my life; of whom shall I be afraid? (Psalm 27:1). Where would be be without the Psalms!?!? It is hard to imagine what it would be like to wake up in the morning with no knowledge of our dear Savior's work. Only slightly less hard to imagine would be to confront life knowing nothing of the Psalms. Please enjoy this song, then come back and we'll talk about how this song can help us tap into the Lord's immeasurable resources to ourselves and have enough to share with needy neighbors.
The synchronized life
First Thessalonians 2 tells us "God's Word works effectually in you that believe." With so many wonderful promises to us from God in His Word and all His instruction there on how we can honor Him, of course we want God's Word to work effectually in our lives!
The big question is: How do we get to the place that we believe God's Word so it CAN work effectually in our lives? Here is a simple method.
First, though, consider this verse from Hebrews 11: "But without faith it is impossible to please him: for he that comes to God must believe that he is, and that he is a rewarder of them that diligently seek him." Can we believe that God IS, and that He rewards them who diligently seek Him? If yes, let's read on for a simple method to get His Word working in our lives:
We HEAR God's Word — We use our eyes and ears to get God's word into our heads so we know WHAT to believe in our hearts. Romans 10 says "faith (or belief) comes from hearing God's Word".
We SAY what God's Word says — Step 1 is to get God's Word IN us. Step 2 is to bring it back out by speaking God's Word. That's how His word becomes effectual in our lives. We find the promise of God that applies to our situation and SPEAK that promise at the situation and move forward to receive the answer. The answer might come immediately or it might not. But when we have His promise and put it to work by speaking it, we know He hears us and will honor His own Word, and will not leave us without help.
This is "the synchronized life" — to confess with our mouths at the same time we confess with our believing hearts WHAT GOD'S WORD SAYS. That is how God's Word and power is released to work effectually in our lives.
Sand in the machinery of life
The key to manifesting God's power is to BELIEVE and SPEAK His promises. What prevents people from doing that? A big enemy of believing is FEAR. Fear has been called "sand in the machinery of life". Satan is the biggest fear peddler out there — like a roaring lion, walking about seeking whom he may freeze with fear and devour. We must resist him and his fear tactics all the time. The synchronized life — putting God's promises IN and speaking them OUT is a way to push back on the enemy's never-ending fear campaigns. We learn God's promises and speak them to live unafraid.
Unafraid
Our song "Unafraid" gives us line after line of "confessing with our mouths" wonderful promises from the Lord. It helps us chase away lies from the lying wannabe lion — lies that we are no good, that we must put up with lack, that we must be sick or whatever other lies he tries to scare us into accepting.
God is light, God is love and God holds us, His beloved children, in the hollow of His holy hands. GOD IS GOOD!! Singing songs like this one helps us see the view from where He's got us sitting.
Let us enjoy the privilege of living right here and right now without crippling fear and instead walk in love and serve where we are planted. Let's enjoy the Lord's abundance to us as we reach out to help hurting people become unafraid through His goodness and strength and love.
God bless you lots!
Dale R.
---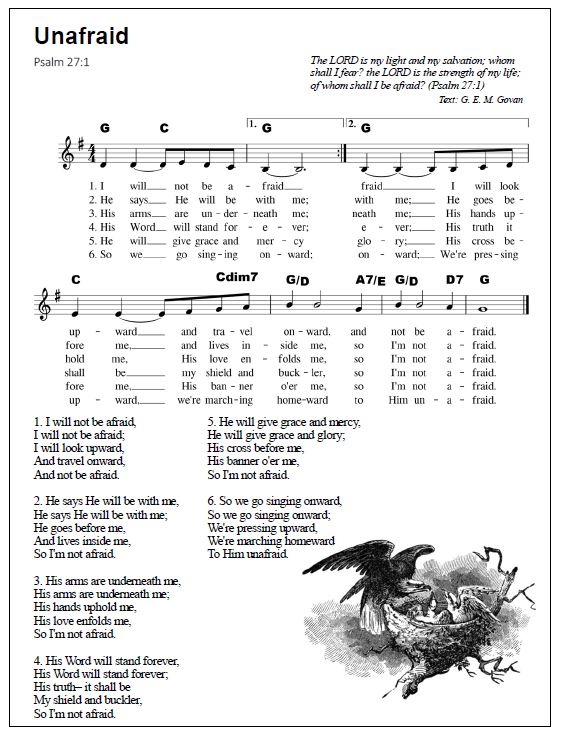 LYRICS: Unafraid
Text: G. E. M. Govan

1. I will not be afraid,
I will not be afraid;
I will look upward,
And travel onward,
And not be afraid.

2. He says He will be with me,
He says He will be with me;
He goes before me,
And lives inside me,
So I'm not afraid.

3. His arms are underneath me,
His arms are underneath me;
His hands uphold me,
His love enfolds me,
So I'm not afraid.

4. His Word will stand forever,
His Word will stand forever;
His truth– it shall be
My shield and buckler,
So I'm not afraid.

5. He will give grace and mercy,
He will give grace and glory;
His cross before me,
His banner o'er me,
So I'm not afraid.

6. So we go singing onward,
So we go singing onward;
We're pressing upward,
We're marching homeward
To Him unafraid.

Your thoughts?
Please share your thoughts on living unafraid in the "Leave a reply" spot below.
Please subscribe!
When I post a new song and article I send subscribers a brief note with a handy link that whisks them straight to the new song's page.
May I drop YOU a note when new songs are posted here?
Subscribers also receive the key to "The Music Box" which is a resource to help them get the most out of the Music Minister sermon & song collection. Want to hear just "bedtime songs" or "wake-up songs" in a playlist? Find them and more in "The Music Box". Neat!
I put goodies in "The Music Box" that only subscribers learn about through my cheerful email notes to them. Subscribe and go on your own treasure hunt!
It's all free. So why subscribe? Subscribing allows us to stay in touch even if social media gets fussy with us believer types and decides it doesn't like our kind. No worries, I don't share anyone's addresses, and you can unsubscribe at the bottom of any email I send. Super easy!
I put a great "What's Available" chart on the HOME page if you want to see more details on "The Music Box". Go take a look if you are curious and THEN subscribe!!
Sound good to you? Click the "Get The Music Box" button below for simple instructions. PLEASE SUBSCRIBE!
THANKS! – Dale R.