I learned this song as a kid during glorious times vacationing with my parents and brothers at a Christian family camp up in the Boundary Waters of northern Minnesota. We sang it under the stars with other families around crackling campfires as we marveled at God's creation all around us. We sang it when we walked through the woods and while we paddled canoes across the crystal clear lakes surrounded by fragrant pines and lighthearted birch trees which were dressed with white bark and wore hats of green and yellow leaves. I heard typical bleak news yapping today which got me missing those times so long ago, and realized I could honor those memories by sharing this song with you. Please give Happy Wanderer a sing-along listen, then I'll offer you my thoughts on the value of a song like this.
Don't forget the note card
Years back I heard the motivational sage Jim Rohn teach, "When you give flowers, don't forget to include the note card. Flowers are lovely, but they have a limited vocabulary. They cannot speak your thoughts as clearly as your words can." Mr. Rohn was smart.
"It's the thought that counts" is true more often than not. Especially if your gift was not expected, don't make the rookie's mistake and risk the person missing your meaning. Write the note to clearly express your heart. Remember that flowers and other gifts can be beautiful — and even costly — but they have a limited vocabulary. Don't forget the note card.
Like flowers, songs can say a lot all my themselves. But as eloquently as a song might express itself, no song alone can tell you what value I see in it. That's why this site is not only a collection of songs, but, as the site's subtitle says, "Bible lessons and songs for kids of all ages". Here sermons and songs are made to join hands to bring more value to you than either would alone.
I cannot think of a song on this site that has been in my life longer than "Happy Wanderer". We go way, way back. We've been trail companions for a very long time. There is no way I could hand you this song without telling you a bit about what it means to me — without this note card.
But Jesus Himself …
In chapter 5, Luke says, "But Jesus Himself would often slip away to the wilderness and pray." (NASB)
What — or more important — WHO did Jesus find when he would slip away to the wilderness? Does Luke give us the impression Jesus was there only to find quiet and to collect his own thoughts?
Though Jesus is the best example, he was not the first or only person to unplug and get away to a quiet place. We recall David and the time he spent "alone". Think of the Psalms David wrote. Did that time away have anything to do with the depth of heart he was able to express?
Elsewhere on this song site I introduced a song about "Pastor Les", who could speak simply and deliver "whole sermons in a phrase." He drove an over-the-road truck for a living. It was clear to many people how he spent that "solitary" time (and, of course, non-driving time, too). A lot of folks are enriched because of his habit of putting "solitary" time to such good use.
Our song "Happy Wanderer" brings up pictures like these for me. For me the "wandering" in this song is not about being lost or directionless. Rather it is about stepping out with a child's faith into this life, not knowing what blessings are on the path ahead, but holding hands with the One who does know. The song encourages me to remember the amazing benefit of slipping away — slipping away often — away from shiny things that would hold our attention hostage — and meeting the One Jesus and David met with during those times. Though I picture, too, those north woods and lakes and trees and the families and campfires and singing, these are not required. Like Pastor Les demonstrated, it is possible to grab quiet even when the road and wheels and diesel engine are singing their trio in the background.
Song-shaped treasure chest
This site's home page makes the bold claim that "These are good songs we can learn to sing at any age and cherish for a lifetime." Some songs on this site I've known for many years. Others I only heard for the first time the same week I posted them. But all of these songs connect me with some memory of a place, time, feeling or idea that presented itself along life's path. For me these songs are like treasure chests containing memories that help me "forget not all His benefits" and grow in thankfulness as I gain ever more glimpses of how He's never left me nor forsaken me anywhere along this path I've walked — as a happy wanderer.
God bless you lots!
-Dale R.
---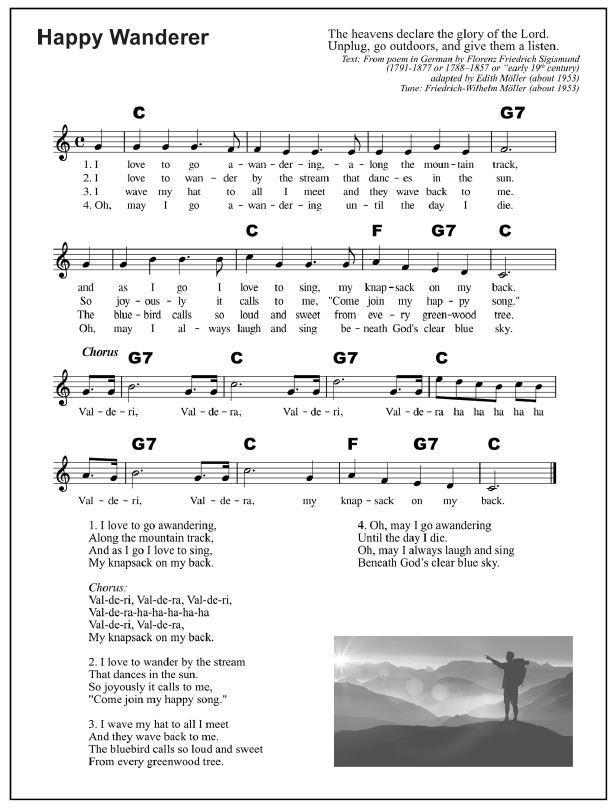 LYRICS: Happy Wanderer
Text: From poem in German by Florenz Friedrich Sigismund
(1791-1877 or 1788–1857 or "early 19th century)
adapted by Edith Möller (about 1953)
Tune: Friedrich-Wilhelm Möller (about 1953)

1. I love to go awandering,
Along the mountain track,
And as I go I love to sing,
My knapsack on my back.

Chorus:
Val-de-ri, Val-de-ra, Val-de-ri,
Val-de-ra-ha-ha-ha-ha-ha
Val-de-ri, Val-de-ra,
My knapsack on my back.

2. I love to wander by the stream
That dances in the sun.
So joyously it calls to me,
"Come join my happy song."

3. I wave my hat to all I meet
And they wave back to me.
The bluebird calls so loud and sweet
From every greenwood tree.

4. Oh, may I go awandering
Until the day I die.
Oh, may I always laugh and sing
Beneath God's clear blue sky.

Let's stay in touch
Each time I post a new song and lesson here I send a brief, cheerful note to friends of this song site. The note gives a quick description of the song and lesson along with a link to the new song's page. It is super-easy for you to get a note from me, too. Just click the green "Song of the Week" button below and you are almost there.
To sweeten the deal, you will also get instant access to the "Music Box" where I put all the free resources and downloads that go along with these song pages. Check it out now! Good stuff. (Side note — I still post announcements on social media, too, even though I have learned it is terribly unreliable at getting the message out and keeping us connected. Email gets that job done where social media fails. We do well to connect this way, and avoid getting throttled by social media.)
Share your wisdom with other readers ...
Please feel free to add your thoughts to this conversation in the "Leave a reply" spot below.