Let's get back to work this week with a folk song about a young man's bittersweet efforts to set up his first home, his livelihood, and … his family. The song has become part of my fabric since I learned it 45 years ago. DO enjoy the video, then PLEASE come back and let me share my thoughts about the song … how it connects work, family, faith, hope and love … all in just a few minutes. But first … let's sing.
Work …
We start by reviewing:
1.] God created people… : The Bible says, "So God created man in his own image, in the image of God created he him; male and female created he them."

2.] …to do things: "And God blessed them, and God said unto them, Be fruitful, and multiply, and replenish the earth, and subdue it: and have dominion over the fish of the sea, and over the fowl of the air, and over every living thing that moveth upon the earth."

Notice, here, the first recorded words to the man and woman was a "to do":
"Be fruitful, and multiply…"
Astounding! Foundational! Significant! Instructive! God's first words to His man and woman sound like the recipe for … FAMILY !
Family
Of all the HUGE accomplishments men and women have done, these verses suggest that no success in life is BETTER in God's opinion than "to be fruitful and multiply". In other words: to start and raise a family.
Faith, Hope and Love
"I want it easy and I want it NOW"

It might hit some people like a bucket of ice water that most of the BEST things in life come only with much time and effort; and that among the BEST GOALS are faithful-until-the-end goals. These are goals that, once we start, we continue until we take our last breath. Goals in this category include:
Remaining faithful to God … until the end
Once married, staying married … until the end
Once a parent, staying engaged as a parent … until the end
(I am not saying … I am not saying AT ALL … that married people with kids are the only ones who "succeed" in life. I AM suggesting there is no success that is better.)
I love this week's song because …
It's a pretty melody, catchy lyrics, easy to get the hang of. I learned it long before I got my own home, started a career, got married or had a child. As each of these occurred in my life, the song became ever richer to me.

In the song …

I see faith — the man responding with believing action to the promise "as a man sows, that shall he also reap".

I see hope — the man reaching without quitting toward things not immediately obtainable, certain the good would come eventually.

I see love — the man aligns with God's joy and takes a wife whom he loves.

Then he has a son, which he sees as his work being done.

Done — NOT so he can quit and becomes a bum.

Rather, DONE in that he has been fruitful and multiplied. In THAT area of success the man can rest, not only in enjoying the blessings to him, but also in rejoicing that this very success honors God's purpose for creation and His desire for a family.

I see a Godly work ethic: work DONE with perseverance over time, not work AVOIDED through lack of vision or laziness.
Well done! Success!
---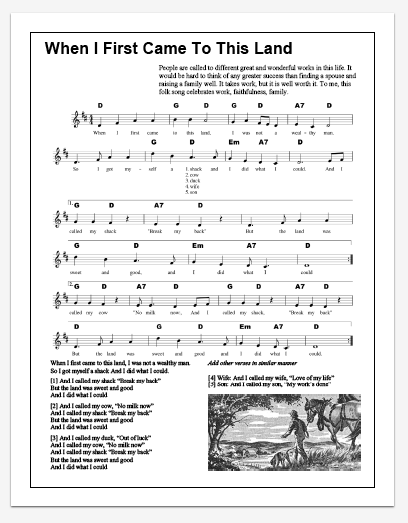 Download the chord/lyrics sheet
LYRICS: When I First Came To This Land

When I first came to this land, I was not a wealthy man.
So I got myself a shack
And I did what I could.

[1] And I called my shack "Break my back"
But the land was sweet and good
And I did what I could

[2] And I called my cow, "No milk now"
And I called my shack "Break my back"
But the land was sweet and good
And I did what I could

[3] And I called my duck, "Out of luck"
And I called my cow, "No milk now"
And I called my shack "Break my back"
But the land was sweet and good
And I did what I could

Add other verses in similar manner

[4] Wife: And I called my wife, "Love of my life"
[5] Son: And I called my son, "My work's done"

Please add your thoughts!
What do you think of the idea that there is no greater success in life than having a family? (Of course, with the exceptions of original and new births.) I suggested three "forever" goals above. What others would you add? Please share your thoughts in the "Leave a reply" section below!

God bless you!

-Dale R.
Please … join The Music Box Community
Each week I'm adding a new lesson and song. Would you let me drop you a brief note when it's hot out of the oven? Just click Get The Music Box button below to tell me where to send the note. You will also immediately get access to a valuable FREE resource, a hidden page called "The Music Box" where you can download music + lyric pages for any song on this site. It would bless me a lot if you'd join this community of lessons, songs — and a forum for YOU to contribute your wisdom and wit each week in the Comments section below. THANKS -Dale R.