This is a classic Bible song known and loved by young and old. It carries the enthusiasm of someone getting to know Jesus for the first time and the joyful report of someone who has been getting to know Jesus for a lifetime. It is a song that fits everywhere, always. Please enjoy singing along with it then let's look at a sampling of how wonderful Jesus is.
Getting to know him as wonderful
I've gotten to know Jesus better through the years.
When I was a child Jesus seemed too big for me to ever know personally. I could not imagine actually relating to him. I believed he was real, but not present right now. I heard teachings about important work he did years ago. Now he was off in some detached, distant realm. The future would be different, but future is always — future.
The main way Jesus was relevant NOW – I thought — was that back in Bible times (the distant past) he set clear boundaries good people were expected to learn about from the Bible and to live within. Then, someday — in that distant future — each person would somehow appear before Jesus to be confronted with how well they stayed within those clear boundaries in this life and then each person would learn where they would spend the rest of eternity. I thought Jesus would be stern but fair. I did not look forward to the "stern" part, but trusted in the "fair" part. After all, I was just a kid and as far as I could see I was doing at least as well as a lot of people around me — and I usually did well when they graded on a curve.
A wonderful change happened when I began to recognize that Jesus is living and working HERE and NOW. A line in a song describes my change this way: "The Lord is my shepherd, but I did not know night and day he was watching over me." Sure, he is my shepherd. But right here? Right now? I was not thinking that way.
He's the wonderful good shepherd
Psalm 23 and John 10 are well known places to see the Lord described as a shepherd. The startling part — the game changer — was when I began to realize the wonderful truth that the Lord is my shepherd here and now. John 10 describes him as the shepherd — one of many ways he is wonderful.
Then said Jesus unto them again, Verily, verily, I say unto you, I am the door of the sheep.
All that ever came before me are thieves and robbers: but the sheep did not hear them.
I am the door: by me if any man enter in, he shall be saved, and shall go in and out, and find pasture.
The thief comes not, but for to steal, and to kill, and to destroy: I am come that they might have life, and that they might have it more abundantly.
I am the good shepherd: the good shepherd gives his life for the sheep.
But he that is an hireling, and not the shepherd, whose own the sheep are not, sees the wolf coming, and leaves the sheep, and flees: and the wolf catches them, and scatters the sheep. The hireling flees, because he is an hireling, and cares not for the sheep. [John 10:7-13]
He's the wonderful head of his body, the church
Another way Jesus is wonderful is what he means to the church.
Where — or WHAT — is the church? In the Bible the church is not a religion or a building. The word for "church" in the New Testament means "called out". This Bible church is people who have been called out of the world by God. It includes all who accepted Jesus as their living lord and savior.
Who is the head of the church? Jesus Christ is. We learn more about how Jesus came to be head of the church from Ephesians:
[Part of Paul's prayer in Ephesians that we might know …] …what is the exceeding greatness of his [God's] power to us-ward who believe, according to the working of his mighty power, which he wrought in Christ, when he raised him from the dead, and set him at his own right hand in the heavenly places, far above all principality, and power, and might, and dominion, and every name that is named, not only in this world, but also in that which is to come: and has put all things under his feet, and gave him to be the head over all things to the church, which is his body, the fullness of him that fills all in all.
Colossians adds: And he is the head of the body, the church: who is the beginning, the firstborn from the dead; that in all things he might have the preeminence. [Colossians 1:18]
Isn't Jesus our lord wonderful!?!
God bless you lots,
Dale R.
---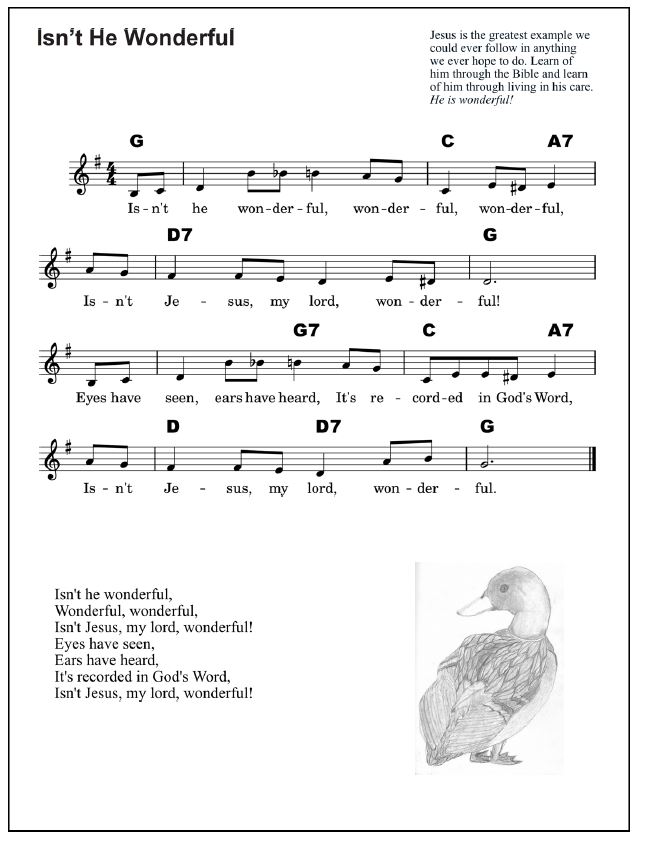 LYRICS: Isn't He Wonderful

Isn't he wonderful,
Wonderful, wonderful,
Isn't Jesus, my lord, wonderful!
Eyes have seen,
Ears have heard,
It's recorded in God's Word,
Isn't Jesus, my lord, wonderful!

Like the songs and articles? Read this …
Every week when I add a new song and article to this collection I send out a quick, cheerful email with a link to the new song page. I also put a similar announcement on some social media sites. If — or WHEN — those sites go down, so do my notices to you. Why not get a note directly from me? Just click the "Get The Music Box" button below and tell me where to send it. Unsubscribe easily any time using link at the bottom of email notes. When you subscribe I also send you the link to "The Music Box", where you can download music sheets and MP3 audio files of all these songs. Other downloads include a beginner songbook (guitar or ukulele) of a bunch of easy songs. Go take a look. It's all free, a labor of love to spread the songs. Enjoy! God bless you lots — Dale R.
Leave a comment and/or add to the teaching below